Capital volleyball's road loss to Central Kitsap prevented the Cougars from registering back-to-back undefeated seasons. It also might have briefly given opposing teams hope that Capital would stumble in district play this year.
That didn't happen. Not even close.
After all, it's the postseason and few programs excel during this time of the year more than the Cougars.
Head coach Katie Turcotte's team tuned up for another 3A state tournament berth by notching their third consecutive West Central/Southwest District 4 championship with a sweep of conference rival Peninsula in the finals at Capital High School on November 16.
The Cougars (16-1) will now head to the Yakima Valley SunDome where they will look to win their second state title in the last three years. Capital opens state tournament play on November 22 against Interlake, the third-place team out of the 2A/3A KingCo.
After winning 39 out of a possible 40 sets and opening the season a perfect 13-0, the Cougars lost to fellow state participant Central Kitsap, 3-1, on November 7, snapping Capital's 33-match conference winning streak.
The Cougars had not lost in the regular season since dropping a four-set match to Gig Harbor on October 4, 2017.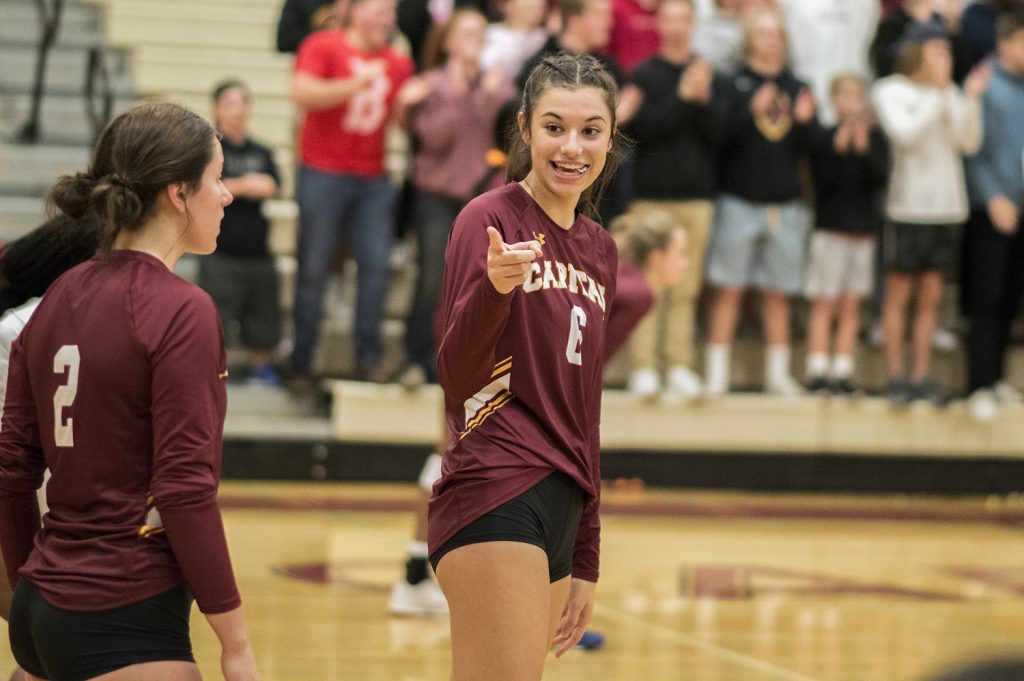 The setback, however, did little to disrupt the team once the playoffs got started as Capital dominated its district competition.
Paced by the play of all-state players Maia Nichols and Devyn Oestreich, the Cougars made quick work of its quarterfinal opponent Spanaway Lake, winning 3-0.
A second sweep came in the semifinals against Gig Harbor before Capital swept Peninsula, the only team to take a set against the Cougars during their first 13 matches in the regular season.
Of the three straight district crowns, this one marks the only of the three where Capital swept each opponent on its way to the title. The Cougars defeated Prairie, 3-1, in last year's championship match and knocked off Gig Harbor, 3-0, to claim the 2017 district title. The only non-sweep on the team's way to the district title two years ago was a 3-1 win over rival Timberline in the quarterfinals.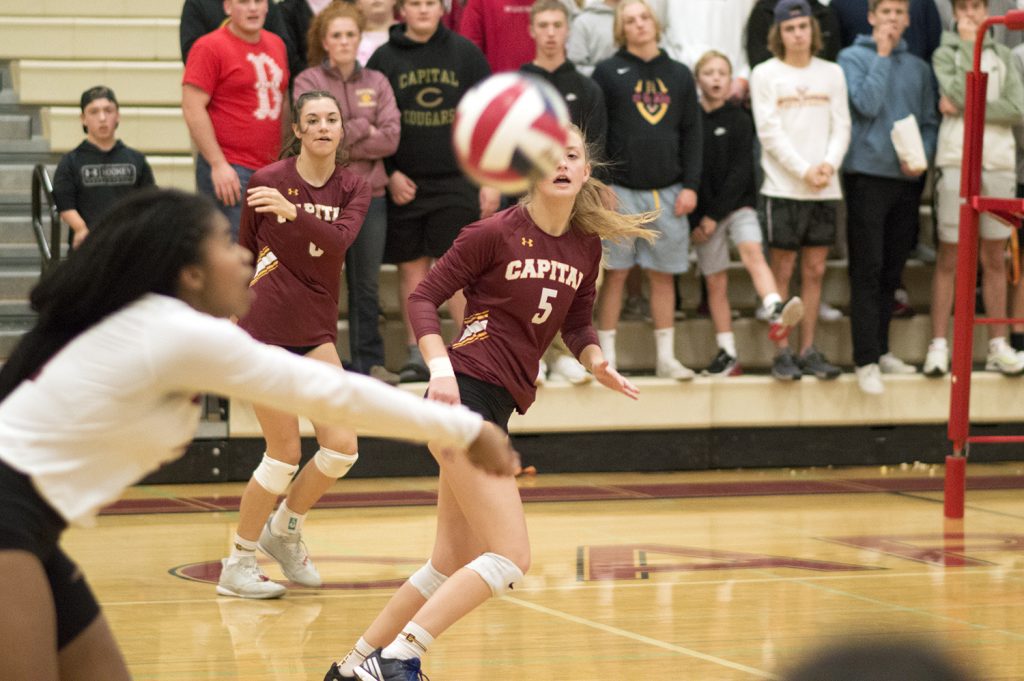 Now, Capital has its sights set on bigger things.
Five schools – Capital, Ferndale, Lakeside (Seattle), Mount Spokane and Roosevelt – are making a fourth consecutive trip to the Class 3A state tournament.
The Cougars join Mount Spokane, the team which defeated Capital in last year's state semifinals before capturing the championship, and Ferndale as the only programs who have claimed a state trophy three straight seasons.
Mount Spokane won last year's title, defeating Lakeside (Seattle), 3-0. The Wildcats also finished third in 2017 and second in 2016, giving them a 10-2 combined record at the state tournament over the last three seasons.
The Cougars have enjoyed similar success, posting a 9-3 record at state and finishing third last year, first in 2017 and fourth in 2016.
Maia Nichols and senior setter Maddie Mathews have been members of the varsity squad since they were freshmen, while juniors Madison Nichols and Oestreich have started the last three seasons, giving Capital one of the most battle-tested squads in Yakima.
A rematch between Capital and undefeated Mount Spokane (15-0) wouldn't occur until the finals as the two powerhouses appear on opposite ends of the 16-team brackets.
The Cougars would first have to navigate through Interlake (12-9) before squaring off against the winner of Kennewick (10-8) and Lakeside (11-11) in the quarterfinals.
The Cougars are joined at the state tournament by fellow 3A South Sound Conference members Gig Harbor, Peninsula and Central Kitsap – a trio Capital went a combined 7-1 against this season.
In addition to Maia and Madison Nichols, Oestreich and Mathews, the Cougars roster also features seniors Mason Dreon and Olivia Huff, juniors Bailey Glenn, Jaye Guichelaar, Emma Haws, Emma Lenker, Alexis McNeil and sophomore Emily Iglesias.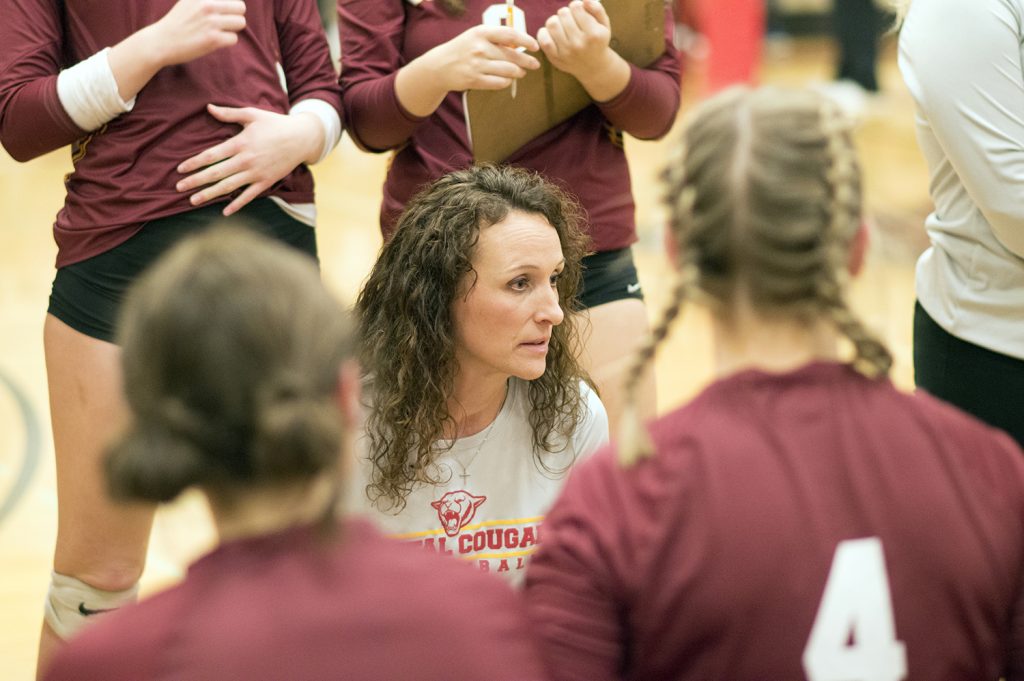 Volleyball Seasons End for North Thurston and Olympia
Olympia and North Thurston both saw their volleyball seasons come to an end at districts.
The Bears opened postseason play by defeating Sumner in five sets in a loser-out match in the 4A South Puget Sound League tournament then bested Federal Way, 3-2, in another loser-out contest to secure a seed into the district tournament.
Olympia (10-10) lost to Tahoma in the first round before having its season end against Kennedy Catholic. The Bears graduate four seniors, including Isabelle DuMontier, Lydia Batten, Kali Lane and Ainsley Martin.
The Rams (8-9) traveled a similar path at the 3A district tournament, defeating Mount Tahoma, 3-0, in a play-on match then losing to Prairie (3-1) and Kelso (3-2). North Thurston had just two seniors on its roster this year in Sarah Parker and Lauren Porter.