It seems like there's a holiday, birthday, wedding or event around every corner. Whether shopping for gifts or treating yourself, stop by Kluh Jewelers for everyone on your list. This holiday season, your visit also benefits hungry teens when you bring a much-needed donation for Homeless Backpacks to their Lacey store.
There are mythical shoppers who discover sales and deals all year long then set their finds aside until the perfect gift-giving occasion arises. Then there are the rest of us. Whichever type you are, the annual Kluh Vault Sale is a lifesaver. It happens only once a year, but with average discounts over 60 percent store-wide, it's worth clearing your calendar to attend.
"It's a real fan favorite," admit owners Matt and Suzanne Kluh. "Some customers only visit twice a year and this is always one of them." This year the vault doors open Saturday, November 30 from 9:55 a.m. until 6:00 p.m.
"There are easily 200 people," continues Matt. "They line up! There have been as many as 100 waiting to get in the door when we open."
A wide selection of unique items is showcased during the Vault Sale. Amidst their usual sparkling array of jewelry are trade-ins, items that have been pawned, unclaimed repairs, repossessions, discontinued lines, and manufacturer overstocks. In 2018 customers saved approximately 63 percent in what the Kluh's call "Save more than you spend" shopping.
Holiday Open House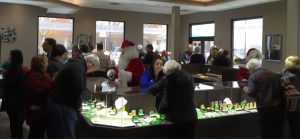 Then get ready for their Holiday Open House on Thursday, December 12. During this festive event, the store will begin collecting donations for Homeless Backpacks, a local non-profit "committed to ending homelessness, by giving teens the help they need so they can focus on school, go on to graduate and become contributing citizens." Non-perishable foods are distributed so hungry, often homeless students, have something to eat during weekends and holidays when subsidized school meals aren't available.
Charity organizers suggest providing portable, healthy items like granola bars, instant oatmeal or mac-and-cheese, fruit cups, applesauce, tuna, canned ravioli or chili, and shelf-stable beverages. They also collect sandwich-sized sealable bags and gift cards to local grocery stores. Prefer to donate online? Set up your one time or recurring gift in just a few short minutes.
The open house will be a night of sparkle and holiday cheer with a visiting artist and the latest styles by Allison Kaufman.  Like Kluh Jewelers, Allison Kaufman is a long-time family business. This 99-year old company manufactures exquisite diamond and gemstone jewelry right here in the USA. Their west coast representative will be on hand with show you the perfect piece to match your style whether your look is traditional or trendy. You might even find a fabulous stocking stuffer to add to your wish list.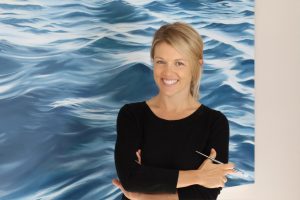 Our featured artist,  Julie Kluh shares her family's long-time love of the water and her paintings will transport you to the wide, open seas. "Living full-time on a small sailboat at sea is how I've spent a good portion of my adult life," she explains. "I was scared for my life many times: storms, lightening, close encounters with ships, seasickness, engine fires, ripped sails—the list is long. But I also experienced a vast and fascinating world very few humans ever see. Focusing at the canvas for hours is a meditation where I enter a flow-state oneness that satisfies a knowing of my purpose. Painting the beauty, I have witnessed at sea is a gift that I long to share with the world."
While in the store, she'll be working on one of her stunning, vibrant canvases and answering questions about her work, experiences, and artistic process. Explore her collections online, shop for art in advance, or commission a custom piece for the holidays.
Photos with Santa
Need a Santa photo for your annual Christmas card? Come back on Sunday, December 15 between 1:00 p.m. and 4:00 p.m. when the big man himself makes his appearance. Bring your kids or grandkids for pictures with Santa. The Kluh elves will take photos and post them in a festive Facebook album. Like, download, and share with friends and family both near and far. Be sure to make Santa's "nice list" by bringing a donation to support Homeless Backpacks.
"Growing up, South Sound Center had a Santa," recalls Matt Kluh. "I have fond memories of that. It'll be fun to move that tradition over here." The Center, across the street from Kluh Jewelers' Sleater-Kinney showroom, may not be a traditional mall anymore, but there's plenty of room for his sleigh next to the ever-popular Kluh Bug.
A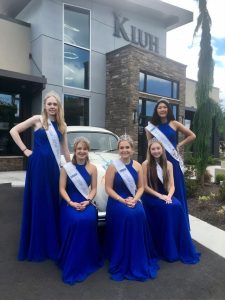 fter a busy summer, the Kluh Bug—like the rest of us—is ready for a nice winter hibernation. It was part of the Capital Lakefair parade and posed for pictures with this year's Lakefair Royalty. Now back at the store, it's surrounded by timeless classics, custom pieces, and new lines of jewelry for every taste.
Follow all upcoming events and promotions on the Kluh Jewelers website or Facebook page. Then stop by the store for all your jewelry design, sizing, repair and sales needs. You can even create a unique piece via their app and have it brought to life before your very eyes on a 42" design studio monitor.
The holiday season doesn't have to be daunting. Thanks to Matt and Suzanne Kluh, your one-stop-shop can be stress-free and even benefit kids in our community. Contact them at 360-491-3530 with questions then start making a list and checking it twice.
Sponsored