At the start of the 2019 fall high school sports season, Northwest Christian unveiled a new mascot, going from the Navigators, which had been the school's mascot since it first opened its doors in 1995, to Wolverines.

New mascot. Same dominating cross country program.
Northwest Christian captured its first state championship under its new moniker, claiming its sixth consecutive 1B/2B boys' cross country state championship on November 9.
However, the Wolverines weren't the only ones returning to Lacey with some hardware as Pope John Paul 2, in just its second year completing as a full team, won the girls' 1B/2B title at the state meet at Sun Willows Golf Course in Pasco.
The Eagles also finished second overall among the boys' teams with junior Kobe Deutscher placing third.
Northwest Christian, which finished with a combined 70 points, had three runners place in the top nine. Senior Noah Phillips capped his impressive high school career by finishing fourth overall in a time of 16 minutes, 10.70 seconds.
Ilwaco sophomore Daniel Quintana won the 1B/2B title in 15:55.80. Trout Lake's Justin Peck (15:59.80) was second, followed by Deutscher (16:05.80).
Phillips, a four-time state participant, was second last year and 11th as a sophomore. Senior teammates Garrett McSheffrey (16:22.60) and Cameron Nielsen (16:25.8) were seventh and ninth, respectively. McSheffrey was also fifth in 2018 and ninth in 2017, giving him three top 10 individual finishes.
The Wolverines also received strong performances from senior Ryland McCullough (33rd, 17:20.60) and freshman Asher Ingram (39th, 17:29).
The six straight boys' cross country state titles is the fourth longest streak regardless of classification in state history. North Central won 11 consecutive 3A titles between 2006 and 2016, while Mead registered nine straight 4A championships (1988-1996) and Sehome notched its eighth straight 2A championship this year.
In addition to Deutscher, Pope John Paul 2 also had state participants in Trevor Dugo (22nd, 17:03.90), Mattox Marsh (25th, 17:07.90), Brendan Perez (32nd, 17:20.60) and Luke Christensen (50th, 17:45.60) as 10 of the top 50 runners at the 1B/2B state meet were from Lacey.
The Northwest Christian boys have won eight total state championships, also capturing 2B titles in 2008 and 2009.
While the Wolverines added yet another state championship trophy to the case, the Pope John Paul 2 girls picked up title No. 1 after edging three-time defending state champion Liberty Bell, 96-102.
The Eagles placed three runners in the top 40, led by sophomore Clare Kondrat's ninth-place finish (20:21.60). She was followed by a pair of freshmen in Moriah Steinbrecher, who finished 15th with a time of 20:56.30, and Bella Kondrat, Clare's younger sister who finished 20th in 21:09.30.
Pope John Paul 2 also received a 24th place finish from junior Maggie Larson (21:20.60), a 29th from freshman Catelin King (21:29.80) and a 31st from junior Holley Nichols (21:34.0).
Northwest Christian placed eighth as a team and Rainier was 11th in the girls' standings.
The Wolverines were paced by a pair of freshmen in Josie Ryder, who was 15th with a time of 20:44.30, and Rachel Carlson, who was 35th (21:29.40).
Rainier sophomore Selena Niemi was the top placer for the Mountaineer girls, stopping the clock in 20:38.90 to place 12th.
The Olympia boys finished sixth as a team at the 4A state meet, getting a 12th from sophomore Ethan Coleman (15:28.70), a 31st from senior Connor Griffith (15:56.30) and a 38th from senior Max Barnes (15:59.50).
Led by junior Bryce Cerkowniak, Yelm was seventh overall as a team at the 3A boys state championships. Cerkowniak covered the 5K distance in 15:30.90. Cerkowniak was one of only two non-senior runners to finish in the top six in the classification, joining state champion Isaac Teeples of Kamiakin (15:18.10).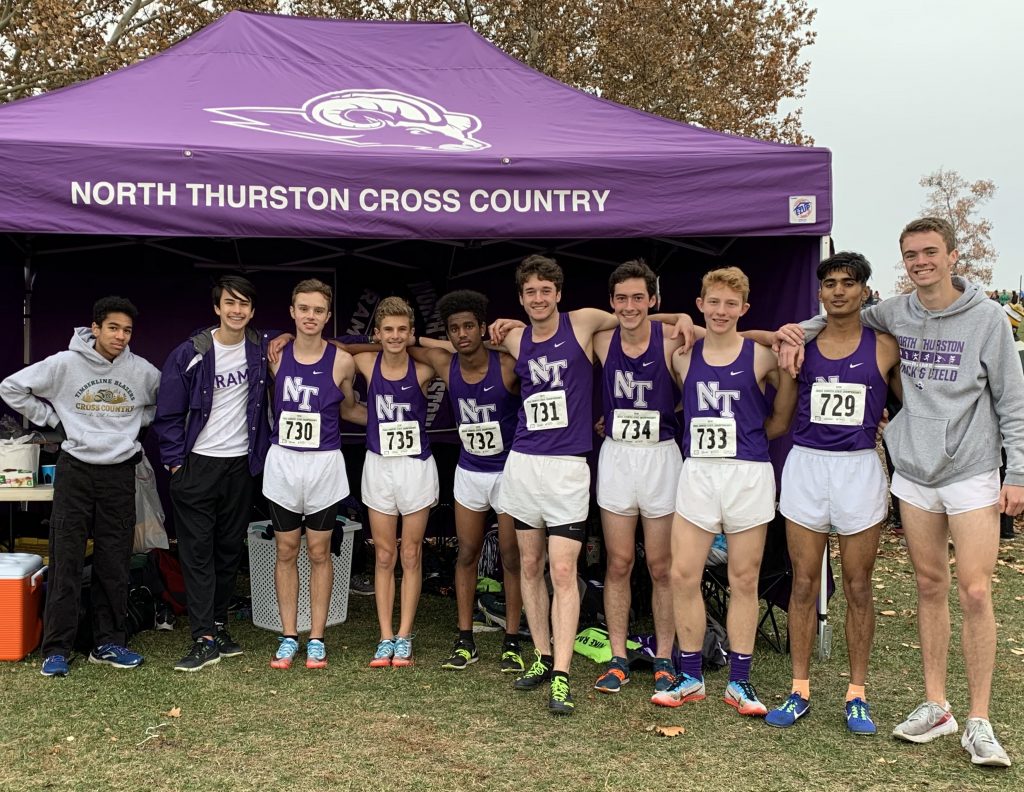 North Thurston finished 13th as a team among the 3A boys, getting a 19th place from junior Samir Amin (15:54.70).
Capital sophomore Aubrey Harrington finished 22nd with a time of 19:06.80 at the girls 3A state meet to help the Cougars finish 10th overall in the team standings.
Tumwater took home top 10 places in the both the boys and girls division at the 2A state meet.
The Thunderbird boys were eighth overall with Josh Newman leading the way. The senior finished 19th after running the race in a time of 16:13.30.
The Tumwater girls' squad collected the 10th place trophy. Senior Olivia Bailon was the top placing T-Bird, finishing 10th overall in 18:57.0.