On average, eight patients a day visit the emergency room at Providence St. Peter Hospital with a dental emergency. Often these are people who can't afford dental services whose minor untreated issues have become major problems as a result. Until now, the hospital hasn't had many resources to offer these patients other than pain management. But with the opening of a new dental clinic adjacent to the main campus, through a partnership with the non-profit community health center Neighborcare Health, Providence has a new resource for dental patients, regardless of income level.
In operation for more than 50 years, most of Neighborcare Health's 30 medical, dental and school-based health clinics are in Seattle. The dental clinic at Providence St. Peter Hospital is its first clinic outside of King County. As a community health center, Neighborcare Health accepts Washington Apple Health (Medicaid), Medicare and most private insurance plans, but insurance is not required. They also offer a sliding fee discount program based on family size and income, and no one is denied care due to inability to pay.
The clinic will include a year-long residency program for new dentists who want to expand their knowledge base and have more interaction with patients before entering private practice. That program will launch in June 2021. In the meantime, the clinic is open four days a week and Dr. George Holzer, the clinic dental and residency director, can see up to 20 patients per day. Another dentist is expected to join the team in December, expanding capacity.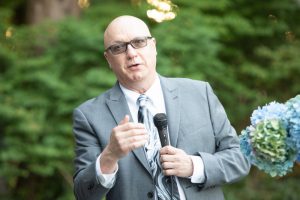 Holzer and the team at the clinic provide routine exams, cleanings, and X-rays plus more complicated procedures like fillings, root canals, crowns, bridges and denture fittings. "Our goal is to be a full-service dental home for our patients," Holzer says. "That includes providing emergency dental care, but also restorative and preventive care to improve patients' oral health and overall well-being. Dental pain and issues can really impact a person's life."
Prior to joining Providence and Neighborcare Health, Holzer spent 24 years in the U.S. Army, where he oversaw a residency program. Later, he became the staff dentist for the Veterans Administration. His new role requires wearing multiple hats; he'll direct the residency program for Providence St. Peter and act as chief of hospital dentistry, while also serving as site dental director for Neighborcare.
Neighborcare is an effective partner for several reasons. It has a long history of providing access to quality dental care, regardless of patients' ability to pay for that care.  As a federally qualified health center (FQHC), Neighborcare is well positioned to serve our community. "Neighborcare is a great fit," says Holzer. "They're already involved in residency training through NYU Langone Health, whose school of dentistry and programs are nationwide."
Connecting Dental Health with Overall Health
Starting in 2021, the residency program will train about three residents at any given time based on the amount of space available at the clinic. Within their year-long tenure, residents will rotate through multiple hospital departments including anesthesiology, internal medicine, family medicine and cardiac medicine. "They'll learn a lot about heart disease and the integral role that dentistry plays," says Holzer. "They'll get to see why dental clearance is so important before you go in for any type of heart procedure."
On completion, residents will qualify for a Washington State Dental License without having to take a written and clinical exam because of the time spent working with an underserved population. At that point, they can apply for a resident license which allows them to practice with supervision or take an exam to earn an unrestricted license.
The program will benefit residents, other hospital departments and the community, Holzer maintains. "Hospital-based programs give us the opportunity to teach the residents how to operate in an interdisciplinary education model," he says. "They're not taught just by dentists, they're going to be taught by physicians and specialists. It's a great way to have a lot of interaction with one or two supervising dentists and other specialists on a much more intimate basis."
For patients, the clinic will provide an affordable alternative to the ER. Holzer, who has been volunteering dental services since 2014 at the local Union Gospel Mission, says "All will be welcome at the clinic."
A public/private partnership that resulted in more than $2 million for the startup of the program helped make the clinic possible. This included generous support from the Providence St. Peter Foundation, the Washington State Legislature, Washington State Dental Association Foundation and hundreds of local donors – particularly the local dental community — who have given their time and financial support to provide this new resource for the Medicaid population.
"The Thurston-Mason Counties Dental Society and the Washington State Dental Association have been huge supporters," says Holzer. "They understand the tremendous value of providing more access to care, especially for low-income folks."
To learn more about the clinic or schedule an appointment, visit Neighborcare Health's website or call Neighborcare Health at 360-456-8844.
Sponsored