I got my fuel delivery the other day. It was from Cullen at Acme Fuel. Cullen's been driving and delivering fuel with Acme for 24 years, so, around a quarter of the time the company's been in business. Cullen's from Littlerock where he lives with his kids Anneke and Cash. He enjoys hunting, raising animals and working on his four acres of land.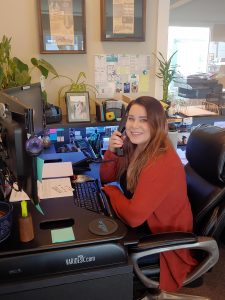 You might be wondering how I know this? Or why? You see, I've been getting fuel from Acme for the past nine years and I keep calling them because they treat me like family. A family-run business that is just shy of their 100-year anniversary, they know a thing or two about customer service. It's those genuine personal interactions that build trust over the years, and keep customers like me calling. And calling. And calling.
It's usually Ellie or Katie who answers the phone. Their friendly voices are hard for me to tell apart, and they have other things in common too. Ellie's been with Acme five years, Katie four. They each got married while working there, (and had members of the "Acme family" officiate), and they both have dogs of the shepherd variety, one German, two Australians.
I'm always so impressed with the office environment when I pop in to pay my bill. There's usually a parking spot open out front, and I enjoy the aesthetic of the retro building, so I deliver my payment in-person. (Something I never do). But to Acme, I strangely enjoy it. The interaction is always brief but cheery, and though I've never worked in an office before, I like to think that they are all like this one.
Todd Deck, Acme's general manager says it best. "Acme Fuel is much more than a place to come to work every day," he shares. "I get the honor to work with a great group of people that I consider family. We actually refer to ourselves as the 'Acme family,' we laugh – a lot – together in the office, celebrate everyone's birthdays, get coffee, have potlucks, and share stories of our weekends."
Just like a real family.
Acme seems to have a knack for hiring folks who value this, as many of the stories shared with me about their employees all touched on that theme. When driver, Darrell, comes in from the weekend, his stories compliment the on-going, quality time narrative with tales of hunting, fishing, and car shows. And it's the same for another driver, Lonny. He's a vintage car enthusiast and loves buying, selling, working on cars, and driving them around with his grandkids. And then there's driver, Ivon. Ivon is the Saturday Warrior around Acme, trading his weekends to make Saturday deliveries for all those in our area who are in immediate need of fuel. (Thanks, Ivon!)
Mike in dispatch has similar hobbies, and also loves attending his boy's football and baseball games, and Jason, a part-time driver coaches his son's football team and stays busy as a lieutenant with the Olympia Fire Department.
But wait – Did someone say football?
Football is a strong word around the Acme workplace. It sounds like there are some die-hard fans in the office and the Acme team has taken it to the next level and formed their own league! Of Fantasy Football, that is.
The Acme Fuel Fantasy Football League is currently in its 3rd year, and league victor gets the year-long honor of keeping the engraved Acme trophy at their desk. "The group text messages on Football Sundays can go on for hours it seems like," says Todd, "but the bantering and smack talk is so much fun."
Sarah in accounting likely receives more than her fair share, as she's been wading through the sea of Acme 12's for the past six years – holding it down for her team, the San Francisco 49ers. Todd says he's been working on her, but she's steadfast in her loyalty.
Loyal they are – the dedicated, hardworking, and personable team that makes up Acme Fuel, our area's leading supplier of propane, heating oil, gas and more. Whether it's Linda in propane sales, Allison, Sherry, or Connor at the Fast Fuel Stations, or Jonny in service, you're getting your fuel with a real smile, because Acme is genuinely a great place to work.
Owners Tom Allen Jr. and his son Christophe Allen, take care of their employees and over the years it has translated to excellent and unparalleled customer service. "I will say it," Todd shares, "and I know I echo the voice of every Acme employee, in that you could not ask for two better men to work for than Tom and Christophe. They are truly 'salt of the earth' gentleman, generous to both their employees and the community as they sponsor and donate to many charities, schools and organizations as well as the giving of their time."
If you'd like to get in touch with Acme for a fuel delivery, or if you want to find out who wins the Fantasy Football League, put a call in to the office. They can be reached at 360-943-1133. You'll likely get Ellie or Katie, but it may be Sarah, (and if so, let her know that you're a 49er fan, too!).
You can fuel up your cars, (even the vintage ones like Lonny) at either of the Fast Fuel Stations. Choose from the Lilly Road station or the one Downtown, they are both open to the public. Whether you've got a fleet to fuel, or just a solid hobby, look into getting a Fast Fuel card. With the perks and discounts, it makes a lot of sense. And it's worth mentioning that you don't need to be a member to utilize Acme's fuel stations. You just need to be in need of gas and want to fill up your tank in support of this amazing family business.
Acme Fuel
416 State Ave. NE, Olympia
Monday – Friday: 8:00 a.m. – 5:00 p.m.
360-943-1133
Sponsored