Since 2012, when Spud's Produce Market opened in the Wildwood neighborhood storefront in Olympia, the Spud's philosophy has been to bring local and affordable food to the community. After expansion into two locations and seven years in business, the owners of Spud's, Dave and Karissa Jekel, have curated not just a family-owned business, but a place that truly represents a family philosophy.
The roots of Spud's Produce Market reach back through the generations, to when Dave's parents, Barbara and Dave Jekel Sr. owned several grocery and convenience stores throughout Thurston County. Eventually, Barbara and Dave Sr. moved to Tenino and opened up a grocery store, Dave's Marketplace Thriftway. In 1996, Dave took over operation of the grocery store after Dave Sr. retired for health reasons.
Both of Dave's parents say they couldn't have made it in business without Dave stepping in to take over the store. They are proud to see him continuing the family trade through the creation of Spud's. "He's doing everything we did, but just a little bit different, a little bit better," says Barbara.
The Beginning of Spud's Produce Market
The idea for Spud's originated in 2010 when Dave and his wife Karissa moved to Olympia so their three daughters could attend school in the Olympia School District. Dave and Karissa were ready to try something new after Dave's parents put up the grocery store for sale.
Dave and Karissa developed a plan for the kind of store they wanted to create, with the ultimate goal of moving into the corner storefront in the Wildwood neighborhood in Olympia. Since the building was occupied by another tenant at the time, they searched for alternative properties. Karissa also wrote a letter to the owner of the building in Wildwood explaining their interest in the location if it were to ever become vacant.
The day before Dave and Karissa signed a lease on another property, Dave noticed a lease sign being put up in the desired storefront. After calling Karissa, Dave pulled into the location, caught up with the owner of the building who was hanging the sign and offered to lease the building on the spot. The building officially became the site of Spud's when Dave and Karissa signed the lease papers the next day.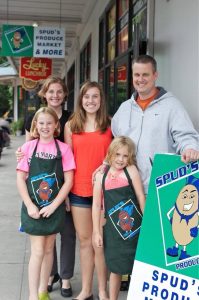 "I think getting the location that we really wanted made it a lot more exciting and it just felt right," says Karissa. "And the girls were small, so they were scootering around and helping out. It was definitely fun to start brand new. Start over."
After getting keys to the Wildwood location, Karissa and Dave worked together to customize the interior space. "We did it our way and we put a lot of work into it," saysDave. "We did all the work ourselves. We had to gut that place and buy all the equipment, contract out. That first year, we spent a lot of time with each other."
Karissa said that it was valuable for her and Dave to have the experience of working together at the Tenino Thriftway before creating Spud's. "Previously, we worked on the store in Tenino, too so, thankfully, we already kind of knew how far to push each other and when to back off," she shares. "I think it definitely helped when we had a little bit of experience already working together."
Through owning Spud's, Dave and Karissa both have had the flexibility to spend time with their daughters and attend various school and recreational events throughout the years. That flexibility has been extended to their employees, as well; Dave and Karissa work with employee schedules so no one will miss important life events.
"It's the ability to involve the girls and that it's really a family business," says Karissa. "As a mom, also, it's been amazing to have the flexiblity to be there and not miss the girls' events. Somebody's always there and I think hands down it's the best part for me."
For Dave, creating a family-owned market was a reminder of his upbringing, and now his family can continue that legacy, with each member bringing their skillset to the business. "That's my whole life," says Dave. "My mom and dad worked together, so I think that's normal. My mom always was on the books, she always knew where the money was at. And that's similar with Karissa. And that works. She lets me do what I need to do out here and she does what she does back here, and we go home and have dinner every night."
The Spud's Staff: Extended Family
Over the years, the Spud's employees have also become family. Dave says that one of his favorite parts of the business is getting to know his staff and seeing them through major life milestones including house purchases and weddings.
"Right now, we have Nate and Grant," says Dave. "Both came to work for me out of high school and then followed me up here when I opened. And then Dave, my other guy, worked for my dad and for me at Thriftway and then he joined me here at Spud's. I've known these guys my whole life and we all know each other. We know what we can say and what we can't say to each other and then at the end of the day, we're all still friends. We'll go out and we'll have a beer or dinner."
Dave says that community involvement and suggestions from Spud's customers influences what is stocked on the Spud's shelves and over the years, it has become a regular neighborhood stop for multiple residents.
"That's the crazy thing about the Wildwood store, is you see people every day and they just buy what they need," says Dave. "People call it their pantry. There is a couple that's been coming in. When we started, she was pregnant and now their little kid, Rosemary is in first grade. And I've seen her the whole way, because they come in at least every other day. It's stuff like that where we basically have just kind of grown up with all these families. Everyone knows you. Everyone says hi, they all know what you're up to and it's kind of neat."
To learn more about Spud's, their locations and the selections they offer, visit the Spud's Produce Market website.
Sponsored