Whether a returning student, or enrolling in college for the first time, South Puget Sound Community College (SPSCC) has numerous resources students can use to help finance their tuition and related college expenses, from federal and state grants to SPSCC Foundation scholarships. To help navigate the world of college funding, SPSCC offers in-person support through Admissions Information Sessions and appointments with a financial aid advisor.
When exploring college funding options, Amy Ybarra, director of financial aid at SPSCC, says that an important first step is filling out the Free Application for Federal Student Aid, also known as the FAFSA, starting on October 1 for the following academic year
"What it does is it collects family size, income information, and a bunch of other questions regarding dependency status and it determines what a family's expected contribution, the EFC, is," explains Ybarra. "And that helps determine eligibility for programs like the Pell Grant."
The Pell Grant is federal student funding that does not have to be paid back. The Pell Grant is awarded based on income information from the FAFSA and is generally intended for students earning an undergraduate degree.
Whether students think they might be eligible for federal financial aid or not, Ybarra recommends to still fill out a FAFSA. Students who are not eligible due to immigration status can fill out Washington State's application for financial aid, the WASFA.
The WASFA is intended for students who cannot fill out a FAFSA due to their immigration status. Students who fill out a WASFA are not eligible for federal funds like the Pell Grant, but are eligible for state-sponsored funding, like the Washington College Grant.
Under a new bill passed in the 2019 legislative session (HB 2158),the Washington College Grant is a need-based state financial aid program for students seeking degrees at two- and four-year colleges throughout Washington State. The grant extends financial aid to more middle-income families. For example, a family of four making $50,500 or less will receive a full financial award that covers tuition and state-mandated fees. Families of four making up to about $92,000 will receive some sort of partial award.
"This will make an incredible impact on our middle- and low-income families, often with students just out of high school or with adult students returning to build new skills or careers—a lot of families living on a one-person income," explains director of strategic communications, Kati Sagawa. "We want everyone in the state to take advantage of this and we'll be working to share the news far and wide in our community."
Students may also be eligible for several types of workforce grants that can provide financial aid for students seeking professional and technical training, like certificate programs, jobs skills training or pre-college skills.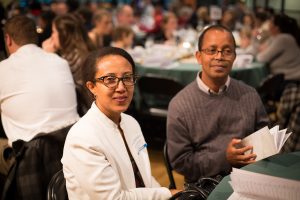 "Worker Retraining is for students that maybe have already exhausted their unemployment benefits," says Ybarra. "Maybe they have been unemployed or a stay-at-home mom that can no longer stay at home, maybe a change in marital status, or something like that. Putting them back into the workforce, they can get worker retraining funds."
Basic Food Employment and Training (BFET) is for students who receive federal food benefits and who are seeking adult basic education programs, certificate programs, or professional and technical programs. Students who participate in BFET may receive assistance to help pay tuition, fees and books.
WorkFirst is for parents receiving Temporary Assistance for Needy Families (TANF). The program helps students gain employment skills to enter the workforce or move up in their career and can also help to provide employment for student enrolled in college classes. Qualifying students may also receive assistance for up to one quarter of tuition, fees, books, transportation and childcare costs.
The Opportunity Grant is for students who are Washington State residents and have an income at or below 200 percent of the federal poverty level. Students in the grant may receive a year's worth of tuition funding and book assistance in addition to tutoring and career advising.
Through the SPSCC Foundation, over $525,000 of scholarships and grants were awarded to students over the 2018-2019 academic year.
"What's pretty cool about our Foundation is, students can use one application," explains Ybarra, "and then we auto match them to opportunities that they qualify for. And then we go through and we award as much as we can in that cycle."
Ybarra says that students can apply for scholarships every cycle, usually twice per year, and being awarded one quarter will not disqualify a student from receiving additional awards in future quarters if they are eligible and the funding is available.
The SPSCC Foundation also offers Student Success Grants, a type of emergency funding for students experiencing sudden financial challenges that may need temporary tuition assistance. "Students who have housing challenges," says Ybarra. "Students who maybe don't typically get financial aid, but they need help with tuition that quarter because their car broke down and they had to use tuition money to fix their car and now they need to pay tuition, they can put in a request for that."
If you or your student feel overwhelmed with options, SPSCC provides in-person help to navigate college funding. With locations at both the Lacey campus and Olympia campus, the One Stop desk can answer general funding questions, like how to apply for a Student Success Grant. For more in-depth assistance and for questions about the FAFSA or the WASFA, students can also make an appointment with an SPSCC financial aid advisor.
To learn more about grant programs and scholarship programs and other sources of financial aid at SPSCC, visit the South Puget Sound Community College website.
Sponsored