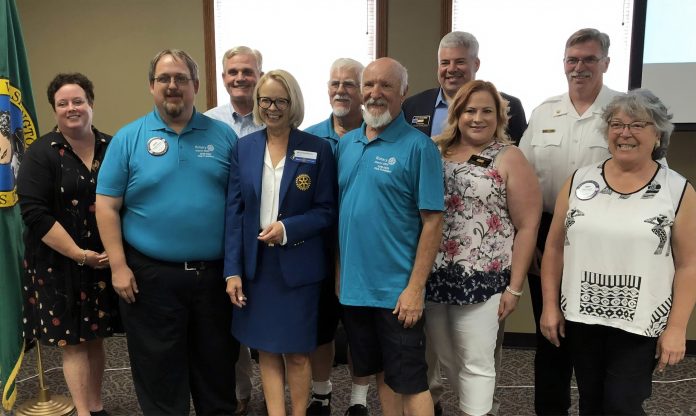 This year, Veteran's Day falls on Monday, November 11. Families, groups, associations and congregations gather to honor those brave service members who've served our country. The Hawks Prairie Rotary invites all veterans to visit and share stories and a meal with grateful members and community alike.
New Rotary President and Manager of Elite Cleaning of Washington, Buddy Stevens, explains that in the past they've had between 10 and 15 speakers at this annual luncheon. Veterans come in from nearby Joint Base Lewis-McChord and across our area to speak about their service while being treated to a free lunch. No sign-up or preregistration is required, "Just come!" encourages Stevens.
Rotary clubs began more than 100 years ago "so professionals with diverse backgrounds could exchange ideas, form meaningful, lifelong friendships, and give back to their communities." The Hawks Prairie Rotary does just that on a regular basis. Whether building accessibility ramps for those in need or winning bowling tournaments galore, the group is dedicated to making our region a stronger, healthier place to live.
Many of us live, work, or know an active, committed Rotarian. As the club explains, "Rotary is a global network of 1.2 million neighbors, friends, leaders, and problem-solvers who see a world where people unite and take action to create lasting change—across the globe, in our communities, and in ourselves."
And nearly all of us know a service-member we can thank for their tireless commitment to our country's safety and freedom. This Veterans Day, say thank you to all the men and women who have served.
Interested in learning more? Subscribe to their calendar for upcoming meetings and events or follow them on Facebook for news and activities. Details of the Veterans Day lunch will be posted on their website as they're determined. Contact Stevens and his team at HPRotary@comcast.net with questions about membership, get-togethers or club activism.
Sponsored