In 1891, Mary Ellen White crossed over the Great Plains in a covered wagon heading West in 1851. She was one of three daughters in the White family, early pioneers of Olympia whose matriarchal influence had a lasting impact on the Bigelow Neighborhood. The White daughters all married and built houses with their husbands on Olympia Avenue (then Second Avenue), and Mary Ellen's mother Margaret and her second husband Stephen Ruddell, built a house on the Avenue as well.

Mary Ellen and George Washington Byrd's beautiful home in the ornate Queen Anne style – The Byrd House – is circa 1891. This stately structure was undoubtedly the site of many a social gathering, as Mary Ellen's stepfather, along with her own husband, were well-connected and involved in politics in the community.
Oh, to know just how many meals have been served in the Byrd house?
Vietnam, 1975
Almost a century later, Kim Pham's brother-in-law, Chuong, was an interpreter with the U.S. Government in Saigon, Vietnam. Deep in a grisly war, Chuong was told by the government that he needed to flee. Uncertain of his family's next steps, his wife visited a fortune teller who foretold that he would only be able to leave the country if he had two siblings with him: one born in the Year of the Monkey and one Year of the Dog. Chuong tried to leave with just one sibling (the monkey), but there were no flights for three days.
Eventually heeding what the fortune teller foretold, Chuong urged Kim Pham (the dog) to join his escape. In a split decision, Kim gathered his pregnant wife, Phuong-Giang, and their 11-month-old baby and snuck and smuggled their way out of Saigon.
One week later, the area they fled was obliterated by bombs, and Saigon had fallen.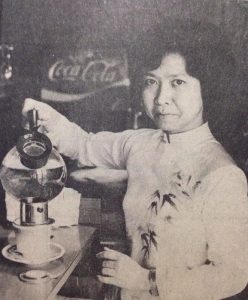 West Seattle, 1979
After Kim and Phuong-Giang escaped Saigon, they eventually settled in Seattle where Phuong-Giang opened the first authentic Vietnamese restaurant in the city called The Bamboo Tree. She now had two young girls underfoot and found the rigors of being a restaurateur and mother simultaneously to be too daunting. Though she decided to shutter her restaurant, she never stopped cooking and used cuisine to infuse the culture of her homeland into her daughters.
Olympia, 2019
Thuy-Tien "Terry" Vanderpham, daughter of Kim and Phuong-Giang, grew up in the US speaking English and Vietnamese, but says it was her mother's cooking that kept her firmly rooted in her culture and heritage. Today, Terry does this same thing for her own children and everyone she cooks with, all from the kitchen of the 128-year-old Byrd House.
Terry and her husband Jeff Vanderpham are the current owners of the Byrd House, and there are no more befitting stewards of a house that has brought people together over food for more than a century. "People tell me I'm really good at bringing people together," Terry says, "and I like to think that if Mary or her daughter Clara were doing that here, it's pretty amazing that it's still going on."
Terry has been teaching cooking classes for over 10 years and in a variety of different ways. She's taught enrichment courses at the University of Otago in New Zealand. After returning Stateside, she started a business with her sister where they visited home kitchens with an arsenal of Vietnamese ingredients and taught the host and their guests how to create a traditional Vietnamese meal. Once the attendees sat down to their meal, Terry and her sister would tidy up and prepare for the next kitchen. Terry taught private cooking lessons while living in New Zealand and Calgary, and finally, when she and Jeff decided to move back home – to the West – she began teaching Vietnamese cooking classes from The Byrd House.
Many things have changed in the Byrd kitchen over the years, but under the Vanderphams' watch, nostalgic cooking, no matter the cuisine, remains a constant.
"In Vietnam, everyone goes to the market every morning for fresh ingredients," Terry says. "If you had enough money to have a refrigerator, it was only used for dairy products and drinks." Terry recalls that growing up, "We never ate anything – save for canned tuna – from a can or frozen," because her mother wasn't accustomed to using those types of ingredients.
To Terry, quintessential Vietnamese cuisine is the perfect combination of salt, fat, heat and acid. "Vietnamese food isn't difficult to cook," she says, "It's just a lot of different flavors. My favorite dish, bahn tam bi, is one that has thick and almost chewy rice noodles, with shredded pork and pork skin. There's coconut milk and fish sauce, garlic, chilies and lime juice. Pickled carrots and daikon, mint, and steamed bean sprouts and peanuts. It's like 50 different flavors in one bowl, but that's what Vietnamese food is – the perfect combination of flavors and freshness."
Terry grew up a latchkey kid and was cooking for herself from early on. She mentions one of her first unique dishes where she took a "25 cent box of mac 'n' cheese from Albertson's" and turned it into two different dishes. The mash-up of Vietnamese and American cultures has certainly influenced her cuisine over the years, and also her creativity.
Nourish Olympia
Terry, like her mother, has found a way to tell a story through food. In addition to teaching students the secrets of Vietnamese cuisine out of her storied kitchen, she also combines her skills as a yoga teacher with her culinary expertise to offer a yoga + brunch experience where students take a yoga class, and then a cooking class, and it culminates in sharing a meal together. "I want to help people nourish their bodies," she says. "Whether it's through moving your body more or eating healthier food, I can present it to people in an approachable and tangible way."
Terry also wants to nourish people's skills as home cooks someday. "Wouldn't it be great, she says, "if I arrived at your house, examined your pantry, and showed you how to make something in your own kitchen? Great dishes can be made from almost nothing."
As her young children grow older, Terry is more able to grow her business. "Jeff and I have always wanted to do a pop-up restaurant here," she says. "Or an evening of dining in the Byrd House where we examine the dishes of the late 1800s and eat them while learning about the time period. Someday, I want to write a memoir of my mother's life and tell the story while intertwining recipes from my childhood."
A sneaking suspicion suggests that the dishes that would have been served may not look a whole lot different from the ones coming from Terry's kitchen now. Dishes of fresh ingredients, made from scratch with what's on hand or in season, and always from the heart. Food is the thread that connects us all over space and time, and the kitchens bear silent witness.
Terry Vanderpham can be found teaching Vietnamese cuisine to the masses this winter at the Bayview School of Cooking or leading a yoga class at The Yoga Loft. Connect with her via her Facebook page or her website to learn more about what she's working on and why.