Jarett Finau hits about as hard as any young MMA athlete in the Pacific Northwest.
A former defensive end at the University of Washington, Finau made the transition from football into the world of mixed martial arts once his Husky playing days ended five years ago. It was the right decision as

he went a perfect 4-0 during his amateur MMA career, ending all his fights by knockout.
After two dominating years in the amateur ranks, Finau made his professional debut on August 10 at CageSport 58 at the Emerald Queen Casino in Tacoma. Also fighting for the first time as a pro was his opponent, Dominic LaPraim, who was five inches shorter and 11 years older than his counterpart.
Finau's power was on full display early. He connected with a solid right, violently snapping LaPraim's head back. Most fighters would have crumbled.
LaPraim smiled.
"Nobody likes to get punched," LaPraim said. "However, there is something that happens to me when I do get punched. For some people, it makes them overwhelmed and they run. For me it hits a light switch. Once that switch is on, I react offensively."
LaPraim, who graduated from Timberline in 2000, didn't just survive Finau's first-round onslaught, he actually went on to win the round, successfully landing a series of punches of his own to dramatically sway the bout in his favor.
LaPraim ended the fight with an impressive barrage of punches 95 seconds into the second round, giving him his first pro victory. A win more than a decade into the making.
LaPraim is a few years shy of 40. While most fighters have long since retired from their pro MMA career by the time they reach his age, LaPriam's career is just beginning.
CageSport is the longest running MMA promotion in the Pacific Northwest, holding its inaugural show a dozen years ago. Interestingly, LaPraim fought on the first CageSport show as an amateur.
It would be 57 more shows before LaPraim made his return appearance.
"I did fight on the first CageSport. I won that fight as well by TKO," LaPraim said. "I remember (former UFC world champion) Miesha Tate fought on the same card and she went on to become a huge name in the sport. So, to me that is pretty cool. I thought I would have been going pro much sooner than I did. But hey, that's life. I take those punches and fight back too."
Persevering is something LaPraim has excelled at.
He cites multiple reasons for why it took so long for him to turn pro, tops being an injury and starting a family.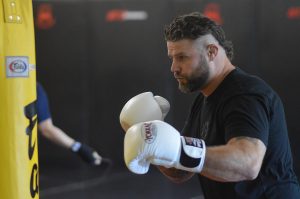 He broke his foot during an amateur bout in 2009. His spirit, however, proved to be far more durable than his extremity as he fought through the pain and eventually won the fight by KO.
While the injury did little to sway his determination inside the cage, he definitely paid a price for it outside. Working in construction at the time, LaPraim lost his job due to his inability to work.
"Along with my baby boy being born, I had to focus on my family and what was most important at the time," LaPraim said.
That meant sidelining his budding MMA career just three years after it got started.
Always an athlete, LaPraim's sport of choice in high school was football. Once he graduated, he moved on toward bodybuilding. MMA wasn't even on his radar until a chance meeting.
"I got into it because I had a friend named Shawn Wright, who loved the sport so much," LaPraim said. "He infectiously brought the love of it everywhere he went. I met him randomly in a Chevron gas station and his charisma and positivity brought me in."
LaPraim had a solid 80 pounds on the much smaller 170-pound Wright. Despite his inexperience in the sport, he felt strong and capable stepping onto the mat with his new-found friend the first time he was coaxed into the gym.
"I thought no way (he would) have a chance," LaPraim said about the two squaring off. "I learned quickly that wasn't the case. My first day was an eye opener. Technique beats strength."
It wasn't long after that LaPraim started training under Eddy and Lisa Ellis at the couple's United Training Center in Lacey.
"(Eddy) and Lisa Ellis have been a major part of my martial arts experience," said LaPraim, who also works as an electrical contractor. "United Training Center (is) a major part of who I am as a fighter."
In addition, LaPraim also trains with Travis Doerge at Six Feet Under MMA in Kent.
"Breaking my foot in 2009 and having a child kept me off the matts and working on my financial status and my responsibilities, (I had to put) fighting on the back burner," LaPraim said. "The passion for competition never left me and eventually brought me back."
LaPraim is now focused on training towards his second pro fights, which could occur in December.
"What I love most (about MMA) is the community, and the structure of the discipline," LaPraim said. "I love the daily commitment to the sport and the tight group of friends you create."