Surprisingly, the nasty-looking gash in the center of Bradley McGannon's forehead required just three stitches to seal up.

McGannon, a two-way starting lineman for Yelm High School and one of the state's top senior recruits, is a throwback player, gritty and physical. When his helmet became dislodged during the Tornados season opening game against Skyview, he paid no attention to it and continued to pursue the ballcarrier.
Despite lacking the headgear, he made the tackle. Unfortunately, during the chaos of the play, the helmetless McGannon also made contact with teammate Carson Amendt, colliding headfirst into the side of Amendt's facemask where one of the metal clips tore into McGannon's skin causing the cut.
Never one to want to leave the field of play, McGannon begrudgingly marched off the turf, his face sporting the proverbial crimson mask as blood quickly ran down into his eyes, over his nose and down to his mouth and chin.
The 6-foot-4, 255-pound offensive lineman/defensive end proudly displays a picture someone took of him from the sideline on his phone. A small smile can be seen on McGannon's face in the photo as Yelm trainers tend to his grisly wound.
A much larger grin is found on his face when he shares the image.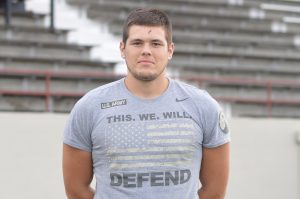 This kid loves football, and more specifically, Yelm Tornados football.
"I love playing here," said McGannon, who has drawn interest from several schools, including Eastern Washington University. "I wouldn't want to play anywhere else. I take a lot of pride having Yelm across the front of my jersey. We pack these stands every Friday night."
It's fitting McGannon's battle injury was caused due to contact with Amendt, Yelm's talented running back/linebacker, as the two share the same passion for Yelm football. They bleed Tornado red and black. You can hear it when they talk about playing for the program.
"One of the big things we're taught here is mental toughness, learning to be a dog, going hard every play, not worrying about scrapes and bruises," Amendt said. "Discipline and execution can get you pretty far."
It certainly has for the Tornados the last two seasons.
Both three-year starters, McGannon and Amendt have played large roles in Yelm's recurrence on the gridiron. McGannon was a first-team all-3A South Sound Conference selection last year as an offensive lineman, while Amendt (5-10, 185) was a second-team pick after rushing for 1,000 yards.
Their play helped the Tornados end a 31-year state playoff drought last season as Yelm joined the 1987 team as the only squads in program history to not only make the state playoffs, but advance to the 3A state quarterbacks.
Neither McGannon nor Amendt are ready to see the team take any kind of step back in their final season of high school football.
"Everyone got hungry for it," said Amendt, pointing out that the past summer the team had 10 to 15 more players turning out for lifting and conditioning. "We talk about ACE a lot, which is attitude, commitment and excellence, and the guys the last few years have really taken it seriously. It's really changed what we do around here."
McGannon and Amendt have played together since fifth grade, but didn't become close until their sophomore season when both were thrust into the world of varsity football.
"We actually knew each other and had some of the same friends," McGannon said, "but it wasn't until our sophomore year when we were both on varsity that we became close. There wasn't a lot of sophomores (on varsity) that year. So, we had that in common. Football has really brought us together."
The same can be said for the entire program.
"A big part of this team is family," Amendt said. "Just seeing Yelm football change to what it is now has been the most memorable thing to me. My sophomore year, we made the (district playoffs). Junior year, we went to the state quarterfinals. It's different. Yelm wasn't always like that. Growing up here as a kid and seeing it change is super exciting."
The Tornados are looking to shake off an 0-2 start to the season after dropping non-conference games to Skyview, a 4A state playoff team from last year, and Tumwater, a 2A state quarterfinalist in 2018.
The team, however, can draw on last years' experience where they opened the season 1-2 before winning five out of their last six regular season games to grab a postseason berth. Once the playoffs started, the Tornados were firing on all cylinders as they knocked off Bishop Blanchet (24-14) and Lakes (15-14) before falling to Bellevue (37-20) in the state quarterfinals.
"We have a new field, new jerseys and making a run last year gave us all this energy," McGannon said. "A lot of people think we can't make up for who we lost this year, but I'm ready to prove them wrong."