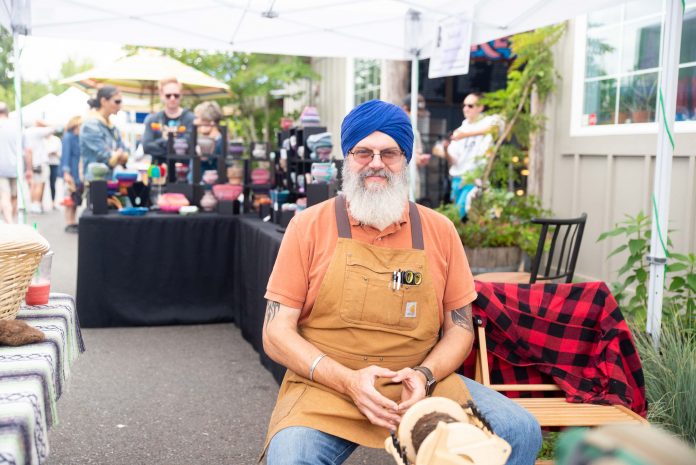 With a 56-year history and over 50,000 alumni, South Puget Sound Community College (SPSCC) has developed deep connections to the Olympia community. And ties to the college are especially apparent at the Olympia Farmers Market. On any given Saturday, the market is ripe with alumni, family and employers of SPSCC students, both operating booths and enjoying the market ambiance.
Brandon Holmes, Left Bank Pastry
For the Assistant General Manager of Left Bank Pastry, Brandon Holmes, SPSCC's proximity enabled him to enroll in the college's culinary program. "I worked locally at the time, so it just made sense to not have to commute two hours a day for morning classes," explains Holmes.
As an alternative to commuting to Seattle for school, Holmes completed a Certificate of Completion in Culinary Arts from SPSCC and has been with Left Bank Pastry for three years. "At Left Bank Pastry, I'm kind of the catch-all," he says. "So, I've got experience baking, shaping, doing the shipping and receiving end of it, the business sales part of it and doing the retail management part as well. Kind of the jack of all trades here."
Through SPSCC, Holmes not only learned about food preparation, but also the business and logistical side of operating a bakery, which has served him well in his current role. "Focusing on menu creation, cost out and things like that," explains Holmes. "Those are all skills that I've been able to employ in every facet of working in different food jobs that I've had. As far as menu creation, making sure we're staying within budget, making sure overhead costs are covered, things like that, from that standpoint, I got a great preparation for actually being involved in the business side of food production. From the methodology standpoint, learning different techniques and methods, I learned all the basics that I needed."
Loree Ryan, The Secret Garden
Local artesian, Loree Ryan, owns and operates The Secret Garden at the Olympia Farmers Market. At her market booth, Ryan offers handmade quilted wall hangings, pillows, reusable tote bags, table runners and other gifts. Quilting for 25 years, Ryan formerly traveled to farmers markets throughout Western Washington before becoming a permanent resident at the Olympia Farmers Market, which she has called home for six years.
Ryan says that she was not always the sewing type and became acquainted with quilting at the suggestion of a friend. "A friend of mine handed me a big pile of quilting books and she said before you touch fabric, look at these books," explains Ryan. "At the time, I was not much of a research type, but I looked through the books and all the directions. I sold my first quilt to a friend and my second quilt is still hanging in my sewing room. So, I had some knack. I think it was genetic from my mom because I didn't really sew. I kind of flunked sewing in seventh grade. Once I started in quilting, it was a whole different thing."
A continuing education course is what brought Ryan to SPSCC. And in this class, Ryan was thrilled that SPSCC tailored lessons to all types of learners, including those like herself who engage deeply with visual and artistic media. "At the time, I was a wildlife biologist and in order to continue my job I needed an extra botany course," explains Ryan. "It was very interesting because we used a coloring book. And so, when we were learning plants and plant parts and plant biology, we could just color those parts. And for me, being an artist type, it really helped seal in the information better than a lecture. I really, really enjoyed it."
That same spark of creativity that was nurtured in Ryan's SPSCC botany class is on full display in her quilting booth.
Denise Schupbach, Wynoochee River Winery
At Wynoochee River Winery, Denise Schupbach has a special connection to SPSCC, because her daughter is currently a student at the College.
A graduate of the Baking and Pastry Arts Program, Schupbach's daughter is now enrolled in the school's Culinary Arts Program, earning a second certificate. "It's been a pretty good experience for her," explains Schupbach. "She loves her professor, Melanie Shelton. They've been good to work with."
While working toward her certificates, Schupbach's daughter has also interned for the Blue Heron Bakery, working across the market from Schupbach. "It was neat to see her interacting," says Schupbach. "The market's kind of a really interesting melting pot. Her ultimate goal is to own a bakery. She really likes that creativity of baking and expressive arts through her cooking."
Ajai Singh Kahlsa, Ironhill Wool Works
Ajai Singh Kahlsa worked as an attorney in Olympia and is a fiber artist with his own company, Ironhill Wool Works. His first year at the Olympia Farmers Market, Kahlsa has been knitting and spinning yarn for 25 years.
"I think I was a little old Irish lady in a former life," says Kahlsa. "I picked up a pair of knitting needles and a ball of yarn about 25 years ago and within a couple of months, I was knitting Aran sweaters. It's just one of those things where it comes easily for me."
While an attorney, Kahlsa was an employer for numerous paralegals who were graduates of SPSCC. He says that his employees were well prepared by their SPSCC education. "I formerly worked as a lawyer here in town and I worked with at least two or three people who came out of the paralegal program at SPSCC," explains Kahlsa. "And I was very pleased with the knowledge of the work, the experience and the way they were able to run their job."
To learn more about SPSCC alumni and their ties to the community, visit the South Puget Sound Community College website.
Sponsored