Sometimes the road home is long and hard. For Abbi, an adorable border collie, some of that story will always be a mystery. Like how, for example, she lost one of her back legs. What is known is that in November 2018, a concerned citizen contacted Adopt-A-Pet in Shelton. And that was when Abbi's happily ever after was set in motion.

Lucky for her, this man had noticed her showing up at his house, looking for something – anything. The neighbors had been giving her water and treats, and he had seen her eating the peanuts from the bird feeder. "The weather was cold and wet, and he didn't want Abbi left out to care for herself, so he took her in and continued to try and find the owner," shares Catherine, Adopt-A-Pet's adoption coordinator.
When he did find the owner, he learned that Abbi had been acquired at least two years ago and was used for breeding. When the couple divorced, Abbi was pushed to the side, and the remaining person was not caring for her.
It was decided that Abbi needed a new life. "Acquiring legal possession of Abbi was not easy and took some real effort, but finally she was surrendered and arrangements were made to bring her to Adopt-A-Pet," explains Catherine. Her intake date was November 6, 2018.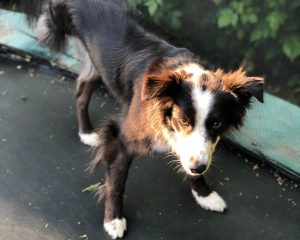 Sweet and active, just like a young border collie should be, Abbi craved human attention and looked like a great fit for a family with two other bother collies and a cat. They adopted her that month and it seemed like her happily ever after was coming true.
But Abbi still had a bit of road to travel yet. "They loved her, she did well with the other dogs, but would not stop terrorizing the cat, so she came back to Adopt-A-Pet," Catherine shares.
Abbi was back at the shelter, but her wait was not long.
A Home for Christmas
Meanwhile, a local family who had lost their previous dog that summer was thinking about adding to their family once again. "Though my husband and I were hesitant to have another pet, our daughter really missed the companionship of a dog," says Janae Huber. "Her first words were 'dog,' 'pup,' and 'Oly' (our previous dog's name). She said all of those before 'mama' or 'papa,' so having a dog was a really important part of the household for her."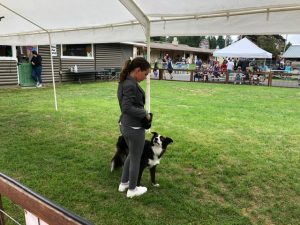 The family wasn't familiar with Adopt-A-Pet until they went there to meet Abbi. "We love border collies, but were also nervous about having one again given their intense physical and mental energy levels," says Janae. So when they saw Abbi, she seemed like a perfect fit given her age. "We felt like we were in a better position to handle the energy needs of an adult versus a puppy."
This time, Abbi would not be returning to the shelter. "It took her a month or two to settle in," says Janae.
Her new family has already taken her on many adventures, though it's been less than a year since they adopted her. Although they did not know much about her history, they took her herding at Fido's Farm in July and the trainer believed she has been on sheep before, based on her behavior. "She loved it," adds Janae.
And Lilie – Janae and Oliver's 10-year-old daughter – is definitely enjoying having a dog again. She and Abbi joined Thurston County dog 4-H in January and do regular 4-H obedience and showmanship practices, as well as agility. They even went to the Thurston County Fair this year – a first for both dog and girl. "Abbi was in the dog barn meeting people for three days of the fair and she handled it really well," says Janae.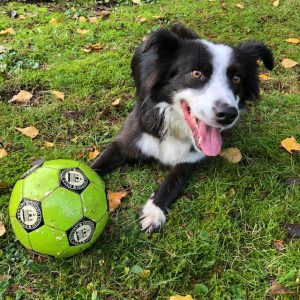 "She is such an amazing dog and we are so lucky to have her in our lives," Janae wrote in an update letter to Adopt-A-Pet.
Although they could not compete in 4-H agility due to her missing leg, Abbi and Lilie competed in Showmanship, earning a blue ribbon and a Reserve Champion title.
When asked about how Abbi has touched their lives, Janae has a poignant answer. "This is so hard to describe because it's intangible," she describes. "She's funny and playful. She gives new shape to our day. It's a joy getting to know her and how she expresses what she likes and doesn't like. We play soccer with her and she likes to block the ball like a goalie. She jumps on the trampoline and she's absolutely crazy about attacking hose or sprinkler water. She also likes to snuggle and she's friendly to people she meets. She's just a really fantastic companion. She inspires us to be better dog owners. We want to meet her needs and be the family she deserves."
Your own intangible joy could be waiting at your nearest shelter.