Allergies to dogs and cats affect 10-20 percent of the population worldwide, and many pet owners may not even know that their beloved Fido or Fluffy is the reason they are constantly reaching for the tissues. Our pets are very special, even vital, members of our families, but cleaning up after them isn't always easy. It's time-consuming, and if you're not following best practices, all of your hard work may not be enough to keep allergies at bay. The team at Maid Perfect, a residential and commercial cleaning service, has developed many strategies in their 20 years of business to keep your home sparkling – even when Sparky is underfoot.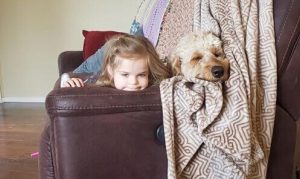 Drew and Tonya Freemantle, the owners and operators of Maid Perfect are cleaning experts. A large percentage of their clientele have pets, and being pet owners themselves to Abby, a Goldendoodle, and Odie, a Dachshund, they are well-versed in keeping a home pet hair and dander free.
The Freemantles are celebrating two decades of business this year, and have discovered many and tricks and tips over the years. Their family business has grown to 5 employees now, and co-owner Drew Freemantle says all of their employees are highly vetted, experienced and background checked. "We try to keep the same team cleaning the same home throughout the year," Drew says. "Not only does it make the client more comfortable knowing who's coming around their house, but it builds trust and allows us to operate as efficiently as possible when we get to know the house."
Some of the tips the Freemantle's have learned in cleaning up after pets have come from pet-grooming expert, Caitlin Hite. Caitlin is the owner and operator of Charlie's House-Call "Paw Spa," a mobile pet-grooming business. "House-call grooming offers one-on-one attention," Caitlin says. "By grooming in your home, I am able to build a relationship and trust with your pet, which helps overcome anxiety many dogs express when being groomed." But, as with any grooming, there's a mess to clean up, and in the mobile-grooming business, cleaning up is an important part of the job. Caitlin offers the following tips clean up tips:
This dapper dog just enjoyed grooming by Caitlin Hite. Regular grooming can help cut down on the amount of hair and dander in your house. Photo credit: Caitlin Hite

Wash your dog every four-six weeks (instead of every three-six months) to keep their coats healthy and to reduce shedding all over the home. And the furniture. And your clothes.

Use special attachments on your vacuum to get into the cracks and crevices where pet hair and dander hide.
Vacuums with HEPA filters can be especially helpful when trying to reduce pet allergens. The filter helps to trap the dander instead of releasing it into the air.
Keep your pet's nails trimmed to eliminate wear and tear on floors and furniture.
The more you brush and comb your pet's coat, the less dander and hair you'll have around your house.
Swiffers and microfiber dust mops are excellent tools for quick pet hair clean up!
Use an enzymatic cleaner such as Nature's Miracle or Bac-Out to eliminate pet odors from accidents. Deal with potty pitfalls right away instead of letting them soak in.
Vacuuming daily helps reduce the likelihood that fleas will take up residence in your home, especially in the warmer months when the population booms.
Drew tells a story about how one of his clients has a large dog, and after a thorough house cleaning, he was able to recover 2 garbage bags full of dog hair! It's a lot of work; cleaning up after our loved ones, pets especially, and if you haven't the time or the energy, Maid Perfect is happy to lend a hand.
Maid Perfect brings all of their own supplies to the job, and has the recommended special vacuum attachments and HEPA-filtered vacuums to get your pet-loving spaces as clean as can be. Also noteworthy is their ability to perform a "green clean" should the client request it.
In addition to these residential services, Maid Perfect can tackle the cleaning of commercial buildings, newly constructed spaces, move-in or move-out cleans, and will work directly with your realtor to get your house ready for the market, or vise-versa, should your new home not be up to your standards of cleanliness.
Drew says what sets Maid Perfect apart from the rest is their "massive attention to detail." But that should not read as their service is slow because on average, Drew says a team of two housekeepers can clean an entire home in two hours.
Drew's passion for customer service, (he's been in the industry for a long time), and his wife Tonya's extensive experience as a cleaner, made opening Maid Perfect a perfect fit for the couple who always put their client's needs first.
Their warm and friendly demeanor, combined with their experience makes them a top-of-the-line cleaning service. Just don't expect top prices, as the Freemantles work hard to keep their prices affordable. This truly professional cleaning service is licensed and insured, and offer free house cleaning estimates to those residing in Olympia, Tumwater, and Lacey.
So, if you're sneezing more than you should be, or have pet hair clinging to every surface, follow these helpful tips on the best practices for cleaning up after your pet. Or, just forget about it and hire the experts.
Maid Perfect can be reached via phone at 360-402-6248. Visit their website and use the contact form to request an estimate, or send an email to tonyafree@comcast.net
Sponsored