Julian Kennedy's blocked punt during Black Hills High School's opening game last football season against Bremerton not only kicked off the Wolves' historic year, it also ushered in a new mindset for Kennedy.

"That play is what got me going. I know it was special teams, but I was still coming off the edge," Kennedy said. "I think that was the play that proved to me I could play defensive end and be good at it."
Not just good, but great.
Kennedy, who is also a standout wrestler, was an absolute nightmare for opposing offensive linemen last year, causing havoc despite his undersized stature.
"You look at his stats and it's just crazy what he did last year," Black Hills head coach Kirk Stevens said.
Last year, Kennedy collected 71 tackles, including 32 for losses with 15 sacks and four fumble recoveries. The first-team all-2A Evergreen Conference player also forced two fumbles, registered a safety, scored a touchdown on special teams and added the blocked punt, which came during the Wolves' 50-19 drubbing of Bremerton.
Black Hills captured its first conference championship in 2018 with a school record 11 wins, highlighted by a 22-17 triumph over rival Tumwater which gave the Wolves their first win over the Thunderbirds since 2009. The team won their first 11 games, clubbing Columbia River, 45-7, in the district playoffs before besting Burlington-Edison, 48-8, in the opening round of the Class 2A state playoffs to give the program its first ever state playoff win.
The team's only loss came in the state quarterfinals when Black Hills suffered a 14-0 loss to visiting Fife at Tumwater District Stadium.
The question now is what do the Wolves do for an encore?
"Our goal is to beat Tumwater again and win a state championship," Kennedy said. "Last year, we just wanted to be the best we could be, but we know we can get back there and be better than last year."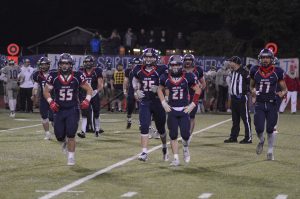 Remarkably, Kennedy wasn't even penciled in as one of the starting defensive ends at the start of last year. In fact, the last time he played on the defensive line was when he was in elementary school before being reassigned to it late last summer.
"We had looked at playing him at that hybrid safety, outside linebacker position, but he was wrestling at nationals and missed spring ball last year when we put all the new defense in," Stevens said. "He was late to the game. When he came back, he was behind the curve, but we knew we had to get him on the field, and we were struggling at defensive end."
The move proved to be genius as Kennedy was a natural due to his combination of speed and physicality despite coming in at just 6-foot, 170 pounds.
"After his second practice at defensive end, the coaches just looked at each other and said, 'We have our answer at defensive end,'" Stevens said. "We knew he was going to be a playmaker. We just needed to figure out where the best fit for him was. Where can we move him? Where he can help? He's only 170 pounds, but he's 6-foot, 6-1 and he has length and he's physical, aggressive and has great leverage."
He's all that, but his biggest talent may be how quick he gets off the ball, a characteristic that all but nullifies his lack of size.
"I just get around people," Kennedy said. "That's always the goal. Everyone says I'm really physical, but I just want to get around (offensive tackles) and get to the ball."
More times than not, Kennedy does just that.
Graduated from last year's strong senior class was EvCo MVP Taylor Simmons, EvCo offensive MVP Ethan Loveless, and five other first-team all-conference players in offensive lineman Devin Treptow, wide receivers Alex Nagy and Josh Rodgers, linebacker Jordan Claridge and defensive back Lucas Johnson.
Kennedy, however, is not the only returning player expected to make an impact for the Wolves in 2019 as the team returns first-team selections Tate Elliott (offensive lineman), Nic Bovencamp (punter) and Zach Loveless (linebacker), and honorable mention picks in juniors Easton Casto (offensive lineman) and Ben Herrin (defensive lineman).
"It's next man up around here. We have freshmen who are seeing how we work in the weight room. That' s what really took us to the next level," Kennedy said. "We learned what needs to be done from the senior class before us, and now we want to be the leaders for the younger players so we can continue to build up this program."
Black Hills begins its season on road at Bremerton on September 6. The Wolves will play their home opener against Fife on September 13 in a state quarterfinal rematch. The annual Pioneer Bowl against Tumwater will take place on October 25.