Back to school season is right around the corner and with that comes the cost of getting ready for the school year. According to a National Retail Federation study, households expect to spend an average of nearly $700 on back to school shopping. In families with multiple kids, that number adds up to an enormous amount. What are some great ways to save on back to school costs?

Make a plan. Planning ahead and developing a strategy allows parents to have time to search out the best deals and maximize the budget. Start by taking inventory of what you already have or what is left over from last year. Items like pens, notebooks or calculators can carry over into the next year for easy savings.
Let your phone help. Sign up for text and email coupons to your favorite stores before shopping. Use specific store apps or reward cards for discounts and coupons.
Rebate apps offer cash back with purchases. Sites like Ibotta and Ebates put money back in your wallet and are very easy to use. Some just need a receipt uploaded. Also, check to see if they are offering new member bonuses.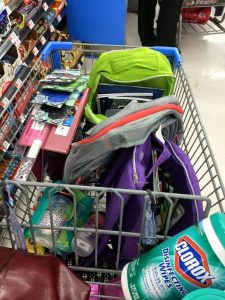 Use price matching. Many big box stores will meet or beat competitors' prices. Double check prices online and ask for the difference. The savings add up with multiple children and a cart full of items.
Keep it simple. While school supply lists are often long and specific, there is no need to go overboard. Store brand supplies work just as well as the name brand. Avoid splurges on expensive or trendy things by customizing pencil boxes, notebooks and folders at home.
Swing by Lost and Found Crafts. Find fun items to personalize simple supplies or check for cute items that might be on your back to school list.
Use credit cards that offer rewards on spending for back to school shopping. Earn points, miles or cash back for certain items from grocery and department stores depending on the credit card.
Look for second-hand items. Thrift stores are a great place to find lower-cost clothing, but check for office supplies as well. Many people donate expensive three-ring binders, calculators and other items that will keep costs down.
Buy higher-priced items used over many years with a warranty. Backpacks from JanSport come with a free lifetime guarantee. If they ever break, simply return it to the warranty center. They'll either fix it or replace it.
You can also shop online for clothing, shoes and even school supplies. Facebook groups are a great place to find items that are cheaper or even free. Make sure to check out the free stuff section on Craigslist too.
Coordinate with other families. Maybe someone you know has extra supplies you could use and vice versa. Clothing swaps are a great way to trade clothing kids have outgrown while getting the size you need.
Shop without the kids. Although preparing for school is a great way to get kids excited about the upcoming school year, they often have requests that are budget busters. Go alone and save on impulse buys from children who always find something they must have. If you do take the kids, discuss the budget before shopping and have them help make sure you both stay on track.
For families who need help with back to school costs, there are many great organizations in the area that provide free supplies, clothing and more.
North Thurston School District students can get help with supplies and backpacks from Operation Backpack. Backpacks are distributed as needed through individual school counselors and intervention specialists at the start of school. Be sure to contact your school if you are in need of supplies.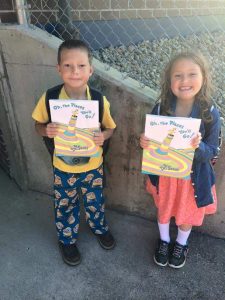 Open to all Thurston County families in need, Little Red Schoolhouse distribution of free supplies and coats takes place Thursday, August 15, from 8:00 a.m. until 6:00 p.m. at Komachin Middle School at 3650 College Street S.E. in Lacey.
For students in need, City Gate Ministries distributes free backpacks, school supplies, clothing, haircuts and more. Find them on August 29 at 6:00 p.m. in downtown Olympia at the corner of State and Adams Streets.
For Rochester students, contact ROOF Community Services. Backpacks filled with school supplies are available to students the week before school starts.
The Office of Superintendent of Public Instruction or your local school district is where to find free and reduced-price breakfast and lunch applications.
For scholarships for extracurricular activities for students in the Tumwater School District, contact Tumwater United for Families. TUFF scholarships pay 50 percent of the activity program fee, up to $50 per child for programs offered to youth, including sports, arts, educational and recreational programs. Families must meet the criteria for acceptance to the program.
Getting ready to go back to school doesn't have to break the bank. With a little pre-planning, a budget and local resources, there are strategic ways for budget-conscious parents to keep spending from spiraling out of control.