The Lacey South Sound Chamber of Commerce and Visitors Center is a multifaceted local non-profit organization. With so many moving parts and wonderful services, the Chamber staff wanted to enlighten its surrounding local businesses about the benefits of being a part of this community-oriented organization.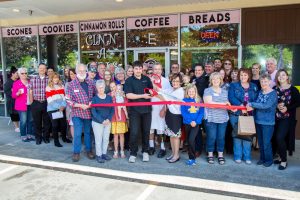 The Executive Director, Blaine Land, expressed her and her team's passion and vision to create unique experiences and services that improve their member's lives and enhance their community. The Lacey South Sound Chamber offers a wide variety of opportunities for marketing, networking, referrals, community engagement, and business exposure. Engaging with the Chamber community strengthens your position in the South Sound area through building relationships with like-minded business professionals. "Our goal is to grow a positive thriving business community by empowering our members to actively utilize one another's services," says Land. The Chamber works diligently to offer resources for their members to connect with one another, including a weekly eNewsletter, Facebook page, website, online event calendar, email blasts, and various events.
In addition to these services, in 2018 the Lacey South Sound Chamber & Visitors Center collaborated with the City of Lacey to launch a hospitality-and tourism-related marketing campaign known as Discover Lacey. "We listened to our members and learned there was a need for more marketing efforts led by our organization to promote local hospitality and tourism related businesses," states Land. This marketing initiative was designed to encourage residents, visitors, and relocators to Discover Lacey: Eat, Play, Stay, and Explore.
Not many Chambers have the availability or capacity to implement a marketing campaign such as this, so we feel fortunate that we were able to create this unique service for our members. When people visit an area, the local Chamber of Commerce and Visitors Center is typically the go-to spot to learn the lay of the land. With Discover Lacey, we are able to promote our local businesses and provide an online outlet for people to learn how to make the most of their trip by visiting the Discover Lacey website, Instagram, and Facebook page.
Testimonials from members show just how much the Lacey South Sound Chamber benefits their businesses.
"No matter what industry you are in or the company you work for," states Alexis Miller, Business Services Manager and Commercial Lender at TwinStar Credit Union, "The Lacey Chamber is there to assist in engaging you with other professionals and community leaders. They are also very entrenched in the community and provide support to several large events that impact local residents and businesses in a very positive way. As a member of the Chamber, they continue to be great partners in allowing TwinStar, and myself personally, to plug-in and embrace our community. I cannot stress enough how much I appreciate the Chamber and the outstanding chamber staff for all they have done to enrich the lives of so many."
"It has been such a fun and rewarding experience to be a LSSC Ambassador over the
last five years," says TerriAnn Hawkeswood ofPhone Master. "This year I added Chamber Board Member to my involvement. I've made many wonderful connections and I love to participate with the Lacey Chamber, which aligns itself with many events involving the City of Lacey. It's a win-win way to keep your finger on the pulse of your community!"
"I am a proud member of the Lacey South Sound Chamber," states Nichole Woolsey, Senior Community Development Manager at the American Cancer Society, Inc. "Upon my first forum I knew I would join, I was greeted by a few different people. They didn't just say 'Hi,' they made eye contact and truly welcomed me. My second year as a member I took Blaine's offer of sitting down and learning how to maximize my membership and customize the package. Blaine was great! I can truly say that after that meeting, I wanted to be more committed to my membership because I had mapped out a plan with Blaine.I have been a member of different Chamber's for 20 years and I have never felt this level of commitment to my membership."
"The Chamber as a whole is committed to the community, a place where business gets done, but it's ok to have fun too, equally welcoming whether you're brand new or a longtime member, a staff that gets to know all of its members, great follow through and an incredible partner for growth with all entities that walk through the doors."
"After nearly 45 years in business I've never seen a chamber of commerce like the Lacey South Sound Chamber," expresses Michael Jameson, certified Home Loan Specialist at Evergreen Home Loans. "From day one, you're family."
The Lacey South Sound Chamber& Visitors Center is all-inclusive; they serve professionals in cities outside of Lacey including Tenino, Tumwater, Olympia, DuPont and even Tacoma. If you are interested in joining or learning more about the services offered, contact any one of their staff members at 360-491-4141, stop by their office, or visit the Lacey South Sound Chamber website.
Lacey South Sound Chamber
420 Golf Club Rd. SE, Ste 105, Lacey
360-491-4141
Info@laceysschamber.com
Sponsored