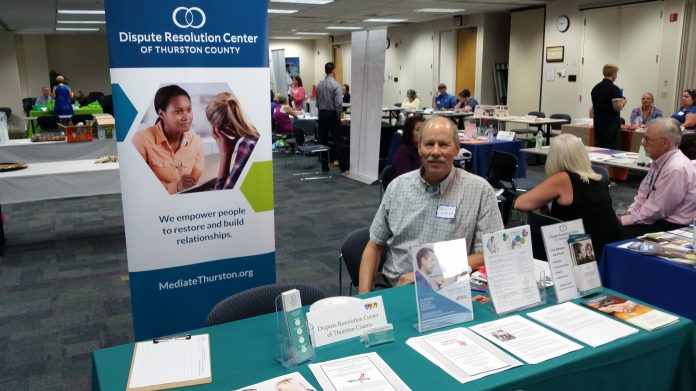 "Conflict is a normal part of life. It can also be an opportunity for connection and understanding."

This quote on the website of the Dispute Resolution Center of Thurston County (DRC) is an acknowledgement of the struggle many of their clients face and a promise of what their services offer. Mediators from the DRC are trained to empower people and groups in finding a compromise or plan of action during a times of conflict. Their job is to remain neutral and facilitate a safe discussion.
With a calm yet engaged demeanor, Steven Tilley has the presence of someone who genuinely cares about people. His life mirrors that principle. He served in the Peace Corp in Malaysia and earned a Masters of Public Health. He and his wife, Christine Parke, pulled up roots from the East Coast and moved to Washington in 1975. He spent many years working for various state agencies including the Department of Natural and Resources and Department of Ecology. Drawn to a process that in his words "has heart" and desiring to be a better listener when working with people, he completed the training to be a mediator in 1997. While he did use some of the skills he learned in his job, he has spent many years volunteering with the DRC.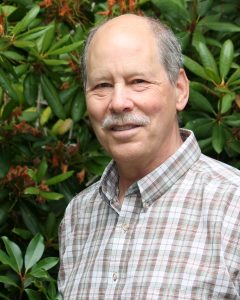 During his time volunteering with the DRC, Steve has been involved mostly with family mediation. He describes it as the "bread and butter" of mediation. Washington state law requires that parents who are separating create a parenting plan. When parents struggle to develop a plan together, the Thurston County Superior Court refers them to Mandatory Parenting Plan Mediation Program. This is when Steve and other volunteers like him often get involved. Parents meet with a pair of mediators for a two-hour session to work out a plan covering issues such as schedules, communication methods and ground rules. Emotions and tensions can be very high at this time. Parents frequently are very angry with each other even as they try to negotiate co-parenting.
Mediators do not make decisions for their clients, nor are they counselors. They foster better communication between parents and give them skills for discussions about parenting issues. The process of mediation allows parents more control than a decision made by the courts. It also has the advantage of taking the unique relationships between the parents and their children into consideration.
While this process can be stressful and often involves people in pain, Steve is dedicated to this program as he knows that helping separating parents have a healthier relationship equates to healthier children at a critical time in their lives. He is clearly passionate about this work. As he describes the mediation process and his experiences, it always comes back to how it all helps kids have better outcomes. He believes that the skills learned in mediation have the ability to continue to help these parents and kids even after the two-hour mediation session is over. While not all parents choose to complete their mediation session, giving parents a safe place to find solutions to parenting issues that are in their children's best interest is part of what he finds so rewarding.
As the Outstanding Volunteer for 2019, Steve received much deserved recognition for his service at the DRC Volunteer Appreciation Picnic on July 23.
When asked about Steve, Jody Suhrbier (the DRC Executive Director) related the following: "When we were considering who to honor as this year's outstanding volunteer, the themes that came up in regard to Steve were: his tireless dedication, steady presence and quiet humility. I continue to be impressed by his calm demeanor and genuine interest in a fair process. Steve has an authentic interest in ensuring that the processes he uses support long-term health and well-being for those touched by our services – whether that may be a child whose parents are separated or an incarcerated adult seeking to make reparations in our community."
When asked if he would recommend volunteering as a mediator to others, Steve was enthusiastic about mediation and gives the DRC high praise. He described the training provided by the DRC as interactive, supportive and thorough. Empathy and listening skills are developed in the training and Steve indicated that he learned more about himself and relationships as well. He characterized the support the DRC gives to their volunteers during training and afterwards as being very supportive. Positive reinforcement and continuing education from the staff make this one of the best places to volunteer according to him.
To sum it all up, he told me, "This is a place you can volunteer for the rest of your life." And it looks like he will.
You can help resolve conflict, promote civility and create peace in your community as a volunteer with the Dispute Resolution Center of Thurston County.

The DRC is a community-based, volunteer-powered non-profit organization dedicated to conflict resolution and prevention in the South Sound.

You can become trained as a mediator and work directly with people in conflict; you can help people over the phone through the DRC's Resource Line; and you can help with community education and outreach efforts.

To learn more about volunteer opportunities/upcoming trainings, contact DRC Volunteer Manager Jesse Laird at 360-956-1155, e-mail jlaird@mediatethurston.org, or visit our website.