Do you remember the first time you picked up a paint brush? Maybe you were in school, or sitting at the dining room table of your childhood home. This new experience in creativity gave you the opportunity to have fun, make mistakes, and maybe even get a little messy. Well, Rikki Bommersbach, founder and owner of Konnex, a paint and sip company in Thurston County, wants to bring you back to that experience. "We want to connect people with their creativity, with their community, with their friends and families, and we also want to connect them with us, the artists," says Rikki.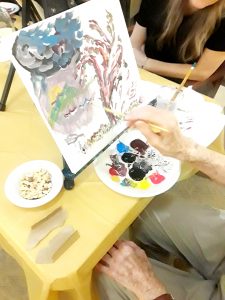 Ten years ago, hardly anyone had heard of a paint and sip. What started out as an opportunity for artists to get together, socialize, and share their skills with one another has carved out its niche as a part the $43 billion a year creative industry. At some point paint and sips made the jump from a small artist get together, to a public pastime.
With the rise in popularity, paint and sips started popping up everywhere. Franchises opened up. Businesses attempted to throw together their own events. When that happened, the business side began to overshadow the creative part of the industry. Corners were cut, and experiences became standardized. Techniques were timed down to the minute, and instead of a fun relaxing experience, some participants found themselves rushed or uninspired.
Rikki's goal with Konnex is to set her business apart from a highly-structured, standardized experience, and really help everyone enjoy the fun of creativity. "It's a whole new way to connect people with art," says Rikki, "and it's a place where you can relax, have fun, try something new, and maybe even make mistakes."
Rikki's goal is to ensure every guest gets what they want out of their paint and sip. And it's not just about the final product. It's about the experience. Some people care more about eating, drinking and socializing, and the painting is just added entertainment. Others are very interested in learning or perfecting a particular technique. "There's a whole range of expectations for the experience," Rikki says, "and it's my goal to identify what is important to each client, and help ensure their experience matches what they want to get out of it."And participants don't have to worry about materials or equipment. It's all ready for them when they get there.
Konnex doesn't have a brick and mortar store. Instead, they partner with different venues, hosting events at locations that inspire creativity. Konnex hosts paint and sips at wineries or microbreweries where guests can order wine, beer or cider while they paint or craft. Konnex also hosts coffee and canvas events, which are just like paint and sips, but they are hosted in cafes and coffee shops, and are usually held earlier in the day. Some events are for adults 21-years-old and older, and others are all ages.
In addition to painting on canvas, Konnex classes include painting on wood signs, glasses and growlers, and paint and stitch, which includes some embroidery techniques. "As fall rolls in, I'd even like to work in some weaving projects," she says. Projects are tailored to fit the season, and sometimes the venue.
Each of the venues that Konnex partners with is unique, giving Rikki and her team the ability to select an art project that draws inspiration from the location. "Every venue gives me an opportunity to create new projects and offer new experiences to my clients, says Rikki. "We are constantly evolving," she adds.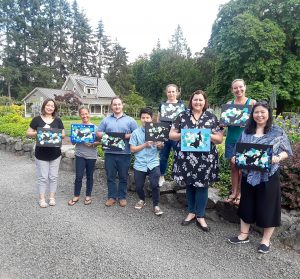 The Shiplap Shop & Coffee House in Yelm is one of Konnex's venues. The quaint coffee shop features a modern farmhouse style, so when Rikki hosts a coffee and canvas, she chooses projects that compliment that theme. Konnex has also held a number of events at Top Rung Brewing in Lacey, where tickets to the paint and sip include the first drink. Rikki hosts the classic canvas paint and sips, as well as a new favorite, growler painting. And another popular venue is Taildragger Coffee in Tumwater. "It's a great location with big windows that let a lot of light in, perfect for painting," she adds.
A full list of Konnex's venue partnership can be found on their website with descriptions that highlight the unique aspects of each location.
Looking ahead, Rikki is excited about the new venue partnership she has made with the Newaukum River Ranch. Event planning is still in the works, but Rikki is excited to set up some new specialty classes just for this special venue.
Rikki hopes that the combination of unique, local venues and her trained and caring team of artists will help people find some of that magic that they experienced when they picked up a paint brush for the first time.
If you would like to sign up for a Paint and Sip or Coffee and Canvas, check out the Konnex event page on their website, or look for a list of events on their Facebook page.
Sponsored