At Stone Creek Wood Fired Pizza, each pizza is considered a work of art, with every ingredient complimenting the wood fired cooking process. Between handformed dough, sauces from scratch and cinnamon rolls baked from a top-secret family recipe, Stone Creek has sought to create a pizza unlike any other.
As a part of the pizza experience, Stone Creek Wood Fired Pizza owners, Randy and Suzanne Murray have sourced ingredients that best fit their pizza ideal, sometimes requiring some trial and error to find the best fit.
"It has to be good enough for them," explains Morgan Singer, an employee. "We went through seven or eight different pepperonis that weren't good enough. So, they hand pick everything.The chicken that we found anywhere wasn't good enough, so now we cook our own chicken."
Stone Creek Wood Fired Pizza's handmade pizza dough has also been fine-tuned to create a perfect crust for the wood fired oven. The dough is prepared daily, following a simple recipe of five ingredients. Because of the dough's delicate nature, it has to be rolled out and cannot be thrown. Singer credits the combination of the dough recipe and the woodfired oven for the pizza's signature texture and flavor.
"The dough is a really special thing," says Singer. "All of our dough is hand mixed. We don't use a mixer at all. And that is what gives it the consistency that we need. Something magical happens between the hand mixing and our ovens that gives it a very unique flavor."
Their goal is to prepare as many ingredients from scratch as possible, and that includes the pizza sauces. The Alfredo sauce and red sauce are both handmade in the restaurant. "With red sauce, it's better than opening a can," explains Singer. "Or with chicken, it's better than opening a bag. We're making it and it's ours."
Another highlight of Stone Creek Wood Fired Pizza's menu are the cinnamon rolls frosted with homemade cream cheese frosting. "The cinnamon rolls are extremely crucial to this environment," says Singer.  They have been a long sought after treat. Before Stone Creek opened in its permanent location, there were a very limited number of rolls baked per day due to space constraints. Now, Stone Creek employees prepare tens of dozens of rolls a week.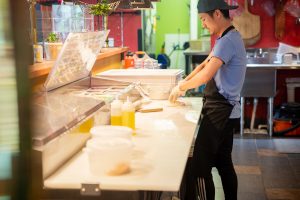 Like the pizza, Stone Creek's cinnamon rolls are prepared in a specific way, to cook properly in the wood fired ovens. Each ingredient in the rolls is intentional, with even the vanilla extract made from scratch in the restaurant. A family recipe, the exact ingredients and directions are held tightly under wraps.
"It's a very hush-hush secret recipe," explains Singer. "The best part about them is they go back in the fire oven after frosting. So, it gets that wood fired flavor and the frosting melts down into the cinnamon roll and then caramelizes at the bottom. And they're the size of your fist or bigger, like two fists. They're huge."
With the woodfired oven's temperature ranging from 700 to 900 degrees, Stone Creek employees must become well acquainted with the oven's ever-changing needs. The woodfired cooking process is an acquired skill and Singer says that every employee has their own technique for ensuring a pizza that strikes the balance between a crispy crust and a crust that isn't over charred.
"A lot of things can happen," explains Singer. "The oven can get too hot, then you have to wet mop it. It can get too cold, so you have to pull coals forward. It's not an exact science. I don't have a temperature gauge. There's no real way to train somebody on the oven. It's different every day. Fire is different every day."
Just like the employees of Stone Creek get to know the wood ovens, they also get to know their customers. Over the years and through several locations, they have seen customers so loyal, that a pizza will be named after them.
"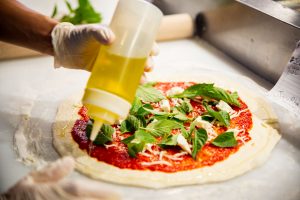 The first two years we were open, we didn't even have an expanded menu," says Singer. "You just walked up and Randy would be like, 'what kind of pizza do you like?' So, the very first pizza specialty was born. And that was the "Sadeeq." Sadeeq lives down the road and would come in every other day and get a pizza. And that was very specifically his pizza. So anytime he came in, Randy would make him that pizza."
Other signature pizzas would follow on the menu, after customer favorites and Stone Creek employee picks. The "Jen-nay" pizza is named after Jennie Murray, Stone Creek employee and the daughter of owners Suzanne and Randy. The pizza features pink sauce, mozzarella, bacon, tomato, basil, and feta and parmesan cheese. The "Fable" pizza, complete with olive oil, mozzarella, tomatoes, parmesan and garlic is an homage to a customer's favorite pizza that caught on with the staff.
"Jennie and I couldn't stop eating that for an entire week and we were like, that needs to be on the menu, it's delicious," explains Singer.
And as Stone CreekWood Fired Pizza employees gets to know more customers, Singer says that they are always open to trying new combinations and adding additional menu options.
To learn more, visit the Stone Creek Wood Fired Pizza website.
Stone Creek Wood Fired Pizza
4138 Harrison Ave NW, Olympia
360-888-9500
Tuesday – Sunday: 11:00 a.m. – 9:00 p.m.
Sponsored