Get ready for a very special screening of "Star Wars: Episode IV A New Hope."  The screening is one of four movies that follow live entertainment on Saturday evenings this summer in the Lacey Parks & Recreation Department's summer series, Lacey in Tune.
"It will be amazing," says Jeanette Sieler, Lacey Parks & Recreation supervisor. "It's been a long time since this has been on the big screen!"
The screening is free for community members to attend and is part of the 3-part program that makes up Lacey in Tune where movies, entertainment and music have been weaving together the fabric of community outdoor entertainment for the past two-and-a-half decades.
Just in time to celebrate the Silver Jubilee, or 25th Anniversary of Lacey in Tune, "Star Wars: Episode IV A New Hope" will be projected on an 18-foot by 18-foot retractable screen at Huntamer Park from a high-output, 6,000 lumen projector. "Not like the ones you have at home," says Sieler.
For four Saturday evenings this summer, Lacey in Tune will transform Huntamer Park into an open-air concert and movie venue. Opportunities such as this one where you can bring the whole family and enjoy live music and a movie for free are becoming rarer these days. "It's a whole different thing when you're sitting outside under the stars," Sieler adds, "people all around you and you're all enjoying a movie together; it's so much different than watching a movie at home on your TV."
The Music and Movies series kicks-off on July 20 with the MacDaddy Band. Playing punchy pop-hits, this 6-person cover band is known for their audience sing-a-longs and great dance parties. They are the perfect band to introduce the Saturday season and whether you're a toe-tapper or a full-body mover, their popular crowd favorites aim to please. Plan to stay late, because following the show is "Ralph Breaks the Internet," the sequel to "Wreck it Ralph."
On July 27, the Infinity Project, a Journey tribute band opens up for "Star Wars: Episode IV A New Hope" by singing songs from the same era that the movie was released. Fans of the famous American rock band will be thrilled to hear this tribute band masterfully bring their classic hits back to the stage, and those seeking "The Force" won't want to miss this very special one-night-only event.
Sliding into August – August 3, to be exact, Larry G. Jones slips onto the stage in character, and you never know whom he may turn up as. This celebrated impersonator and performer can flash an iconic lip-curl, sing a song as a Piano Man, or moonwalk across the stage. This clean-comedian's vocal parroting of the famous and infamous has been delighting audiences all the way to Vegas and back. Another showman will light up the big screen for the evening movie, Hugh Jackman as "The Greatest Showman" where the musical biography of a visionary who rose from nothing inspires audiences as he becomes a worldwide sensation.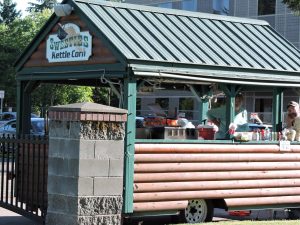 Saturday, August 10, is the last double-feature of Lacey in Tune. The Beatniks will be playing tunes from the 60s, 70s and maybe the 80s. They are a band comprised of four young men carrying the Beatnik legacy forward. Beatnik history can be traced back to the coffee shops and poetry dens of Greenwich Village in New York, and this contemporary band artfully captures that essence and propels it forward. Someone else will be going forward that evening, too: it's Spider-man on the big screen in "Spider-man: Into the Spider-Verse."
The Music and Movie events make up just one part of the Lacey in Tune series. The program also encompasses the Children's Entertainment Series, brought to you in partnership with Timberland Regional Library. It's held on Tuesday evenings at 6:30 p.m. July 9 through August 13, and is a fantastic opportunity for children to get their wiggles (and giggles) out. The library also uses the opportunity to remind community members about their amazing Summer Library Program.
On Wednesdays starting July 10 at 12:00 p.m., the park fills with melodies and people on lunch breaks for the Wednesday concert series, "Noon Tunes." There are six opportunities this year to catch a tune at noon, and food trucks will be on-site for music patrons to make some tasty lunch purchases. The Noon Tunes continues through August 14.
All of the events have concessions of some sort, from food trucks on Wednesdays, to kettle corn on movie nights. The Lacey Parks & Recreation Department does a great job finding ways to bring our community together and are enhancing the events each year. 25 years of creating community and family-friendly fun has made them experts in that department.
Put a couple of these outdoor events on your calendar – but don't forget to bring your own seating or comfort items for the movies especially, as it gets chilly after dark. Park staff does a great job reminding patrons that it's blankets down in front, and those in chairs towards the back, to ensure a great show for all.
Lacey in Tune, July 9 – Aug 14, 2019
Huntamer Park
618 Woodland Square Loop SE (Corner of Woodland Square Loop and 7th Avenue SE), Lacey
Sponsored