Jorge Luis Borges once said, "I have always imagined that Paradise will be a kind of library." And I'd have to agree with him. The Timberland Regional Library (TRL) system that serves our county and 4 others, boasts an impressive 27 libraries to choose from, which, to a reader, are paradise.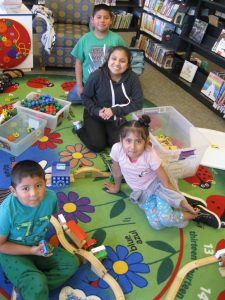 TRL has been enriching our communities for the past 50 years and library patrons know that books can take you on a journey. Journeys that are made up of the wildest dreams one can imagine and oftentimes lead to adventures that take you "out-of-this-world."
This summer, embark on your own adventure through TRL's Summer Library Program, "A Universe of Stories." Kids, teens, and adults can sign-up now to participate in this three-month-long program that runs June 1 – August 31 and is offered at all of TRL's 27 library locations.
Participants can register online through Beanstack, in a new, easy-to-use portal or by downloading the Beanstack app available for Android and iOS. Sign-ups are also available in-person at each library, as well as schools, farmer's markets and many other community locations that the library staff visit.
Summer Library Program participants will be provided with an activity log where they can mark off a star for each challenge completed. There are 30 challenges presented, and completing just 10 will earn you a free book, prize coupons from local sponsors, and an entry into the grand prize drawing. Each additional group of 10 completed challenges earns another grand prize entry for a total of 10 entries available per person. Last year 54 children won the grand prize, all receiving a brand-new bike (courtesy of the Masonic Charities of Washington).
The challenges are designed to be accessible to all ages. From new readers to the well-seasoned, challenges inspire engagement in various ways. Kendra Jones, the Library's youth and family services district manager, highlights that participating in the program helps combat summer slide. "Young brains stay in learning mode to set them up for a successful school year," she says, "and adults get to create, connect, explore and learn with each other."
Activities range from reading or listening to a book and stargazing to telling a library worker a space fact. You could also read a book by an author of color, or complete a "superchallenge sheet" provided by a librarian. The Timberland Regional Library knows that building literacy skills are essential for learning to read, and their program has evolved to become more accessible by providing activities alternate to reading for non-readers, struggling readers, and those who have not-yet-mastered the skill.
And it's working! Participation is up, especially where adults are concerned. The Summer Library Program, which has been running nearly as long as the Library has been incorporated, (over 50 years), was traditionally offered to just kids and teens. Over the past two years, TRL has been moving toward opening up the program to adults too, and last year, the first official year for adults, 3,165 of them joined in the fun. "One of the best indicators that a child will be a successful reader is how often they witness the adults in their life reading," says Jones. "If kids see adults reading, especially their caregivers, they will want to do it, too! So, I'm really excited to be moving forward with adults on board."
Last year, 16,483 people participated in the Summer Library Program, many of them children, and the program offered more than 1,025 events that were attended by 29,443 people. Family Storytime at the Market, which kicks off the program in Thurston County, will be held this year on June 1 from 11:00 a.m.-11:30 a.m. at the Olympia Farmers Market.
A fold-out calendar of Summer Library Program events is available at all of the libraries and it details the many opportunities to visit a library or partake in a library event offered throughout the community. For example, on June 28 you'll find Sensory Friendly Time being offered at the Tumwater Library, from 9:00 a.m.- 9:45 a.m., followed up by Baby Time. Later on that day, at the Yelm Library, All Ages Summer Movie Matinee takes place from 2:00 p.m. – 4:00 p.m. while a Book vs. Movie event happens at the Olympia Library. In Tenino, an outdoor Movies in the Park experience closes the day, taking place from 8:00 p.m. – 10:30 p.m. in the Tenino City Park. Thankfully, the multitude of events are organized smartly onto a paper calendar, or you can find the library's events digitally on their website or via their Facebook events.
In the 2018 survey, parents and caregivers reported that the Summer Library Program helped their children maintain or increase their reading skills, and made them more confident and frequent readers. Adults reported for themselves that they learned something new from what they read or experienced, enjoyed reading more and wanted to use the library more often.
Michelle Larson, TRL's Public Relations Specialist, sums up the Summer Library Program well, "It keeps kids engaged year-round. The activity log gives them something that is their choice to do–it's not homework, it's not assigned. They're rewarded for completing the challenges they've selected with books and even a cupcake There are all kinds of opportunities for them to do challenges that don't feel like a chore. We've tried to suggest activities that are really fun and are something they can do now with their whole family."
Sign yourself or your family up! Visit the Beanstack website to sign up electronically or visit your favorite of the 27 different libraries in the system.
The five branches located throughout Thurston County are:
Lacey:  500 College St SE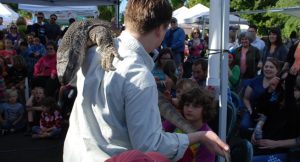 360.491.3860
Olympia: 313 8th Avenue SE
360.352.0595
Tumwater: 7023 New Market St.
360.943.7790
Tenino: 172 Central Ave. W
360.264.2369
Yelm: 210 Prairie Park St.
360.458.3374
#ilovemylibrary
Sponsored