After 37 years, 223 acres and 12 berry stands, the people at Spooner Berry Farms have developed a simple philosophy: to deliver the sweetest, freshest berries throughout the Pacific Northwest summer. With their name on the carton, owners Tim and Sue Spooner begin at dawn each berry season to pick only the berries that they can sell that day. In addition to roadside stands sprinkled throughout Western Washington, Spooner Berry Farms also works with local shops who share their berry ideals, including Spud's Produce Market.
Dating back to the early 1980s, the first Spooner Berry Farm stand was a utility trailer that Sue Spooner would drive to a Lacey parking lot. Through word of mouth, more and more locals learned about the strawberries being sold. The utility trailer evolved into a more permanent stand as a way to communicate who was selling the berries and that there would be more available the next day. News of the Spooner berries reached Shelton and Aberdeen and the Spooners were asked to expand west into those locations. Now with 12 different stands, Spooner Berry Farms can be found from North Seattle to Aberdeen.
"It just started out very innocently thinking it would be fun just to sell a few berries, and it's just grown into what it is today," says Sue.
A key component of the Spooner business, is that the only berries that are picked each day, are the ones that can be sold each day. Whether it's strawberries in June, raspberries in July or blueberries in August, berries from Spooner Berry Farms are always picked the same day they are sold. This means the berries are always the perfect ripeness and have the most flavor. It also brings about hectic mornings for the berry team, who start each day of the summer berry season at 5:00 a.m. for picking and delivery. Berry stands are also restocked midway through the day, so there is a stream of fresh berries. The stands remain open until they sell out.
"I tell people, I'm a little bit of a berry snob," explains Sue. "I really want everyone who's buying our berries to know that the day that they're buying them is also the same day that they were picked. It's very important to us. It's kind of like the farm to table concept, but it's farm to berry stand."
Because of the unique Spooner Berry Farms model of freshly picked berries each day, there is a short list of grocery stores willing to make the daily trip out to the Spooner farm for new berries. "I am particular about who we sell our berries to because I want to make sure that they're getting just what they can sell that day and come back the following day," she adds.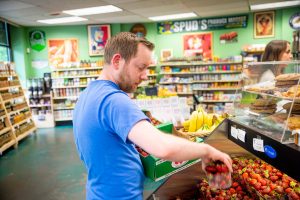 With similar ideals, Spud's Produce Market stocks Spooner's berries, and remains true to the Spooner philosophy of fresh berries each day. Spud's owner, Dave Jekel, makes the daily morning trip to pick up the day's stock and will even return to the farm multiple times throughout the day if Spud's runs out of berries too early.
A summer staple at Spud's for five years, Dave says that the extra miles put on his van driving out to the Spooner farm every morning is a worthy sacrifice. With fresh berries available at the both locations every day of the berry season, Spooner berries are very well received amongst Spud's customers. A key to the partnership between Spud's and Spooner Berry Farms is the similar business philosophies between the owners. "We always try to think of helping out the customer and that's how Sue is," explains Dave. "That's how we try to do our business, always trying to look out for the customer's best interest."
"We do have a great relationship with Dave," says Sue. "Fun guy, he's willing to swing by our berry stand every single morning, pick up the berries that he needs. I think Spud's does a fantastic job because all their stuff is fresh and very modestly priced, same is what we're trying to do with our berries, so I think we're a good match together."
As strawberry season begins, Sue is excited to maintain the fresh berry tradition for Spooner berry fans around the Pacific Northwest. "I think truly the most fun thing is seeing the smiles on everybody's face," explains Spooner. "They're just so excited to get these berries and my husband Tim, who is the farmer, that's what makes him continue to keep doing this. He just loves making all these people happy and just giving them these berries that are affordable and fresh."
To learn more about Spooner Berry Farms and what they offer, visit the Spooner Berry Farms website. To learn more about Spud's and the berry availability, visit the Spud's Produce Market website.
Spud's Produce Market
Olympia
828 Capitol Blvd SE, Olympia
360-915-9763
Monday-Sunday: 9:00 a.m. – 7:00 p.m.
Tumwater
804 79th Ave. SE, Tumwater
360-764-8915
Monday-Sunday: 8:00 a.m. – 7:00 p.m.
Sponsored