"Did you bring your work duds?" Keith Phillips' greeting is warm and genuine as he sets down his mallet and chisel to shake hands. Getting people ready to carve stone has been a passion for Keith since he began carving in 1984. Now a Master Stone Carver, Keith splits his time between The Shed, a workshop and showroom in downtown Tenino, and The Quarry, historically known as Hercules #1 located on the outskirts of town. The Quarry is where he works on larger installation pieces, the type that can be found all around the
Northwest. From the state Capitol's restoration work in Olympia to a stack of stone books welcoming readers to Portland's Powell's Book Store, Keith has been leaving his indelible mark around the region for years. But there is another mark he aspires to leave, one less tangible and far more substantial.
"I was hoping to establish a viable stone carving craft in Tenino, as we're doing here," says Keith motioning around the workbenches and stonework surrounding him in The Shed. "I think there is quite a future for that in Tenino as a local point of interest."
Beside him, chisel in hand, is Ed Salerno, one of a handful of stone carvers currently studying under Keith.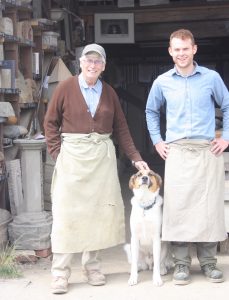 Ed came to Tenino four years ago interested in trying something new. "I thought at the time it seemed like an interesting hobby," says Ed with a smile. "So I started coming down here and Keith and I became friends and I just never slowed down with this kind of work. One thing led to another and I'm still here."
Here at The Shed, and pretty much all over the state, Ed and Keith teach carving to adults and youngsters at regional festivals and at the local Olympia folk art school, Artbutus. Then, a few years ago, Ed began taking stone carving to local public schools.
"I met a stone carver up in Vancouver, B.C., and he developed a program to teach kids in schools using soapstone," says Ed. "Soapstone is a great stone to introduce kids to because I can do it right in the classroom and teach the basics of carving with soapstone and files."
Watching children as they approach carving for the first time is memorable. Chatter and apprehension are quickly replaced with curiosity and concentration.
"Most of our visitors are adults here," says Ed motioning toward a group leaving The Shed, "and they watch us and believe they can only do what they've already learned to do. What I like about working with kids is it's brand new to them. They accept the tools and the material and they get totally wrapped up in it. And they produce great results the first time out because they are not hindered by, you know, those mental blocks."
Local ORLA teacher, DeLinda Terry brought Tenino Stone Carvers to her mixed-grade class for the first time this year. "I watched Ed's enthusiasm inspire all of my students to participate and truly focus on their carvings," says DeLinda. "It's an experience I would love to provide my students each and every year."
For Spanaway teacher, Lisa Contreras, this is the second year the Pioneer Valley Elementary PTA has funded Ed to come to her fifth grade class. "Part of it is that we don't focus a lot on Washington state history," says Lisa. "Now I think it's more toward seventh graders, so putting a little bit of information in their minds at this age, I think it will let them appreciate the animals, and how important they are to our ecosystem and environment."
In addition to animals in local history, Ed sprinkles historical facts about our local industry, geology and carving throughout his time with the children.
Sometimes I wish that we would do this in the beginning of the year," says Lisa thoughtfully, "to teach them the perseverance to get over their humps and their frustrations. That the first time it's not going to look right, but then there is a solution to fix it so that it does look better. And that not everybody's going to be the same. Just like, you know, in real life."
Though Pioneer Valley Elementary has an art teacher, many schools do not, so those lessons are becoming increasingly rare.
"That's one of the privileges of getting to do that program," Ed says enthusiastically, "to bring something totally new, an experience, into the classroom in places where they really need arts education."
Two women walk into The Shed tentatively. They are sisters, one of whom is visiting from Texas. Ed welcomes them and without missing a beat begins telling them the local history of Tenino and the stone quarry. Keith is standing behind him working on a Celtic cross, quietly focused on his work while listening and nodding appreciatively.
Later, I ask Keith about his protege. "Ed has risen to the task," says Keith proudly. While he is talking, he continues his work. There is a relaxed atmosphere in The Shed, conversation mixing easily with the sound of the tools.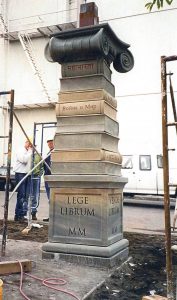 Using a small brush, Keith sweeps the dust from around his work and stands thoughtfully. "Everything that Ed said reflects what I have also told people on the history of Tenino and what we are doing currently. I have probably had a dozen people who have come to me over the years." As he speaks, he returns chiseling the intertwining Celtic bands. "I know that the guys who are working with me right now, it will be taken care of well past my ability to continue."
Keith tidies up his worktable; he needs to get over to the Quarry, another project is in the works there. Taking off his work apron he confides, "We love this craft and I think the people in Tenino and my clients have been wonderful to me." Pausing he adds, with a smile, "And my wife. She has been wonderful too."
As Keith is leaving another carver arrives, he and Ed will be in The Shed together the rest of the afternoon. Teaching history, showing visitors their craft, and continuing the tradition.