Jennifer Lynn Adams' accomplishments are remarkable. At nearly 40, she's earned multiple college degrees and owns her own life coaching and motivational speaking company, SHIFT: Motivation Beyond Limitations. She also founded and runs a non-profit Making Dreams Come True, and was crowned Ms. Wheelchair America in 2014. She is an athlete
traveling the world enjoying exciting adventures and has written two books. Living unlimited is just how Jennifer reaches her goals.
As she grew up in Chehalis in a family of seven siblings, Jennifer's parents advocated for her to attend mainstream classes. "My parents did an excellent job of making sure we weren't shorted in our education," she says. "I can't imagine what would have happened if they hadn't done that." Today, Jennifer considers her parents her wisest friends.
With a passion in her career to teach parents that all youth need to be challenged and feel purposeful, Jennifer appreciates that her parents never held her back from anything. "To overprotect is very damaging and creates isolation and lack of challenge," she says. "I realized more and more how grateful I am my parents never coddled me and challenged me to live to my best. I'm really thankful they pushed me because parents don't often and I can see it."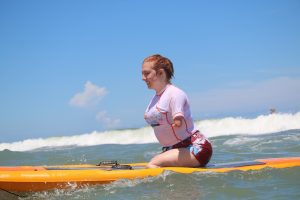 It was a chance encounter with a woman in kindergarten that prepared Jennifer for her career as a motivational speaker. While Jennifer sang a solo in a school concert, her mother mentioned to the women next to her, "That's my daughter." The woman said, "She really has a beautiful and mature voice and I am a voice coach." From then on, Jennifer took weekly lessons with her until her senior year. Becoming a mentor to Jennifer, she not only pushed her, but she also taught her storytelling by having her tell the story of the song before she sang it.
Throughout school, Jennifer participated in talent shows, plays, musicals, and sang in choir winning first place in state competitions more than once as a classical soloist. "Being involved in that built my confidence and prepared me to do what I do now," says Jennifer.
In her global travels, Jennifer has experienced variations of perceptions of people with extra abilities. After winning Ms. Wheelchair America, she traveled to Warsaw, Poland, to compete for Miss Wheelchair World. "They are still working on acceptance of people who are extra abled," she says. "I could sense that people didn't know how to look at me on the runway especially because I am lacking limbs."
A poetic moment in Sweden spoke to Jennifer's heart. While going to the market and feeling exhausted, she encountered a man who clearly had an issue with his gait. "I remember watching him and he was limping and I saw loneliness in his eyes," Jennifer shares. "I am emotional now just talking about it. He was struggling with what I was feeling at that time and I could feel the aura of struggle and loneliness."
Those experiences are fuel to keep her global platform moving. On a mission for an inclusion revolution, Jennifer offers her life coaching around the world. A current mentorship with a man in Africa is what she describes as building from ground zero. While the man has gifts and talents making him employable, his lack of confidence in an unsupportive society is his biggest barrier. Just getting him to express himself proved challenging, but determined to hear his heart, Jennifer continues to encourage him.
"Obviously, this isn't just a career," she says. "It's a passion that touches me deeply because I have walked through those waters myself. My heart is to help them to cross that ocean to believe in themselves and encourage society to see that this is a valuable person to bring true equality."
Her adventurous spirit led her to start a non-profit called Making Dreams Come True to share adaptive sports with others. The organization accepts donations to help others have thrilling experiences. Beyond gratitude from participants, Jennifer shares overcoming fear is the biggest benefit. "To have the chance to do something physical that is new and terrifying at first, but overcoming the fear while having fun is a successful sense of empowerment," she says. "Afterward, people tell me, I feel braver and things I've been scared to do, I am going to do them now."
One of her favorite experiences is zip lining with Gatorland's Gator Gauntlet in Florida. "It's so fun, being hundreds of feet off the ground and flying over a lake with gators right below you and over the tops of trees," she says. "It's a shot of adrenaline that is incredible."
To pay forward some of the opportunities provided to her by her crown, Jennifer set up the Dreamer Award. Recognizing and helping entrepreneurial businesses benefiting extra abled people in some capacity, these dreamers are given seed money to expand their vision to reality.
With a mission to help others accept themselves and find their purpose, Jennifer's life experiences help her to show others their true potential. "There are so many possibilities beyond fear," says Jennifer. "Fear is just a wall where we feel comfortable and we are used to being in our sense of self. There is a great big world out there and it is your oyster, no matter your money, ethnicity, or abilities, get out there and move past. You need to experience the world but also the world needs to experience you."