Michelle Isaacson's lifelong love of crafting inspired her to share her passion with others in a more affordable way. Recently this thrifty crafter opened Lost and Found Crafts to sell second-hand craft supplies and host fun classes.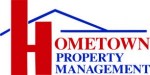 "I've wanted to do something like this for a while," says Michelle. "I thought it would be really fun, and I looked around Olympia and this didn't really exist."
Michelle shares her donated craft supplies at super low prices with help from her mother Gale, who she calls her Fabric Manager, and her husband Ivan, who refers to himself of the Director of Here to There. "I tell him to move things from here to there," Michelle laughs. "It's a family affair, but mostly it's just me."
Living in Olympia to age five, Michelle moved to Seattle as a young adult, got married and had her son. The family eventually decided Olympia is a great place to raise kids and returned home. "I love Olympia," she says. "It's a creative community where everybody does what they want to do and everyone is very accepting. I get good vibes here."
Practicing what she preaches, Michelle bought most of her store's furniture second-hand and from her brother-in-law Byron's used office furniture store downstairs, Action Business Furniture. The cute store shelves she got at Habitat for Humanity. She originally thought they were hideous, but she took them home sanded and painted them. "They are perfect for that spot," she says. "A lot of people would have just thrown them away, but somebody donated it and I happened to come across it. For the most part, everything in here is reused."
Reusing is something Michelle believes in. "It wasn't a life-long philosophy, but it is now," she says. "With everything you see about plastics in the ocean, it's disgusting and I think we can do a lot better. I am trying to do better."
Affordability and making hobbies accessible for those who couldn't otherwise afford them is also important to Michelle. "Crafts are expensive, as my husband will tell you," she laughs. "By doing it from donations, I can keep it really cheap. For spools of thread instead of paying two dollars, you can get them here for a quarter."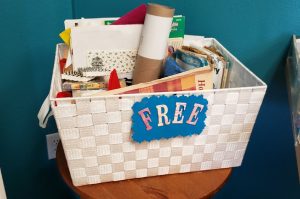 As more than just a store, the reuse center is a place to source items at a reasonable cost. When customers call with a request, Michelle does her best to find it. "I like to do things for people," she says. "I am a people pleaser. My car is full of upholstery fabric right now because someone is looking for it."
On her creative reuse board, she posts ideas for using items that would otherwise end up in a landfill. "I want to stop people from just throwing things out – not just craft things, but items that can be reused too," she says.
With a classroom space adjacent the shop, Michelle looks forward to further serving the community through classes and projects to benefit those in need. "I want to have classes, be part of the community, and give back once I can get more established," she says.
Donations are always welcome and anyone who drops off their unwanted craft supplies receives a 10% off coupon to use in-store or for a class. A recent and large donation of fabric prompted a fabric sale. "It's interesting," Michelle says. "I was worried at first I wouldn't have enough stuff, but things come in every day. That's amazing to me and people tell me they want things to go to people who will use it. I think it's really neat."
June 22 is Lost and Found Craft's first class with Beginning Cross Stitch. For $30, this fun class includes a choice of kits, hoop, and scissors. Michelle plans to keep classes affordable with more planned in the future. She also hosts kid's imaginative classes with items from her store. Bring creations to life with a set of wild googly eyes at Krafty Kids on July 13.
With a full-time job as a paralegal, the store is more about fun than money. "I want to do it to help other people," says Michelle. Outside of her job and the store, Michelle and her sister Kimberlee also have an Etsy shop, Sweet Sister Stitching. The pair sells cross stitch art, key chains, scissor fobs, needle minders, and festive holiday mason jar lids. All the money earned is donated to charities supporting Multiple Sclerosis and child abuse prevention.
With a welcoming smile and a cozy store, Michelle is excited to help the community get creative affordably. "Before you go and spend a fortune on new, think about it," Michelle says. "Do you have some of the supplies already that you can use to be creative? If you do, that's great. Try looking for creative reuse centers. Find things that are inexpensive. You don't have to spend a ton of money on crafts."
Lost and Found Crafts is open Fridays and Saturdays from 10:00 a.m. to 6:00 p.m. and Sundays from 11:00 a.m. to 4:00 p.m. Keep up to date by subscribing to Lost and Found Craft's newsletter.
Lost and Found Crafts is located at 2316 4th Avenue E. in Olympia. For more information, you can call 253-298-8514 or email info@lostandfoundcrafts.com.
Thrifty Thurston highlights inexpensive family fun in Thurston County. The weekly series focuses on family-friendly activities throughout our community. If you have a suggestion for a post, send us a note at submit@thurstontalk.com. For more events and to learn what's happening in Olympia, Lacey, Tumwater and the surrounding area, visit our complete events calendar.