The scenario was all too familiar to the Capital High School dance team.
In each of the past four years the 3A title in the pom division at the dance/drill state championships had come down to the Cougars and Lake Washington. Every time the Kangaroos were named champions, and Capital had to settle for second place.

The potential of it happening for a fifth straight year was now a possibility. The fourth- and third-place teams had already been announced at the 2019 state championships. Neither Capital nor Lake Washington had been called yet, meaning once again the two talented squads would make up the top two teams in the classification.
"It's hard to describe the feeling of sitting in the stands, waiting for the announcement of who has won second place, and thinking, 'please don't say our name.'" Capital Dance Team Coach Jan Kiefer said.
After 22 years of guiding the Cougars, this would be the final time Kiefer would experience such a moment with the team as she was retiring at the conclusion of this year.
Capital sent her out a winner.
"No one breathes, everyone is holding hands, most of the girls had their eyes closed, and then waiting for what seems like forever, although it is probably only 20-30 seconds," Kiefer said about the scene at Yakima SunDome. "Once they announced second place, and it was not us, but was the team who had won the previous several years, we all still did not move, thinking, 'we did it," but not wanting to assume anything because I have seen crazy things happen at state that no one expected or saw coming."
There would be no twists this year as the Cougars were announced as state champions moments later.
"Our music came on, and time just sort of stood still for a moment," Kiefer said. "We all screamed and hugged and cried, and for a moment it still didn't seem real, that we had really done it. But it was, and it was a moment that I think every one of us will take with us forever, that feeling of accomplishment, of what we did together, of something we will always share with each other."
The Cougars finished first overall, registering a superior rating with a total score of 287.15 out of a possible 300. Lake Washington was second with a total score of 286.60. Timberline finished fifth with a score of 215.40.
"It was challenging, invigorating, and one of the most rewarding experiences I have had in coaching," Kiefer said about her final season at Capital. "This team did not start out as the most naturally physically talented team I have ever coached, not by a long shot. But over the years, from the time the various girls became members of the team and then began working and pushing themselves, always striving to improve, to help each other, and to challenge each other to be their best, they did become the most talented team I have ever had the privilege to work with."
The win ended a run of four straight runner-up performances in the pom category for the Cougars and continued a remarkable streak of 10 consecutive top three finishes at state for Capital.
In addition to this year's state title and the last four second-place finishes, the Cougars also were state champions in the pom division in 2010 and 2014, second in 2011 and 2013 and third in 2012.
The 2018-2019 Cougarette Dance Team consisted of Jess Aguilar, Claire Alviar, Jadin Beaulieu, Kim Ngan Bui, Ryan Carson, Lilly Clarke, Amber Gajadhar, Madie Gruhn, Abby Hamilton, Meysa Hayvaz, Amy Ho, Kora House, Andrea Pham, Eva Rodriguez, Magda Runner and Sofia Skinner.
Capital also finished second in military with 262.40. Lake Washington was first with 291.60.
Tumwater claimed the 2A state title in hip hop and finished second in the 2A/3A dance division and second in the 1A/2A pom division. The Thunderbirds, under the direction of coach Kim Hille, have claimed at least one state title every year at the dance/drill state championships since 2007, a run of 13 straight years.
Sonic Elite Olympia Takes Three Teams to Nationals
Sonic Elite Olympia All Star Cheerleading sent three teams to The Summit at Disney's ESPN World Wide Sports Center in Orlando, Florida in May to compete against the nation's top cheer teams.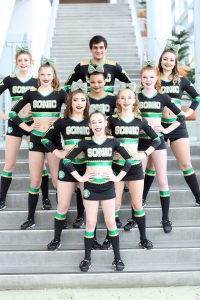 Coached by Julia Brusselback and Helen McPeters, Sonic Elite Olympia had Bolt (youth level 2), Emerald Queens (senior level 2) and Spartans (senior level 2) participate at the national competition.
"We attend certain Summit bid events where the three to five highest scoring teams in the competition receive a bid or invite to the Summit," said Brusselback, who is also the program director and co-owner of Sonic Elite Olympia. "This year all of our eligible teams earned a bid."
In addition to earning a Summit bid, the Sonic Elite Olympia's youth level 2 squad also had a strong showing at this year's PacWest Nationals.
"At PacWest Nationals our youth level 2 team, Bolt, was in first by (one-tenth of a point) in a very competitive division but ended the competition in second place. This team has grown a lot this year," Brusselback said. "They are some of the youngest competitive athletes in the sport and they have had a great season finishing their last two events of the season with a first place and a Summit bid."