Like most of us, Rev. Dr. Tammy Stampfli holds things close – her family, her faith.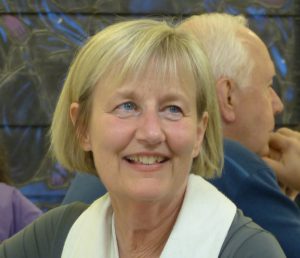 It was the losing of her grip that caused her to pause. First she started dropping things. Then she was having trouble opening jars. Then the headaches started.
"I was having numbness in my hands and grasping things was getting complicated. Someone in my life said something about the spine and numbness, that was my 'ah ha' moment," said the pastor at The United Churches of Olympia. "So I went online and started looking."
Married for 39 years with two children and three grandchildren, Stampfli didn't have time to worry about herself. Above her family and Sunday services, she was busy visiting congregants, working in the community and with the homeless. In her free time, she hikes and goes to the gym.
But the figurative grip on life continued to get worse. She decided to try physical therapy, and that didn't relieve the problem. But instead of giving in, Stampfli decided to get a second opinion.
"A friend of mine had seen Dr. (Brian) Iuliano and told me I should go talk to him," she said. "I am so glad I did. He is such a gracious person and took the time to talk about the options with me. He wanted to know what I wanted. We were able to decide on a much less aggressive surgery and I am so glad we did."
Iuliano, of Providence Medical Group – Southwest Washington Neurosurgery, performed a structural anagraph, where he treated four discs through the front of the neck.
"If we had done the 360-degree surgery (through the front and back of the neck) it would have been a very long surgery with a very long recovery," said Iuliano. "Doing it through the front only still allowed for the discs to fuse and is less invasive. And if things do get worse for Tammy, we can go in through the back later."
Stampfli's recovery has been excellent. She wore a collar for three months and couldn't drive, but she's now back doing all the things she loved.
"Dr. Iuliano was wonderful, and the fix is beautiful," she said. "Everyone who took care of me was so great. I'm glad we made the decision to treat this the way we did."
For more information about back/neck pain and Providence Medical Group – Southwest Washington Neurosurgery, call 360-486-6150.
Sponsored