It all started in the early 1980s.
Bev and Karl Black had been working state jobs, and then started their own horticultural business, but were still unfulfilled. They lived in the Skokomish Valley on 15 pristine acres where they built their home. With that same enterprising and entrepreneurial spirit, they
decided it was time to quit those jobs and build something else. What they didn't know then was what their efforts would evolve into. What they built was something so amazing, so fulfilling, so delightful (and delicious), it could only be one thing: Olympic Mountain Ice Cream. You know, that fabled, regional favorite. The stuff ice cream legends are made of.
Bev and Karl decided to go into the ice cream business after trying a fresh cantaloupe sorbet in a Seattle gelateria, Primo. After paying the folks at Primo for mentorship and purchasing some of their equipment in addition, the Blacks were on their way. But Karl, ever a perfectionist, also completed the Ice Cream Short Course at Penn State University. The course was, and still is, a kind of who's who of the ice cream world. In its 127-year history, participants from every state in the nation and every continent, save Antarctica, have attended.
With newfound expertise and the observation that our area had a gap in ice cream and gelato offerings, Bev and Karl opened Heavenly Gelato in the South Sound Shopping Center in 1984 where it operated for two years. It didn't take them long to realize that a better model for their family business would be in wholesaling, so they closed the Heavenly storefront and moved their business out to their land in the valley where it still operates today.
Karl and Bev have three children. Their eldest son, Trail, has worked in the family business since middle school. In fact, all three of the Black children and their spouses work to keep the ice cream churning, and a total of 17 employees now keep the operation going, some of them with the company for well over a decade.
When remembering how Olympic Mountain Ice Cream came to be, Trail says, "[My parents] wanted to raise their family and be around their kids while they worked, so they had to find some way to integrate the two. It seems like they were pretty successful in that, being able to run a business right off of their property." He says this while a baby slumbers in the office above the ice cream production floor. It's clearly a family-and-friends effort, even down to the littlest ones.
Successful indeed, the business is flourishing. With 357+ active accounts, the company has made quite a name for itself in the super-premium ice cream world. Trail shared that both his parents "have an affinity for fine foods and high quality" and Trail attributes the successes of so many of the recipes to his parents' excellent palates.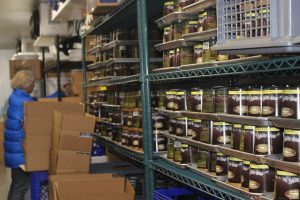 They've made hundreds of flavors over almost four decades now, and are praised by chefs throughout the region for providing not only excellent, but also custom ice cream flavors. Mignonette sorbets that are traditionally served alongside local, Puget Sound oysters are made for a few regional restaurants. With bases of champagne and vinegar and additions like herbs and onions, these unique creations complement even the most unique of menus.
Alderbrook Resort has their own signature ice cream – Canal Crunch – where caramel and fudge ribbons are layered in among hazelnuts and chocolate covered pretzels. There is no limit to what has been requested of the company and what they will endeavor to make. Trail attributes chefs of the Puget Sound region as a major proponent of the company's growth. "Interestingly, chefs move around a ton in the restaurant world, and when they go from one restaurant to the next, they usually take us with them," he says. "With that, and word-of-mouth, we haven't done any sales for our wholesale accounts. They always come to us, which is super flattering and validating that we're making a great product."
It's this passion for high quality that has brought the family wholesale business to where it is today. As Bev and Karl endeavor to do less, their children and their families push to do more. The second generation of Olympic Mountain Ice Cream has emerged and with it they're bringing new additions. In a years-long process, the company has now expanded to include a line of retail pints.
It's worth saying again: you can now enjoy a pint of Olympic Mountain Ice Cream in your own home, or wherever you desire. There are five flavors: Madagascar Vanilla (their all-time best-seller), Double Chocolate Almond, Espresso Flake, Toasted Coconut, and Lemon Cookie are now available in stores throughout Olympia and beyond. Thank the Metropolitan Market in Seattle for this and their numerous approaches to the company in their desire to be the first to carry Olympic Mountain Ice Cream by the pint. They were, and just rolled out an ad where Olympic Mountain Ice Cream was featured on the front page. Trail and his sister Alana were beaming as they discussed this career hallmark. Their sibling comradery of a job well done was a joy to witness.
"It gives me a lot of pride," Trail says, "when week after week we're delivering ice cream to these really nice restaurants like Metropolitan Grill, knowing that they are serving people who are coming to them for the best dining experience that their money can buy. That's their expectation, and at the end of the night, the ice cream they get with their dessert is ours."
Bev, Karl, the entire Black family and their steadfast crew have a lot to be proud of. You can now find their pints at many local retailers, with new locations being added all the time.
You can also score a scoop (or two) around Olympia at:
Find Olympic Mountain Ice Cream on the web, as they do not give tours of their facility at this time. Or give them a call at 360-426-0696. The Black siblings possess more talents than just making fine ice cream. You can follow Alana and her amazing ice cream photography on Instagram or catch Trail and Joel at a local reggae show where they perform in their band, High Ceiling.