Omni Centers for Health and Esthetics was established based on the commitment to enhance each and every patient's personal health and beauty routines. As a fairly new business in Olympia, Omni Centers has worked diligently to create a name for themselves in the community by working with honor and integrity to deliver treatments that are backed by scientific studies. As the company has become more established, co-owners Karen Birbari and Dr. Lauren Peizer ND are excited to announce the addition of Viora body contouring as well as their new weight reduction program.
Although Omni Esthetics presents many comprehensive services to their clients, body contouring with radio frequency is one of the newest on the radar. As the human body ages, the natural production of collagen is reduced, thus causing our skin to lose its buoyant structure. Body contouring is an excellent option for anyone who may be looking to tighten certain areas of their skin or who would like to reduce the appearance of pesky cellulite. The Viora procedure that's recently been launched is a safe, non-surgical skin tightening system that uses advanced radio frequency technology to heat deep into the layers of the skin. As the layers are heated, the collagen begins to tighten and contract. As this occurs, the existing collagen is stimulated while the growth of new collagen begins to take place.
At Omni Esthetics, Karen is primarily the employee who is running the Viora machine and is the expert behind the science. "This is a new, cutting-edge radio frequency treatment procedure that causes the genesis of collagen, contraction of elastin fibers and lipolysis of targeted fat cells in addition to reducing the appearance of cellulite," explains Karen. "Treatment areas can include anything from arms, buttocks, thighs, the lower face, jowls and neck, abdomen or love handles. All of these areas can be improved by Viora without the high cost of invasive surgery."
The second newly launched addition at Omni Esthetics is their 12-week weight reduction program. We all know the struggles of losing the extra pounds that unexpectedly appear and hang around no matter how hard we try to get rid of them. Not only is this immensely frustrating, but constantly trying out new diets and workout regimens can be costly. Luckily, this new program offers a comprehensive personalized plan created for each individual client that's aimed at eliminating the major factors that can get in the way of achieving weight loss goals. Rather than trying to tackle a weight loss journey on your own, this program partners clients with a physician, Dr. Lauren, and Denise Maxwell, RDN, CD who are eager to lend a helping hand while helping to keep their clients accountable for their actions. "Our goal is to try to attack the main issues at every level that put up weight loss barriers that hinder positive results," states Dr. Lauren
Together, Dr. Lauren and Denise will conduct two one-on-one consultations covering everything from thyroid and stress hormones, blood sugar, blood values of sex hormones, and potential insulin resistance and inflammatory markers, all of which can significantly affect weight loss. Various treatments may include the use of indicated supplements, weight loss shots, bioidentical hormone replacement therapy, and diet and lifestyle adjustments.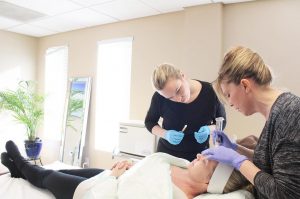 "There are many benefits of working with a registered dietician who is well educated, trained and experienced in their field," explains Dr. Lauren. "Denise Maxwell and myself will help manage health by working with our clients to determine their specific health needs while assisting them in developing the necessary tools to achieve their short- and long-term goals." Depending on an individual's varying level of fitness, they will obtain a recommendation for weekly exercise goals as well as diet coaching accompanied by weekly check-ins with the Omni Esthetics staff. This will include weigh-ins, measurements, prior week reviews, and goals for the coming weeks. After the initial 12 weeks concludes, participants can choose to sign up for further consultations to keep their new lifestyle under control. Although losing weight and keeping it off is no easy task, let Omni Esthetics work with you to come up with a self-confidence boosting solution.
To learn more about these new services as well as the full list of offerings currently available at Omni Esthetics, check out their previous ThurstonTalk articles, visit the Omnie Esthetics website, Twitter, Instagram and Facebook accounts or contact Karen directly at karen@omniesthetics.com.
Sponsored