Change is on the horizon at Spud's Produce Market. The team is busy preparing for the grand opening of their second store on the corner of 79th Avenue and Old Highway 99 near the airport in Tumwater. "We have the building all sheet rocked, painting is happening within the next day or so, and the doors and cases will be arriving sometime next week," Dave Jekel, co-owner, shares. Currently he estimates that the new store will be ready for business mid-November of this year.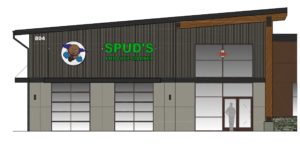 The new Tumwater store will be larger than the Wildwood location with roughly 1,600 square-feet more of sales floor. "With the expanded space we are going to expand options for purchase," long time employee, Grant, explains. The new store will have a larger beer and wine selection with eight tap handles for growler fills. They will also be adding grab and go lunch items like sandwiches and salads.
Upon the grand opening, Grant will be passing down his role at the Wildwood location as the beer and wine manager to Lionel Espinoza and heading to the Tumwater store to manage all things excluding the produce. While Grant is sad to say goodbye to the community at the Wildwood store, he is excited for this new adventure describing it like leaving mom and dad's house.
Grant is confident that he will be leaving his customers in good hands. "With me leaving to go to the new store it was really important to find someone who appreciates the beer and wine segment of the store as much as I do," he explains. "When it came time, Dave asked me who to hire and there is only one person in town I could think of. Lionel is who I wanted."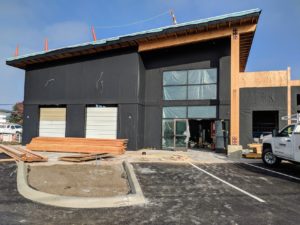 Espinoza's knowledge about beer extensive. He attended and passed a Cicerone Certification program that educates people in the beer industry on different styles, flavors and ingredients of beer. The program also teaches about brewing processes and pairing beer with food. He has worked in the beer industry for many years, starting with the old Gravity Beer Market in Olympia and has since worked for multiple breweries around town. He originally came into Spud's Produce Market with the intention of selling them beer. "They ended up being pretty cool so I would come in on my own time to buy groceries and see how things were going," he explains. "I guess maybe I endeared myself to them and then one day they just brought up the idea of me coming to work here."
Espinoza has been learning the ropes at the Wildwood location for about three weeks now and says things as going well but that there is still much to learn. "Once I learn these produce codes that is going to be the key that unlocks everything else," he says with a smile. The first thing on Espinoza's to-do list as the new Wildwood beer and wine manager, is to maintain the quality selection of beer and wine Spud's Produce Market currently has. "I also need to get to know our customers' wants and needs," he shares. "But as far as things I would like to bring in, I would like to eventually stock some Belgium beers."
Another new addition to the Spud's Produce Market team is Dave Crover. Crover will be managing the produce department at the new Tumwater store. Crover originally met
Dave Jekel when he was working at a larger grocery store in Tenino that Jekel's parents owned. They estimate that they have known each other for just over 30 years. "Working here will be a new and exciting experience," Crover shares. "With the additional space we will have at the new location there will be more opportunities to merchandise things differently," he explains. "We will have the roll up doors in the front so in the summertime we will be able to open those up and merchandise right from the walls. It will be constantly evolving. You want to have something where people see new and exciting things as they come in." Crover adds, that while the new store is growing in size it will still maintain a small, community oriented, locally owned feel that Spuds Produce Market is known and loved for.
To stay up to date with the grand opening and all of the exciting changes happening, follow the Spud's Produce Market Facebook page. In the meantime, make your way into the Wildwood location to welcome Lionel Espinoza and Dave Crover to the Spud's Produce Market team.
Spud's Produce Market
828 Capitol Blvd SE, Olympia
360-915-9763
Monday-Sunday: 9:00 a.m. – 7:00 p.m.
Sponsored