Joan Benoit Samuelson, the inaugural women's Olympic Games marathon gold medalist, is without question running royalty, and the city of Olympia played a large role in her coronation.

Benoit Samuelson, along with several other women marathon runners who competed in the first ever Women's Olympic Marathon Trials, will return to Olympia to celebrate the 35th anniversary of their history-making race that took place on the original Capital City Marathon course in 1984.
Organized by the Olympic Trials Legacy Committee, in partnership with the Capital City Marathon Association, the three-day festivities will run May 17-19 and feature several events commemorating the accomplishments of the women who participated in the 1984 Olympic trials.
"It is an honor for me to be returning to Olympia 35 years after the first Women's Olympic Marathon Trials," Benoit Samuelson said. "I look forward to the homecoming in a community that embraced and hosted all of us for this historic event. The outpouring of support and enthusiasm from the community remains palpable to this day."
Initially, Benoit Samuelson's appearance in the 1984 Olympic Trials was in jeopardy as two months prior to the race she severely injured her knee during a 20-mile training run, forcing her to undergo arthroscopic knee surgery just 17 days before the trials.
Recovering from the surgery much quicker than expected, Benoit Samuelson added another chapter to her legendary status as she proceeded to easily win the 26-mile, 385-yard race in a time of 2:31.04, beating runner-up Julie Brown by 30 seconds. Three months later she bested a star-studded field in the 1984 Summer Olympics in Los Angeles to become the first Olympic Women's Marathon Gold Medalist
"It is hard to believe that 35 years have passed since that time as I still have many fond and vivid memories of my time in Olympia," said Benoit Samuelson, who will celebrate her 62nd birthday on May 16. "I look forward to sharing and celebrating this anniversary with many of the participants, volunteers, and citizens who made the event possible."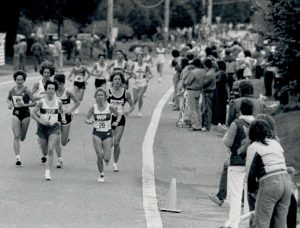 Reunion festivities will start with a luncheon co-hosted by the League of Women Voters of Thurston County and the American Association of University Women on Friday, May 17 at the Hotel RL in Olympia. The featured speaker for the luncheon will be author Jacqueline Hansen, a two-time world record holder and winner of the women's division of the Boston Marathon in 1973.
The luncheon will be followed by an event at Olympia High School geared towards cross country teams, girls in athletics, and those interested in the history of women's right to participate in athletics, featuring Benoit Samuelson.
"Students will hear from those who wrote the history book of women's distance running in the United States," Olympia High School Principal, Matt Grant, said. "The theme of this historical program is about breaking barriers with inspiring female role models who shattered barriers. It's an inspirational story, rooted right here in Olympia."
The reunion dinner, hosted by Olympic Trials Legacy Committee, takes place from 6:30 p.m. – 9:00 p.m. Tickets for the reunion dinner can be purchased at the following link. Attendees are encouraged to purchase their tickets early.
Events on Saturday, May 18, will include appearances by Benoit Samuelson and other women runners appearing at the Capital City Marathon Run Fair at Sylvester Park (1:00 p.m. – 4:00 p.m.) followed by a ceremony at Marathon Park from 4:00 p.m. – 5:00 p.m. Both events are open to the public.
Benoit Samuelson will also be a guest speaker at the Capital City Marathon Pre-Run Dinner at the Capitol Rotunda on Saturday, May 18 (5:00 p.m. – 8:00 p.m.). Seating is limited, and tickets will not be sold at the door. To register, visit the Capital City Marathon website.
The reunion celebration will close out on Sunday, May 19, with Benoit Samuelson participating in one of the scheduled Capital City Marathon races, likely the half-marathon or 5-mile. She will also participate at the awards ceremony following the marathon and be available for photos.
"This event offers a unique and wonderful way to provide hope and inspiration to a new generation of youth, especially young women, in our area," said Olympic Trials Legacy Committee Founder and Chair Denise Keegan. "It allows us to reflect on the day in May 1984 when the cities of Lacey, Olympia, and Tumwater were on the world's stage."
35th Anniversary Women's First Olympic Trials Marathon Schedule of Events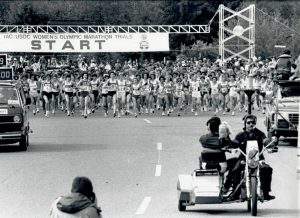 Friday May 17
Saturday, May 18
CCM Run Fair, Sylvester Park 1:00 p.m. – 4:00 p.m., open to the public
Pre-Race Dinner 5:00 p.m. – 8:00 p.m., Capitol Rotunda, Click here for tickets
Sunday, May 19
Capital City Marathon, Races 7:00 a.m. (awards will be finished by noon)