Olympia's South Bay Coffee Company is known for being a welcoming community hub. Recently their dedication to quality, friendly service, and amazing products was rewarded in the 2018 Best of South Sound poll. They placed in the top three in categories of best coffee and best barista.
The poll takes into account thousands of votes in categories ranging from casino to karaoke and attorney to auto repair. The Food and Drink category alone covers breakfast, brunch, lunch, dinner, happy hour, coffee, brewery, food truck, hole-in-the-wall, and more.
South Bay Coffee Company owner Stephanie Childers, bronze medal winner of the best barista title, is tremendously grateful for the honor. She acknowledges that "we went up against two really big companies and came out on top." Her team works hard crafting new combinations, specials, and flavors and she wants to stress to all customers—regulars and visitors—"thanks for voting for us!"
To celebrate, Childers is arranged a Customer Appreciation Day for her fans in late April. There were specials from their new spring menu as well as classic brewed, baked, and frothed treats galore.
Since 1950, the National Coffee Association (NCA) has released its annual trend report. They show that in 2018, "The number of Americans drinking coffee within the past day has reached its highest percentage in the past six years." According to their statistics, 82 percent of people have coffee with breakfast, 41 percent between breakfast and lunch, and 13 percent in the evening.
Open seven days a week from a bright-and-early 6:00 a.m. until at least 5:00 p.m., South Bay Coffee Company also offers pastries, breakfast sandwiches, and other tasty treats. Cold? Go for the biscuits and gravy. Sweet tooth? Their rich, chewy muffin tops are a perfect solution.
But they're so much more than just a quick coffee stop. Childers donates goods and services to charities and schools around Thurston County. Her beans come from a local, small business roastery and can be purchased in bulk to take home and enjoy later.
If you live and work nearby, or prefer their drink delivery service, consider signing up for the Five Star rewards program. Points are earned with each dollar you spend and can be redeemed on food or beverages. Current promotions are sent to members via text and are also posted on the stand's social media.
The NCA report says 2018 "saw the highest one-year jump" in consumption of espresso drinks. With decadent creations like the Layered Caramel Macchiato and Whoopie Pie Mocha, it's easy to see why South Bay Coffee's cornering the market. They'll even blend real Girl Scout cookies into your frothy iced coffee drink, combining the best of both worlds in this limited availability, taste bud extravaganza.
Prefer sweet and fruity, but with a kick of energy? Pick any of their signature flavorings and Lotus Energy Drink combo and they'll whip it into a chilled, tie-dyed, rainbow delight. Look for daily themed drinks, unique pairings, and a willingness to delight customers at every turn.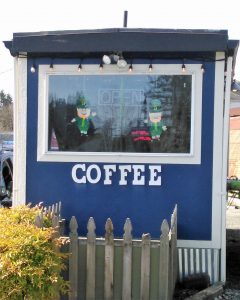 Next time you visit, make sure to congratulate Childers and her team for all their hard work and Best of South Sound success. And put Customer Appreciation Day on your calendar as soon as the date is released. You definitely don't want to miss out on the fun.
"Coffee connects us in so many ways—to each other, to our senses, and to the earth," said grower Rohan Marley. Connect with one of the best stands in town and its amazing staff by visiting South Bay Coffee Company today. Call your order in to 360-459-1345 to have it ready and waiting when you arrive. Follow them on Facebook or Instagram for release info and more up-to-date information.
South Bay Coffee Company
3427 South Bay Road NE, Olympia
Monday – Friday: 6:00 a.m. – 5:30 p.m.
Saturday – Sunday: 6:30 a.m. – 5:00 p.m.
Sponsored