Ahh, coffee, how we love it. It's the magical brew that gets us moving no matter what the season, weather, or activity. Industry research shows that "among coffee drinkers the average consumption in the United States is 3.1 cups of coffee per day [and] 50% of the population, equivalent to 150 million Americans, drink espresso, cappuccino, latte, or iced/cold coffees."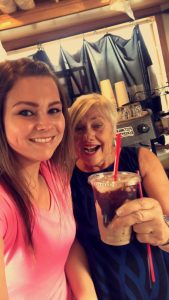 Though most people have a coffeepot at home, there's nothing like a professionally crafted, high quality cup made by a skilled barista. And this is where the South Bay Coffee Company comes in. Their team strives to be your daily source of caffeine—or decaf, if you prefer—and edible treats galore.
But they also offer their services in and around the community through fundraisers and charity events for such organizations as Homeless Backpacks, the Rocky Mountain Elk Foundation, and local elementary schools and teaching staff. From root beer floats to Italian sodas, they're happy to help.
Owner Stephanie Childers sources her beans locally from Firefly Coffee Roasters. She's one of only two clients using their amazing whole bean blends. Not from the area? She and her team will gladly sell you a bag of their rich, custom blend to take home.
"Weather affects people's coffee drinking," admits Childers, "but stop in even if the line is long for our speedy, friendly, accurate service. We look like the typical drive-through stand but that's not what we are." Easily 90 percent of customers are regular, even daily, guests at South Bay Coffee.
Celebrating the Holidays with South Bay Coffee Flair
On Black Friday, look for extra special gift card deals from 6:00 to 8:00 a.m. that day, they make perfect stocking stuffers and Secret Santa presents.
Also after Thanksgiving, the fan-favorite flavors come back. "All the holiday favorites including peppermint bark breves and our signature gingerbread man latte and Harvey's hot buttered rum drinks," says Childers. They also offer peppermint whipped cream through the winter. Try this on a bourbon pumpkin swirl or pumpkin sticky bun latte.
Their pumpkin spice sauce is available year-round, as is eggnog (try it off-season during Christmas in July festivities) but "people wait for it," laughs Childers. "Because our eggnog is not cut with milk, it pairs so well with coffee."
This year South Bay will introduce a tasty new Liège waffle. These are similar to their more traditional Belgian—or Brussels, as they're known in chef circles—waffle cousins. Taste magazine explains: "A Liège waffle is filled with unevenly distributed clusters of caramelized pearl sugar, which gives a slightly bitter contrast with the buttery waffle dough. It's a convenient snack, easily eaten at any time of day (a good one loses nothing when cold)."
Not sure what you're in the mood for? Browse their mouthwatering photos on Facebook or Instagram for inspiration or let the girls craft you an individualized treat based on mood, flavor profile, or daily special. Add on a pastry, bagel breakfast sandwich, or biscuits and gravy to jump-start the morning.
If a pick-me-up is in order, try including a shot of Lotus Energy, a plant-based kick of "the iconic lotus flower, adaptogenic botanicals, superfruits, amino acids, B-vitamins, natural caffeine, natural flavors and sweetened with pure cane sugar."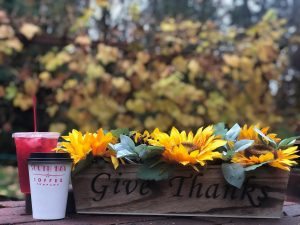 The Specialty Coffee Association estimates that "the latte is the most popular coffee drink in the U.S. [and] a standard latte doesn't cut it anymore. The average American requests two add-ons to customize their coffee order." Whether this is non-dairy milk, sugar-free flavorings, or unique combinations, South Bay Coffee Company will make it your way, seven days a week.
But don't take my word for it. Check out their top-five finish in the recent Best of Western Washington ranking. Once you're hooked, join their text-based loyalty program for discounts, deals, and specialty offers. You can also message the shop through Facebook or call with questions. Don't forget: any time is a good time for coffee.
South Bay Coffee Company
3427 South Bay Road NE, Olympia
360-459-1345
Winter Hours:
Monday – Thursday: 6:00 a.m. – 5:00 p.m.
Friday: 6:00 a.m. – 5:30 p.m.
Saturday – Sunday: 6:30 a.m. – 5:00 p.m
Thanksgiving: 7:00 a.m. – 3:00 p.m.
Black Friday: 6:00 a.m. – 4:00 p.m.
Sponsored