On a wintery day, February 17, 1912, a monumental event took place in Tenino, which went down in history as "The Big Blast." It took place at the Hercules Sandstone Quarry #2 and the Seattle Times described it as follows: "What probably was the biggest single blast ever discharged in the United States took place at the Hercules Quarry at Tenino this afternoon, when more than 500,000 tons of sandstone were broken up by a single charge of 50,000 pounds of black powder and dynamite."
Today, the Hercules Quarry #2 has taken on a new life of pastoral industry as Hercules Farm. The fields below the quarry are rotationally grazed by a herd of wooly sheep. Where quarry offices once clocked in workers, a new orchard of hazelnuts, Asian pears, and peaches now take root. The quarry itself is reclaimed by the forest.
Hercules Farm is a small family farm off Old Military Road in South Thurston County owned and operated by Faith Hagenhofer, Doug White, and Nora White since 2001. Faith gave me a tour of the farm.
As we walk by the garden and an orchard with pears and plums, there is an old shed that Faith is contemplating removing. Life on a farm is a constant evolution of problem solving and improving.
"Things are always in progress," she says. "Here we may expand the garden and install a better compost management system."
The dyer's garden illustrates one of Faith's biggest passions – natural dyes. In her garden, she grows madder, the root of which produces a red dye; blue elderberry creates hot pink; comfrey becomes green; red onion makes green; yellow onion makes bronze; and cascara produces blue.
A visit to her workshop showcases Faith's talents. Faith creates naturally dyed wool quilt art pieces. Some are hand stitched, some machine stitched, but all feature her splendid imagination. Her shop is also draped with naturally dyed silk scarves. Fleeces endure several rounds of washing in the sinks. Silk screen projects are in progress at the back, while intriguing designs for block printing wait in the wings.
Faith teaches some of her know-how during classes on the farm in her cozy workshop. Classes on block printing and natural dying cost $80, last 5.5 hours, and include supplies and lunch. Not a bad price for skills that last a lifetime. Winter classes will be posted the week before Christmas, so that if you enjoy giving skills and experiences for Christmas or birthdays, Faith's classes make a lovely gift.
The goods from her workshop include art, quilt batts, scarves, yarn, and wool socks. Her wool socks are made from the farm's wool and then sent out to be made into socks.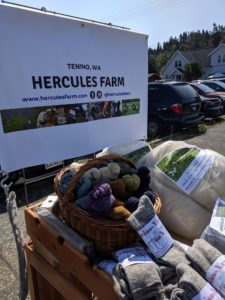 "Among the things I sell is the product of this fleece. Especially socks because I like to sell something useful." Faith's socks were so popular that she is sold out for the year. But she hopes to add more garments to the lineup, like sweaters.
"I have a programmable knitting machine coming from Italy," says Faith. "It's a Kickstarter so they are still fine tuning it."
Next on the tour is a visit to the Hercules Quarry, which included a trail through the ferns and into the woods. In the 1980s, the quarry was visible from the road, but now is obscured by trees which is preferable to the owners of Hercules Farm. While owning a sheer cliff is great for a family who has an experienced climber like Doug White in the clan, it is nerve wracking also, in that some curious and inexperienced explorer might trespass onto it.
"As you see," says Faith, "it is utterly vertical, some of it even overhangs. It's really quite remarkable. When we first bought the property in 1989, you could see it from the road. But now everything has grown up."
As we continue our tour, we pass a family friend on his way to climb. His climbing companion, a fire department paramedic, is new to the wall but she is "a better climber than us old guys."
To visit the quarry for a climb, you need to be a highly experienced climber and sign a waiver before climbing.
The animals on the farm are largely daughter Nora's inspiration, who as a youth showed goats. They started with cashmere goats for their fiber, then dairy goats, and when Nora was in high school moved on to sheep. The Gotland Sheep combine Faith's interests in fiber and Nora's love of animals.
But in 2015, tragedy struck the farm. "We lost everybody but three sheep overnight."
Two dogs killed eight bred yews, the ram, and the guardian llama.
"Only one sheep survived intact," explains Faith. "The other two had severe leg injuries and had to have their faces sown back on. The leg of one ewe was so bad the vet said to put her down. But we said if we did that the other two at home will never forgive us. So, we had her leg amputated."
She now gets around just fine with the rest of the herd, which has grown to include 12 sheep. The sheep are fed through rotational grazing and when hay is needed it is purchased from across the street, creating a sustainable fiber business.
This year is Hercules Farm's second year selling turkeys. They are currently sold out, so if you want a heritage breed grass-fed turkey next year it is best to order early.
To learn more, you can find more on the Hercules Farm webpage or follow them on Facebook.