As consumers, we love loyalty rewards programs. There's nothing better than an unexpected discount or freebie to keep us coming back. At Olympia's South Bay Coffee Company, their Five-Star program means cheaper—or free!—coffee, breakfast sandwiches, iced energy drinks, or even biscuits and gravy.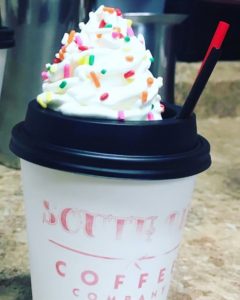 Industry experts say that "87% of shoppers reported that they want brands to have loyalty programs." South Bay owner Stephanie Childers agrees, saying that almost all of her customers belong to their program. To sign up, simply stop by the stand and enroll. Then provide your phone number each time you visit to start earning points.
A weekly deal apart text is sent out to all members with the current offer. (Don't worry, they won't flood your phone!) Other promotions are frequently posted on their Facebook and Instagram pages and members always get a free 16-ounce coffee on their birthday.
The program rewards are in tiers and your first reward, typically $4 off a beverage purchase, occurs when you've earned 60 points. Whatever you're in the mood for, it counts towards the next tier. Hungry? Try a warm bagel, decadent pastry, or an over-the-top delicious Whoopie Pie Mocha. Hot and thirsty? Brace yourself for a Blended Hot Velvet frappe with its cool, chocolatey red velvet and kick of red-hot cinnamon. Or try on of their Pink, Blue or Red Lotus Energy drinks infused with your favorite flavors!
But it's the coffee that really keeps people coming back. Using local Firefly Coffee Roaster for their signature blend of espresso beans, the staff at South Bay Coffee Company can whip, foam and blend it in all kinds of delicious ways. True fans even stock up on fresh beans to tide them over.
Own a business in the area? Let South Bay Coffee deliver for free. Simply call the stand at 360-459-1345 and discuss your order and timeframe with the baristas.
South Bay Coffee Company
3427 South Bay Road NE, Olympia
Monday – Friday: 6:00 a.m. – 5:30 p.m.
Saturday – Sunday: 6:30 a.m. – 5:00 p.m.
Sponsored