No matter how much we love our pets, sometimes we have to leave them. Whether it's for vacation or business, travel often means finding a place to board our furry friends. Here in Thurston County, we have several options when it comes to finding the right place to board our dogs or cats when needed.
So how to choose the one that rights for you? The best advice is to check out these places in advanced, so you can choose the one that has the services you need. Ask any questions you have and take a tour of the facility. Reading reviews is also very important. Finally, it's best to do a practice one-night stay before you leave, to ensure both you and your pet are happy with the service you receive. Nothing is worse than leaving for a trip and finding out the place you left your pet was not ideal, and now have no way of retrieving them.
If you are looking for pet boarding in Olympia and through Thurston County, we have a great list to help you get started.
Charlotte's Cat Shack
Charlotte's Cat Shack is a cat only boarding facility. They give discounts if you have two or more cats as well as a 10 percent military discount. Kitties have access to a safe environment for personal playtime and are given plenty of attention. They also offer cat taxi service to the following areas: Olympia, Tumwater, Lacey, Yelm, Centralia, Shelton, and Elma. For an additional fee, they will travel outside these service areas. Charlotte's Cat Shack accepts indoor cats only.
6930 Foothill Ct. SW, Olympia
360-480-8683
Charlottescatshack@gmail.com
Classy Canine Country Club
Classy Canine Country Club offers dog boarding for all breeds of dogs, and will cater to special needs on a case-by-case basis, including behavioral issues, seniors, and intact dogs. They have a temperature controlled indoor boarding area and each dog is given a raised Kurnada bed with fleece blankets. They do offer supervised playtime and they even have board and train, where you dog can work on learning new things while you are a way on vacation. This service has a limited availability. Contact them for more information.
706 Tumwater Blvd. SE, Tumwater
360-943-2275
classydogs@gmail.com
Fido's Farm
Fido's Farm offers boarding and a whole lot more, including agility and herding training. Boarded dogs get group play time as well as one-on-one time with a human to make sure they get the same attention they would at home. Outdoor play areas include a splash pool and covered areas. Indoor runs have heated floors for cold weather. They have many packages that can be added to your dog's stay, including training and fitness.
9829 Evergreen Valley Rd, Olympia
360-866-8347
fidosfarm@fidosfarm.com
Friendly Grove Resort & Spa for Dogs
The Friendly Grove Resort & Spa for Dogs in Olympia is not your average boarding facility. Their "hotel" for dogs has premium services including room service, private courtyard time, and even special amenities such as frozen Kongs and teeth brushing. For your peace of mind, they offer daily emails or text updates during your dog's stay. Private indoor/outdoor suites are available. They also have a Doggie Daycamp for those that like to romp with others.
2901 Friendly Grove Rd NW, Olympia
360-352-1254
friendlygrove@hotmail.com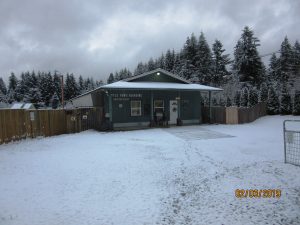 Little Paws Boarding
Little Paws Boarding caters to small dogs under 20 pounds only. Their indoor pens are made just the right height and size for smaller canines. Lightweight flaps on the doggie doors to the outside mean even the tiniest chihuahua can push through. They have two types of beds – raised beds as well as round pet beds – depending on your dog's size and preference. TVs are kept on to give the boarding room a "homier" feeling. A large, quarter acre outdoor exercise area is securely fenced. Dogs are let out four to five times a day to stretch their legs.
7828 Diagonal Rd. SE, Olympia
360-701-3230
Julie@littlepawsboarding.com
Northwind Pet Care Center
Northwind Pet Care Center is a dog and cat boarding facility. They have several options when it comes to accommodations for Fido, including indoor and arena suites, back bungalows, and indoor/outdoor runs. Each space has different features that can accommodate your dog's needs. Their indoor spaces are climate controlled for the comfort of your pet, even the ones with outdoor runs. Daily exercise is given to dogs in the form of a play area with other dogs and/or daily activity. The cat area is separate from the dogs to minimize stress and the cats are given time out of their kennel each day, including access to a completely enclosed outside area.
9902 Yelm Hwy SE, Olympia
360-456-5631
northwindpcc@gmail.com
Precious Paws Day Care & Boarding
Precious Paws Day Care & Boarding is a dog boarding facility with both outdoor and indoor environments for your pet to enjoy while you are away. They promise personal attention will be given to each pet in their care. They have group play rooms for dogs that like to play with others.
12720 Brooks St., Olympia
360-234-2731
The Dog Lodge at Sherman Valley Ranch
The Dog Lodge at Sherman Valley Ranch has several options when it comes to keeping your pet pampered and spoiled while you are gone, including frozen Kongs, daily walks, and even a going home bath. Kennels are temperature controlled with air conditioning and heat. Dogs spend most of the day outside, unless they are tired or the weather is really bad. They only board 10 dogs at a time, to make sure each one gets lots of one-on-one attention.
8824 Sherman Valley Rd. SW, Olympia
360-357-7387
Doglodge.shermanvalleyranch@gmail.com