Ericka Cooley is helping to break the myth that sleep deprivation is an inevitable condition for parents. After her own experience with sleep deprivation as a new mom, Ericka trained to become a certified pediatric sleep consultant and started Cooley Sleep. As a sleep consultant, Ericka works with parents and children to develop and maintain healthy sleep habits and create a well-rested family.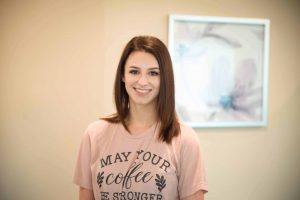 Ericka's passion for guiding parents and children towards a healthy sleep pattern stems from her experience after the birth of her son. While encountering real sleep deprivation, she decided it was time to take action. "My son, at 5-weeks-old, was sleeping 45 minutes at a time," explains Ericka. "At night, I would get him to sleep on the bottle and I would sneak that bottle out of his mouth and wait to make sure that he was 'really' asleep. And then I would transfer him into whatever contraption I thought he would sleep best in that night. And 20 to 30 minutes later, he was back awake again. One night, he cried for ten hours straight. My husband and I took shifts just to try to survive the night. We tried car rides, we tried bouncing, shushing, and singing to no avail. The next morning is when I decided I needed someone to help me."
After exhausting other options, Ericka reached out to a sleep consultant. "I practically begged her to start that night," she recalls. "After just a few short weeks, at 10 weeks of age, he was sleeping 12 hours a night. I literally felt like a new person. I knew I needed to help other moms do this."
Inspired by her success with a sleep consultant, Ericka sought to train with Dana Obleman, author and creator of the Sleep Sense Program. "I call her the sleep guru," explains Ericka. "Four times a year, she chooses 25 women to come train with her and I was lucky enough to be one! So, I flew down to Florida to do her intensive training course. There is always more information to learn, so even after certification, I continue learning everyday through training courses, webinars, and real life experiences."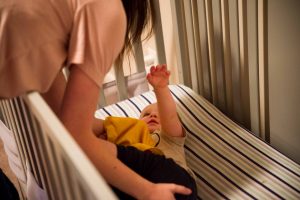 Ericka begins each family's sleep journey with a free, 15-minute phone consultation. "During that consultation, we talk about what's going on and I can dig deep into the issues and see if my services are what the family is looking for and we can decide if working together makes sense," she explains. "If they decide they want to hire me, I send an in-depth questionnaire about their child. I want to know everything. Throw me all of the information, eating habits, sleeping habits, morning, nights, days. I want to know everything, because no two families are alike. I make sure I create a plan specifically for their child and their family."
After the plan is created, Ericka is dedicated to supporting parents through the learning curve of the new sleep process. By being able to check in and tweak the plan if something is not working out, she offers parents and children a specialized pathway for successful sleep. "After I create that plan, we meet," she explains. "If they are local, I meet them in their home, where I can do a nursery evaluation. If they are not local, then we have a one-hour consultation on the phone. During that consultation, I go over everything. I go over exactly what we're going to do to get their child sleeping. I answer any questions and concerns so that they feel confident going into night one. When they decide to start the plan, they have me for a full two weeks of support. That's one reason people have such success with a sleep consultant, because if you're following a method from a book and something goes wrong, the book can't tell you what's going wrong. I'm there to walk them through it, keep them consistent, and make sure things are on track."
As a pediatric sleep consultant, Ericka works with families and children at a variety of ages, from newborn to school-age, where a good night sleep is beneficial to a child's health and development. "If you start teaching healthy sleep habits earlier, when they're newborns, it's more about setting them up for success and preventing anything that would become a problem in the future," says Ericka. "When they get a little bit older, it's about resolving habits that are preventing the child from achieving a good night's sleep. If you take a look at some recent studies, they are showing that the sleep for babies is so vital to their health. If your child is not getting enough sleep, it can affect their growth, it can affect their brain, it can affect their learning. Everyone in the family benefits from being well rested."
Ericka encourages new parents to reach out for help and emphasizes that being a new parent doesn't have to equal total exhaustion. "I feel like there's this weird stigma in the world that new parents, or any parents, are supposed to have it all figured out; and we don't," she explains. "You don't have to be sleep deprived to be a parent."
To learn more about Ericka Cooley and her sleep consulting services, visit the Cooley Sleep website.
Sponsored