The day Masonry Cafe Catering opened, nothing obvious announced its presence. The sign that was supposed to be ready well in advance arrived at 9:30 that morning. Undaunted, co-owner Shelly Brown turned to her son and fellow owner Leroy Keener. "We're just going to turn on the 'open' sign and take care of one customer at a time," she told him. "Give them excellent service and really good food and the rest will take care of itself."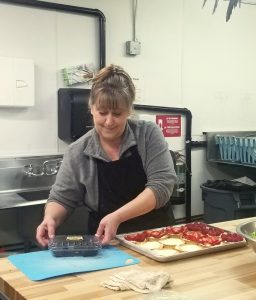 A year later, Brown's prediction has proved true. The Cafe does a brisk trade in handcrafted, artisanal and locally sourced meals, including many items they create on site: hand-ground hamburgers, roasted turkey, soups made from scratch, homemade sourdough bread, sauerkraut and pickles, plus dressings they mix themselves. Brown credits Keener as the driving force behind the food's quality. "He cares about what he serves," she says. "It's not about, 'We're out of this so let's run down to a store and get some more.'"
Both mother and son have extensive experience in the culinary industry. Brown ran the bakery, deli and catering departments at Bayview Thriftway in Olympia for 15 years, while Keener traveled the world working in kitchens and discovering different cuisines. "He's been through Europe and Asia and gone into restaurants just to cook and learn something," says Brown. "He has a real love for food."
The move to Yelm was a leap of faith. Initially, when Brown inspected the front counter of what is now the cafe, she didn't see how a catering business could thrive there. But then she saw the kitchen. "It was really what I was looking for," she says. "It fit what we needed."  The first few months were a blur of 14-hour days, 6 days a week as Brown and Keener worked to pay some of the necessary upfront purchases.
From the start, the local community has been supportive, says Brown. On day one, she discovered neighbors from nearby Salon Nouveau peering through the windows, trying to determine if the cafe was open. "I went outside and said, 'Come in and have a look,'" Brown laughs. "'We're not open yet, but come back in about an hour.' They came back at lunchtime and from then on, they kept buying a bunch of stuff. Then they sent all of their friends here."
Other neighbors like the owners of Elie Jewelry, the White Horse Tavern, and Prairie Lanes have also become frequent visitors, she notes. "We just fell in love with the people out here. Even a couple of weeks into it, customers were coming in saying, 'I'm so glad you're here.' They kept coming back, every day, and telling their friends. It was really amazing."
Aside from locals, customers who remember Brown from Bayview and Keener from De La Terre in Steilacoom make the trek to enjoy their food. Another carryover from those days: vendors. Check the shelves and countertops at Masonry and you'll find a diverse group of local food businesses represented.
"A lot of them are people that I've worked with in the past," says Brown. "Debbie from Ila's Foods is one of my dear friends. Left Bank Pastry and Macarons by Mel, they weren't out here. We've just started bringing in a couple of things from Wagner's Bakery." Offering items from other companies has freed up some time that would otherwise be spent creating their own confections, so the situation is a win-win.
L&E Bottling is another local connection from Brown's Bayview days. The Tumwater-based company is a distributor of Pepsi and Dr. Pepper brands, in addition to more than a dozen other products like Deep River Chips and Cycle Town Coffee. "When we first came out here, we knew that was one company we were going to bring in and work with," says Brown. "I've known them for a very long time. When I called, they said, 'Shelly, we're going to set you up with all the crafts you need for catering.'"
In the past year she also arranged to buy locally-grown produce from Mari's Farm. In 2018 they opened too late to custom order what they needed, but last November, owner Mari Mankamyer visited the cafe to discuss their needs. "She's planted all of our vegetables," says Brown. "Fresh basil for our pesto, everything we'll need. We're very excited."
With a one-year anniversary coming up and the business settling in, Brown is looking forward to doing more catering, which she clearly loves. "I'm a catering machine," she admits. "It's the gratification that comes when you get to see it all on the table."
Already, that side of the business is booked solid in August and September, and nearly full for June. Several large accounts followed Brown from Olympia and Brown has begun connecting with Yelm businesses like Rurup Farms as well. Other changes are in the air, she notes. "As we move forward, you're going to see a lot more stuff. We're getting equipment paid off, we're bringing more people in, and we're going to try some different things with the menu. This has turned out to be a really good fit for us."
To learn more, visit the Masonry Cafe Catering website.
Masonry Café Catering
105 E. Yelm Ave, Yelm
360-400-0522
Monday-Saturday: 10:30 a.m. – 7:00 p.m.
Sponsored