For Ken Semko, his position as the new chief of the City of Lacey Police Department is a longtime dream come to fruition. In a community that's large enough for the police force to make a difference, but small enough to know every staff member by name, Semko wants to serve in any way he can, both as a member of law enforcement during the day and as a neighbor when he gets home. As Semko gets to know his staff and the City as a whole, he is listening to the needs of the area and seeking to make his police force the best in the State of Washington.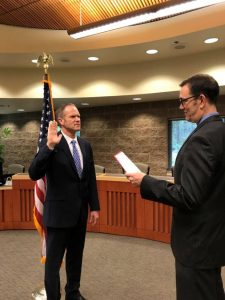 Semko comes from Southern California and served for 27 years as a member of the Santa Monica Police Department. After working at every level within the department, including as interim chief, it was time to set up shop in a community where he could both live and work. "It was a perfect storm, really and I mean that in a very positive way," says Lacey Police Chief, Ken Semko. "My wife and I were looking to make a move up into the Pacific Northwest and we started looking in this area. I met some folks at the FBI National Academy several years ago that are law enforcement executives in the state and they told me that the opportunity to apply for the chief position was available in Lacey. I knew the area, but I didn't know a whole lot specifically about Lacey, so I started making some phone calls and started doing some inquiries and the more I dug, the more I liked it and the more I became interested in the community itself."
For both Semko and his wife, Lisa, Lacey provides ample opportunities to not just serve in an official capacity, but get involved and get to know people in the community on a personal level. "The City of Lacey offers everything that I love about being a police chief," says Semko. "To come in and be a part of a department that is large enough to make a significant difference in the community, but it's not so big that you can't have those one-on-one interactions daily with your staff is what I really enjoy the most. The other side is to be a resident here in Lacey. I'm not just the chief here. When I go and I talk with our community members, I'm your neighbor. I understand because the things that impact you, impact me as well because I live here."
Semko's wife, Lisa, and their children are also enjoying their new Pacific Northwest roots. Semko's sons, Zach and Josh, both attend college out of state, but just made their first trip to the Lacey area for spring break. They had the chance to explore the community and the nature this area provides.
Since Lisa also values community connections and service, Lacey has provided her with a myriad of new opportunities. "Lisa is a paraeducator for special needs kids and she has the patience of an angel," says Semko. "She is an incredible woman that you'll see out in the community because she'll be out there with me, as well. You'll see her at community meetings and getting involved. Coming to a place that we can live and work is really something that we've wanted to do for quite a while now. The fact we have the opportunity to do it here in Lacey is a dream come true."
Semko started with the department in February and is getting to know all the members of his department. Entering as the new chief, he wants to develop relationships and collect input for potential department updates and improvements. "The first three to four months, it's really important for me to get to know everyone in the police department," explains Semko. "And that isn't a five-minute conversation, that's sitting down and spending quality time with each and every one of our employees in the department. In addition to running the police department's day-to-day operations and providing a vision for the department heading into the future, it's taking a lot of my time right now just getting to know staff and getting to know where we came from as an organization. Once I get that information, I can take the bits and pieces and start to put together the plan of exactly where we're going to go and how we're going to get there. So, the goal is we're going to be the best department in the State of Washington.  We have the support of the community, City partners, and City staff. We have an incredible staff working in our police department and there's no reason we can't do that."
As for being a police chief within his own community, Semko believes that is a unique opportunity to foster a positive relationship between citizens and law enforcement. "We can't do our job without community involvement," explains Semko. "It's so important to be out there and for folks to feel comfortable contacting law enforcement at every level and talk about what their concerns are, their needs are, and just as importantly, to develop those friendships and those relationships. There's a strong sense of community in Lacey. A lot of our residents grew up and have history here and are really proud of Lacey and I love being part of that. I love working for folks like that and when I leave the office, I love being those people's neighbor."
To learn more about the City of Lacey Police Department and the new police chief, visit the City of Lacey website.
Sponsored