Erroll Harris, an assistant coach for the River Ridge High School girls' track team, originally got the quote from his father and passed it on to Taryn Lucas, Raquel Robinson, and Taylor Woodworth last year.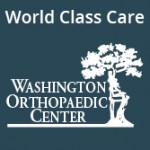 "All I can do as a coach is set the table for you,'" Harris, who handles the Hawks' sprinters, told his group of runners. "It's up to you if you want to eat or not."
As it turned out the trio was starving.
"It got to the middle of last season and I told them, 'You all are stuffing your faces,'" Harris said. "It's incredible. They feed off it. They wanted to beat everybody. They wanted to compete against each other and see who has the fastest splits. It was ridiculous."
They're back for a second helping this season, and they might even be hungrier.
Seniors Lucas and Robinson and sophomore Woodworth comprised three-quarters of River Ridge's 4×400 relay team, which set a school record (4 minutes, 1.53 seconds) and placed third at the Class 2A state championship meet in 2018.
Alona Wright, who ran the first leg of the relay at state last year, has since graduated, leaving the squad looking for a replacement, but according to all three returning runners the team has several athletes who could potentially fill the void.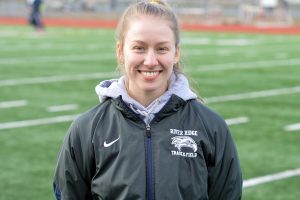 "It's definitely nice having three members of the team back," Lucas said. "We're going to have to find someone else, but I don't think that will be a problem. We've always been known for our relay teams around here."
Whoever emerges as the fourth member will step onto a team that features three of the top 400-meter runners in school history, highlighted by Woodworth, who first broke the school record midway through her freshman season last year before breaking it again during her third-place finish at the state championships.
"We're shooting for goals. We're not just running to run," Harris said. "And Taylor's goal is to get first at state. She wants to break her own school record every time she gets on the track."
Woodworth first established the River Ridge benchmark in the 400 last April when she won the event at a 2A South Puget Sound League meet with a time of 58.86. She bettered that time in the state preliminaries, stopping the timer in 58.39 before posting a blistering time of 58.18 in the state finals.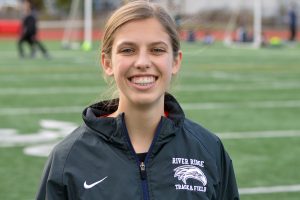 Harris believes Woodworth has all the tools to clock in the 57- and 56-second range this season.
"She's constantly improving," Harris said. "Taylor asks a lot of questions. She wants to know exactly what she needs to do in each part of the race, and then she just goes out there and does it."
Woodworth has already showcased just how incredibly versatile an athlete she is during the early stages of her sophomore campaign. She ran the 800 for the first time at the South Sound Jamboree and covered the distance in a speedy 2:21.95, a time which is the third fastest in the state among 2A runners.
She also holds the fourth best time in the 200 in the 2A classification (26.76) this year.
Woodworth, however, isn't the only one putting up strong times in the 400 as Robinson and Lucas both hold two of the top times among River Ridge runners over the last dozen years with Robinson's personal best of 1:02.10 ranking sixth and Lucas holding the seventh spot with a time of 1:02.62.
"Coach Harris sets such high standards for us," Robinson said. "Last year he gave us a time to beat and we went out there and beat it. He believes in us. He pushes us and we're always trying to make him proud."
According to Harris, the stellar times for all three standouts are the direct result of the three competing against each other on a daily basis at practice.
"They feed off each other so much," Harris said. "There are times at practice were I will tell them, 'We want to stay within these times. If you want to go faster on the last one let's wait until then.' And they're always chomping at the bit for that last set just so they can go after each other."
The end result could be a state 400 title for Woodworth and a state 4×400 relay crown for the team come May.
"We've basically had the stars aligned and we have the perfect situation where you have three girls who get to compete against each other in practice and it's really helped them develop into stronger athletes," Harris said. "They want to do better than each other at practice and it just bleeds into everyone else on the team. It's an infectious environment, something that's a once in a lifetime thing for a coach."