Using state of the art technology, we can go back in time and see in fine detail the aftereffects of a railroad building bonanza in Olympia over 100 years ago.
While Olympia was bypassed in favor of Tacoma for a railroad terminus in the 1870s, Washington statehood and Olympia holding onto the state capital meant that once again Olympia became a favorable spot for railroads to build.
One of the entrants into the Olympia railroad race was the Union Pacific, which envisioned a railroad that would roughly follow what is now Interstate 5 south of Olympia, crossing the Deschutes River near the current brewery site, entering Olympia following the current railroad grade (including a tunnel), and then following East Bay Drive until it would bend east across northern Thurston County and cross the Nisqually River.
This last portion was the focus of intense preparation and grading work throughout 1890 until work was quickly abandoned. For decades, it took dedicated railroad historians to trek into the woods north of Olympia and Lacey to find evidence of this ancient railroad that never was. But now, thanks to light distance and ranging (LIDAR) technology, we're able to see the marks in the ground left by the railroad crews.
LIDAR is a method of drawing extremely accurate topographic maps by flying an airplane over a landscape and shooting lasers at the ground. Depending on how quickly and at what frequency the lasers are received back at the airplane, researchers can use computers to determine if the laser hit a tree or the ground.
In our examples, we're looking for relatively small changes in the ground, that when seen in isolation look fairly natural. During my own on-foot surveys, what is obvious on LIDAR maps looks like a fairly natural depression that might hold a typical wetland or stream. But when we look across the landscape via LIDAR, they are much more obviously manmade.
Work on the so-called the Portland and Puget Sound railroad, a subsidiary of the national Union Pacific Brand, would only be underway for seven months before the state of the parent company fell through the floor. Even tapping the Great Northern Railway as a partner in the regional effort failed to revive the north-of-Olympia line.
While representatives from the Union Pacific continued to poke around Olympia and plan more surveys for the line, no additional actual effort was ever made on the path through the northern part of the county.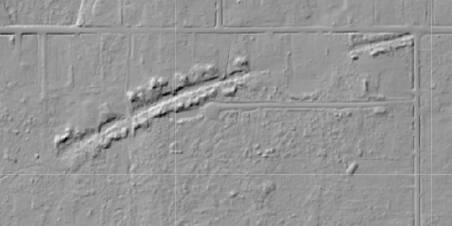 While the Union Pacific effort failed, the Northern Pacific was also underway was able to finish its Olympia segment (going underneath 7th Avenue in downtown Olympia) in 1891.
The Union Pacific itself did make a return to Olympia finally 25 years after they started, connecting a railroad from a mainline in East Olympia, through Tumwater, underneath Capitol Way and into downtown and the Port of Olympia.