Visitors to La Vida Alpaca farm have all kinds of reactions when they find themselves surrounded by the inquisitive creatures. Many get excited, some can't stop smiling, and others burst into tears. It's like a petting zoo for adults, only with less petting and more education.
Jean Van Effen and David Bagshaw run the 10-acre farm, which also includes their fiber mill and a farm store where they sell the end products. "I love turning the raw fiber into something beautiful and original," says Van Effen. "I'm a handspinner, so when I get to spin fiber from my own herd, make yarn and then create something out of it, it's the most satisfying thing ever."
The alpacas are broken into two groups, babies and nursing mothers who need special feed, and a free-ranging group that wanders the property as a herd. An alpaca's gestation period is 11 months and typically yields a single 'cria' or baby. Bagshaw points out one smaller male hanging around the outside of the pen where the mothers and their offspring are gathered. "We may have some surprise babies in mid or late summer," he says. "That little one snuck through the gate."
In the Andes where they originate, the animals have long been used for their fiber. They come in two varieties: huacaya, whose fuzzy coats produce a dense, soft, and crimped fiber, and suri, which have soft, shiny, and slightly curly coats. Each fiber has scales, Van Effen explains, which lends itself to different types of material. "If you want to make a garment that drapes, like a beautiful dress shawl, you choose suri. If you want something with loft and insulation, you choose huacaya."
Van Effen is on the board of Cross Creek Alpaca Rescue, a Tenino non-profit and at La Vida, the herd is a combination of rescue animals, those born on-site, and animals the couple has bought. Some participate in shows such as Alpacapalooza, an annual event held by the Alpaca Association of Western Washington. "We show the babies and if they do really well, we may show them the next year," says Van Effen.
Shearing happens once a year and is a major production, with professional shearers booked up to nine months in advance. "We get a ton of volunteers here on shearing day," says Van Effen. "Every alpaca gets a number or a name hung on them because it's harder to tell them apart when they're sheared." The process happens in order of color, to prevent mixing among the different fibers. Alpacas have more color varieties than any other fiber-producing animal, Bagshaw notes.
Both he and Van Effen are military veterans who retired from active duty five years ago. Bagshaw grew up on a farm in Indiana and the pair has co-owned alpacas with his sister there since 1993. "We weren't hands-on and living with them until 2014 when we brought our first ones home," says Van Effen.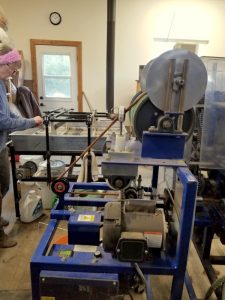 They quickly discovered the realities of full-time farm life. "I've had to become braver in terms of medical issues," says Van Effen. "I've learned a lot of crisis management. Not that we have many problems, but when there is one, you have to figure out what to do – when to call the vet and when not to."  
Aside from caring for their animals, they also run Tahoma Vista Fiber Mill using fiber from their own herd as well as from other farms. As members of two fiber cooperatives, they pool their fiber with that of hundreds of other small farms. Each bag is meticulously tracked throughout the milling process. "It's weighed, it's tracked, and the outcome is recorded," Van Effen explains. "When we're finished with a client run, we see how that bag got used and what it was made into."
The milling process itself is fascinating, starting with a large outdoor tumbler that gets rid of most of the dirt, then proceeding through a water-efficient fleece washing machine, and on through several more steps, including a rug yarn maker. "That's one of the coolest things we do," says Van Effen. "It's not like spun yarn you'd get from a spinning wheel. It's core spun yarn, like it's tangled around a string." The mill also includes felting equipment and machines that produce batting and roving material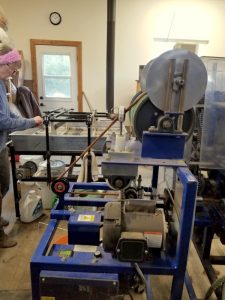 Final products eventually make it upstairs to the farm store where they offer items from six Thurston County farms aside from their own. La Vida also sells through Etsy and Amazon Handmade. Other than unique woven rugs and scarves, one of their biggest sellers is dryer balls. "You can leave them in your dryer, and they do magic," says Van Effen. "They replace dryer sheets and fabric softeners. They last for thousands of loads, help your clothes dry faster, and eliminate static."  
The couple plans to expand operations in the coming year, adding a barn and spinning equipment, which they'll have to figure out how to operate. "It's a learning experience every day," says Van Effen. "We had to learn how to use all of this mill equipment."
As demanding as farm life can be, Bagshaw and Van Effen clearly relish the challenge. "We retired from the military and we had no idea we were going to end up doing this," she says. "We love it."
To schedule a tour of La Vida Alpacas or arrange a shopping trip to the farm store, visit their website or call 360-894-1273.