Universal truths stand the test of time. From one generation to the next, they resonate and live on. A partnership between the North Thurston Public Schools and North Thurston Kiwanis brings the effervescent 1960's music and education phenomena Up with People to town on March 29 and 30 for two dazzling performances at The Washington Center for the Performing Arts.
Up with People started in 1965. Founder J. Blanton Belk is credited as wanting "to harness the energy of the youth movement and turn the negativism of the era into a chance for young people to have a voice in creating positive change." Nearly 55 years later, the international troupe of young adults still perform globally with a "unique blend of music and social action [that] creates the chance for youth to develop a new understanding of the world, recognize the responsibility they have to others, and become global citizens by acting as positive agents of change."
In March, members of the widely touring group will come to Lacey to work with NTPS students on various service projects. NTPS Superintendent Dr. Debra Clemens helped make the connection, she is also a member of North Thurston Kiwanis. "We're so pleased to welcome these young people from around the world to work with our local youth on community building projects," she shares. "It's an amazing opportunity for us!"
"Up with People will provide over 1,000 hours of community service," said Kiwanis organizer Lynn Neeley, "for which the North Thurston school district will receive classroom workshops in five different middle schools. The topic: Revive Civility. High school students will have the opportunity to join UWP cast members for other hands-on community service projects across Thurston County during their visit. This is a week of youth impact, from middle schools to high schools to our special needs students who attend Day of Champions event each year."
"This will be the first time we have done anything like this with our middle schools—or any other level for that matter," says NTPS Assistant Superintendent Troy Oliver. "We felt that middle school was a good fit since many of our middle schools have done community engagement events in the past. The topics they are able to partner with us around are also very middle-school friendly like their culture fair and activities on civil discourse."
Tylene Parker will be liaising between NTPS and Up with People. "Getting to connect with all ages through the local school systems provides so much opportunity for the kids we are interacting with and also ourselves," she says. "The moments I personally have shared with kids on my journey are the ones I remember the most, relating to them with a shared vision of hope for their community and the world is always so inspiring. I have met wildly inspired and passionate kids in schools all over the world and I'm so excited to meet many more along the way."
Monies raised through the Up with People visit are designated to help fund the annual Day of Champions, another NTPS-Kiwanis event. This annual outdoor track meet hosts nearly 1,000 special needs athletes from across Thurston County thanks to nearly 500 dedicated and tireless community, school, and business volunteers.
Live on Tour tickets are available now for Friday, March 29, and Saturday, March 30. Both shows kick off at 7:00 p.m. and seats start at $22. Book your spot on the Center's website or by calling the box office from noon until 5:30 p.m. Tuesday through Saturday at 360-753-8586. Host families are still needed for members of the touring cast. Read more and apply if this seems like a good fit and you have a bedroom or guest room to spare.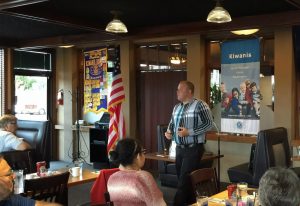 Can't attend the concert but want to help? Donations are gladly accepted via the North Thurston Kiwanis Club Foundation. Simply mail them to PO Box 5607, Lacey, WA 98509. Questions can be directed to Kiwanis Up with People Committee Chair Lynn Neeley at 360-819-8040. Forward the customized local tour video to family, friends, and neighbors to get everyone involved.
"Each Up with People cast consists of about 100 participants, 17- to 29-years-old, from 15 to 20 countries," says Neeley. "Cast members are trained in leadership and classroom facilitation, in order to deliver effective and engaging programs for youth in the cities and countries they visit."
This perfectly echoes the North Thurston Compassionate Community mindset. During the 2018-2019 school year they're participating in a comprehensive project, Celebrate Compassion, that hopes to document 100,000 acts of compassion. To date the district has topped 55,600 individually reported acts. Students and community members are encouraged to submit acts of kindness they see and do to raise awareness of the good around us every day.
Such good is often facilitated by the North Thurston Kiwanis "a group of men and women who want to make a positive impact on the North Thurston County community." For more than 100 years, the Kiwanis organization as a whole "empowers members to pursue creative ways to serve the needs of children, such as fighting hunger, improving literacy and offering guidance. Kiwanis clubs host nearly 150,000 service projects each year."
Whether through service or sponsorship, it's important not to lose sight of each other. Dr. Martin Luther King Jr. stressed that "Life's most persistent and urgent question is, 'What are you doing for others?'" Thanks to NTPS, Kiwanis, UWP performers, students, teachers, and organizers, it's easy to celebrate our shared goals and success.
Sponsored