What would you do if you had sudden hearing loss in one or both of your ears? That's what happened recently to one of Dr. Mary Aesophs's patients. The day started out like any other for Aesoph at the Kaiser Permanente Olympia Clinic where she is an audiologist. She had just finished a routine hearing appointment, when she received a call from a family practice provider, just down the hall in the walk-in urgent care clinic, requesting her assistance.
The primary care provider relayed the patient's case to Aesoph. The patient arrived at the clinic, experiencing symptoms of sudden hearing loss in one ear. The walk-in clinic provider examined the patient and found no signs of injury or infection, the most common causes of sudden onset hearing loss. That's when the general practitioner decided to contact Aesoph to help determine the best course of action.
After Aesoph spoke with the general practitioner, she set the patient up with an urgent hearing test appointment so she could see the patient right away. The hearing test confirmed a moderately severe sensorineural hearing loss—a hearing loss which originated at the nerve—in the patient's right ear.
"With this type of hearing loss, where it happens at the nerve level, we have a very short window of opportunity for the patient to receive treatment," says Aesoph. Studies indicate that the patient must be treated with quickly, otherwise the hearing loss may be irreversible. So she immediately connected the patient with the Ear, Nose and Throat (ENT) department, which was able to provide steroid treatment. "In this case, the patient began steroid treatment immediately and they recovered, with no diminished hearing," she adds.
Sudden changes in your body should be concerning, even so, some patients think the best course of action might be to wait it out. Fortunately, this patient decided to use Kaiser Permanente's urgent care in Olympia. The specialty clinics were able to work together and coordinate care with the general practice provider right away, which probably saved the patient's hearing.
Integrated Care Gives Patients More
Positive patient outcomes like the above story are made possible by the fully-integrated care model of Kaiser Permanente. Patients throughout Washington are able to receive their health care coverage and medical care through a single system, which creates a streamlined and efficient process. This patient-centered approach to health and wellness has been a part of the Kaiser Permanente model since its founding.
The Kaiser Permanente Olympia Medical Center has urgent care, primary care, pharmacy, lab, imaging, and several specialties, all under one roof. This offers convenience to every patient, whether they arrive with uncommon conditions, like the patient with sudden hearing loss, or if they are just visiting their primary care provider for an annual checkup. The specialty services offered at the Olympia location are not just a benefit to the patient in terms of convenience. Physicians appreciate the integrated system too, where they can reach out to a number of colleagues, across a variety of specialties, for consultation at a moment's notice. "We all work closely together to make sure we take care of the patient," says Aesoph. "I've worked in private practice and other clinical settings before working with Kaiser Permanente and the integrated system really makes a difference to patient care, both from the patient's perspective, and from the perspective of a health care provider."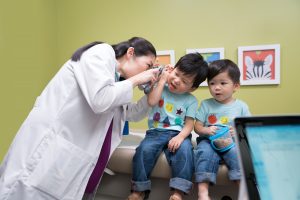 Throughout Washington, Kaiser Permanente has over 800 physicians working within their network representing a variety of specialties, all working to improve patient care.
Kaiser Permanente urges you to take your health seriously. Any sudden change in health is cause for concern, and you should contact your healthcare provider immediately.
For more information, visit the Kaiser Permanente Olympia Medical Center website.
Kaiser Permanente Olympia Medical Center
700 Lilly Road NE, Olympia
360-923-7000
Sponsored