Looking at one of Sacreah Becerra's paintings, you can't help but imagine what an inspirational, authentic person the artist must be. Sacreah creates colorful, lively paintings that evoke positive and inspirational feelings through organic subject matter, empowering depictions of women, and wording carefully woven into the designs.
Since childhood, Sacreah has felt called to art. She recalls getting lost in the images of the books she would read in her elementary school class, and has always had an affinity for color and drawing. Now, she works as an artist, selling her vibrant, uplifting artwork through her online gallery, Inspiráh.
Her lifelong path as an artist began in California, having grown up in Los Angeles and graduated from California State University Northridge with her bachelor's degree in art. Over coffee, Sacreah tells me about how much she enjoyed practicing something that she loves in college, and that from her undergraduate program, she was recruited to graduate school to study education. After graduating with her master's degree, Sacreah found a passion for business, and worked in the field for over 10 years, holding many different positions, such as working as an executive assistant, working in financial industries, and working in import-export. During this time in her career, Sacreah was able to work alongside many talented and motivated entrepreneurs.
Eventually, the natural progression led Sacreah to reconnect with her creative roots with a career in the arts. For her, this process of re-familiarizing herself with creative expression was one that involved her giving herself ample space to explore with different methods of making. She learned Photoshop, and practiced painting and drawing. Currently, she is fulfilling her vision of creating uplifting, inspiring art through her business Inspiráh, where she sells original paintings and fine art prints of her artwork.
Many of the paintings are organized into collections by theme and concept, such as the Abstractions Collection, the Ancient Future Collection, and the SoulSisters Collection.
"Inspired with vibrant colors and expressive brush strokes, the Abstractions Collection is an invitation to engage your imagination. Because abstract art is a purely interpretive and personal experience, we invite you to let your imagination reveal its insights and understandings to you. This dynamic collection, is bold yet, playful," states Inspiráh. Fine art prints are available of original works, which are reproduced on either paper or canvas and come ready to hang. Both original artwork and fine art prints are available to be purchased online.
The values that inspire Sacreah's artwork are easily apparent from color, design, and wording choice. Having studied many art media, Sacreah has chosen to work primarily with acrylic paint, scanning her work afterward to insert text. She says that she likes to work with acrylic paint because it's less toxic than oil paint, lends itself well to bright, vibrant color, dries quickly, and has a very forgiving nature. "It's a medium that's very pliable for my work", says Sacreah.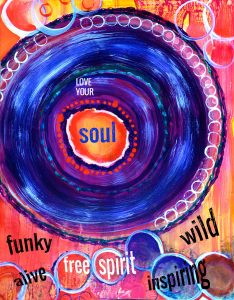 One of the most exciting aspects of Inspiráh is the Art for Business Interiors program. Through this, Inspiráh provides artwork intended to bring an inviting, uplifting atmosphere to the interiors of businesses, from medical offices to boutiques. Sacreah tells me that her art is a therapeutic experience for her, and that through Art for Business Interiors, she hopes that others can have a similar experience through art. "I put a lot of intention, heart, and soul in, and want to share that", she says.
Along with providing artwork to enliven the walls of businesses, Inspiráh's Art for Business Interiors offers consultations, in which the interior is evaluated in order to determine what size and style of artwork would look best, along with deciding on optimal locations within the building, office, or other business space for art to hang. Inspiráh also offers delivery and installation services.
Another project Sacreah is currently involved in is a collaborative project titled SHEnlightens. "I'm fortunate to be one of the participating female artists in a project called SHEnlightens: A Women's Collaboration Art Project by Amanda L. Gamble. Each artist is creating a piece that celebrates and honors a vital, progressive female contributor to society. The work is scheduled to be displayed in Tacoma Art Museum's TAM Local: Community Art Show for SHEnlightens from January 11, 2020, to March 26, 2020," says Sacreah.
When she looks to her future, Sacreah has many ideas. She hopes to continue building the Art for Business Interiors program, get her art licensed so it could be produced and distributed through retailers on gift items such as journals and greeting cards, hold workshops for women on developing creativity, and create a children's book.
Sacreah's artwork comes from a place of being inspired to uplift others. While she was defining her brand, Sacreah realized it was was important to her to donate a portion of her proceeds from her artwork to a charitable organization. Inspiráh currently donates to Art with Heart, a non-profit organization based in Seattle that works with children who have experienced trauma or other hardships by using art based, therapeutic curriculum in order to support healing through creative expression. 
To see more of Sacreah's art, visit Inspiráh's website, follow Inspiráh's Instagram, and be sure to keep an eye out for TAM Local: Community Art Show SHEnlightens at the Tacoma Art Museum.