For many people, home ownership is deeply embedded in their personal version of the American dream. Yet, trends indicate that more and more people have been delaying the purchase of their first home. There are a number of reasons for the trend, but some barriers don't have to be a stumbling block. Christina Janis, broker for Epic Realty, finds ways to knock down some of those barriers to homeownership. Just as the problem is multi-faceted, so is Christina's approach.
"I bought my first home when I was 23," says Christina, "now I see people waiting later and later, and some don't think home ownership will ever be worth it for them." But Christina is working to make that dream possible for many.
As a broker, she is deeply involved in the housing market throughout Thurston County. Christina is affiliated with Rob Rice Homes, and she loves selling Rob's homes. "The quality of a Rob Rice home sells itself," she says.
A local girl, through and through, Christina graduated from North Thurston High School, but lived in Yelm until her sophomore year. She's stayed local, raising her daughters here until they graduated from Griffin and Capital High School. "It's changed a lot in all the years I've been here, but the South Sound is still my favorite place to be," she says. "Our playground is the Olympic Mountains, Lake Kokanee near Cushman is my favorite."
For Christina, working as a real estate broker is a seven-day-a-week job, but that isn't something that bothers her. "I don't mind being available for my clients," she says. "If an agent is in one of my houses showing, I will respond." For her, it all comes down to time management. Christina has become an expert at balancing her work along with her other interests, which include working with the Thurston County REALTORS Association, volunteering for different charitable organizations around the area, and spending time with her husband of 31 years outdoors enjoying the beauty of the Pacific Northwest.
Salesperson of the year for Epic Realty for 2018, the best part of Christina's job is still that moment when she gets to hand over the keys to a new homeowner, seeing the smiles on their faces as they look towards their future. You get to touch a lot of people's lives when you help them find the home that will fit them, she says. But Christina's work as a real estate broker is just a small part of how she works to make the dream of home ownership come true for many.
Currently, Christina serves as president-elect for the Thurston County REALTORS Association. Her focus is on governmental affairs and she has a pulse about what is going on at a local and state level. She is also involved in bringing awareness to Unlock the Door, which seeks to make home ownership more affordable for all. "In January we were on the hill advocating for the benefits of home ownership and legislators on both sides of the aisle were listening and ready to work with us," says Christina.
Being involved with the Thurston County REALTORS Association gives her the opportunity to be involved with many realtors around the county. This year, her focus is on governmental affairs, but she enthusiastically expands that role into many areas of education and advocacy. If it is something that will affect brokers and homeowners, Christina wants to know about it, she wants to get other brokers educated and involved too.
This month, with all the snow and winter weather, preparedness has been on her mind a lot, and the presentations held at the monthly association meeting reflect that, speaking about emergency preparedness, winter safety and related topics. But Christina is also looking ahead. She's thinking about what brokers and homeowners need to have on their minds for summer and the seasons and years beyond.
Christina also rolls up her sleeves and gets involved directly with the community. Whether she is ringing a bell for the Salvation Army, helping with a monthly soup kitchen dinner or working with Homes First, by painting houses and doing landscaping, she is finding ways to help people around Thurston County.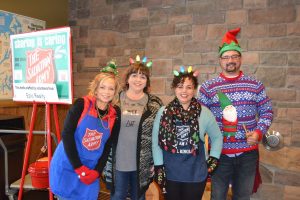 Homes are a long-term investment, so it makes sense that Christina, someone who spends every day thinking about the dreams and goals of her clients, thinks a lot about her own dreams and goals.
When I ask her where she sees herself in 5 or 10 years, she says she wants to stay involved with state and local affairs. "It all starts at home," she says, "and if you want to affect change, you need to work on issues that are happening right in front of you."
Past, present, and future, Christina is committed to the people of Thurston County. If you'd like to contact her, send her an email at Christina@RobRiceHomes.com or call 360-888-2295.
Rob Rice is Thurston County's largest local home builder and has been voted the Best of South Sound for the last five years. He has built more than 3000 homes in 43 different new home communities over more than 30 years. He and his wife Helena live in Olympia with their two sons, Alex and Carson. Rob is a graduate of Washington State University with degrees in construction management and architecture.
Sponsored