The Gate Ranch Golf Course is a labor of love. The dream of two brothers, Jim and Bill Dunson, began as a cow pasture. Now in its place, sits a lovely nine-hole three-par golf course, complete with a water feature in a picturesque setting lined with trees.
The idea for the golf course came to the brothers while Bill was a snowbird for 10 years and his brothers would come to visit and play golf. One day Bill and Jim played an astounding 56 holes. Jim told Bill they could make a better golf course at Gate Ranch.
The next time Bill came up to Gate Ranch, Jim had drawn up plans. "Jim and I, when we started this, we had no idea that it would be all this," Bill says. "We just liked golf." The brothers started by cutting the grass nearly as tall as they were, eventually building a fairway on the 13 acres.
Bill especially enjoys when young people are on the greens. "When you got a bunch of young people out there, beating the ball around, they are staying out of trouble," he says. "Jim and I took pride in that."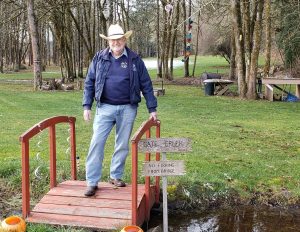 Several local students have gone to college on golf scholarships after learning the sport at Gate Ranch. The boys and girls golf teams from Rochester High School use the course. "Jim and I helped teach a lot of people that wanted to know how to play golf," shares Bill. "I am not a pro and I am not an instructor, but I know all of the fundamentals. Between Jim and I, we turned a lot of good golfers out here."
People who want to golf but are intimidated by a fancy golf course find Gate Ranch Golf Course unassuming and a comfortable place to learn the sport. "That makes me feel proud too," says Bill.
Getting families together on the course is also the goal at Gate Ranch. "When mom, dad, and the kids are here golfing, I don't care if they put any money in the donation box at all," shares Bill. "It does me good to see them here." People come almost every day of the year, rain or shine.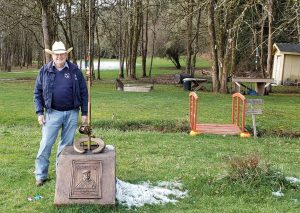 Sadly, Jim passed away and now Bill has the sole responsibility of the golf course. "Jim was an awesome person," shares Bill. "He was pretty cotton-picking smart. Jim was a person that everybody should have a brother like. We got along super good."
He recalls fun evenings with his brother and neighbors at the park area in the golf course having cookouts. The golf course and park area hosts weddings, parties, and company picnics. Bill has closed the golf course down for several tournaments for groups like Relay for Life. "I will help any way I can," says Bill.
Every year Gate Ranch Golf Course hosts a 4th of July Tournament. Bill buys the hot dogs and hamburgers and the community helps to put together a big feast. He displays flags for each branch of the military and some he made himself for police, firefighters, and medics as a tribute to those who serve.
As he ages, support from the community is important for nearly 90-year-old Bill to continue with the project. "The biggest thing is aerating and sanding the greens," says Bill. "The boys golf team coach says anytime I need help, let him know and the boys will help. The rest of it is sitting on your fanny mowing. It's not hard, it just takes time. I think I can handle that."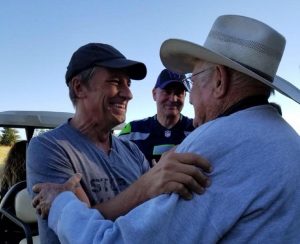 Recently, the show on Facebook Watch called Returning The Favor hosted by Mike Rowe featured Bill and Gate Ranch Golf Course. The feel-good show highlights "bloody do gooders" who do good things in their communities and rewards them for their work.
Bill was surprised by Mike stuffing his donation box, and a donation of assistance maintaining the course from Controlled Rain. What was really touching for Bill was the memorial erected for Jim on the greens and a party in the park with all his friends and family. "That was a big, big surprise really," he says.
Not spending a lot of time watching television, Bill didn't really know who Mike Rowe was. Bill mentioned a documentary he watched on Discovery Channel and Mike replied, "Yeah, I did that." "That's when I realized who he was," laughs Bill. "He's a neat person and super, super nice. He is quite the character."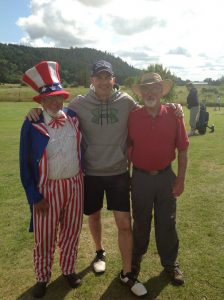 "I have met a super good bunch of people out here," says Bill. People have suggested green fees, but dealing with paperwork and things was not part of what the brothers wanted to do. They just wanted a space where people could come golf for free.
"Come and enjoy it with me," implores Bill. "That is all I want really. Someone around when I am puttering around outside. It is easier to talk to someone and I can help them with their stroke. I love people."
Gate Ranch Golf Course is located at 11900 Hunter Road S.W. in Rochester and is open seven days a week from 8:00 a.m. to 7:00 p.m. Donations are greatly appreciated to help with gas for the mowers and material to keep the greens playable.
Thrifty Thurston highlights inexpensive family fun in Thurston County. The weekly series focuses on family-friendly activities throughout our community. If you have a suggestion for a post, send us a note at submit@thurstontalk.com. For more events and to learn what's happening in Olympia, Lacey, Tumwater and the surrounding area, visit our complete events calendar.