The Board of Directors for Big Brothers Big Sisters of Southwest Washington (BBBSSW) is a dedicated group of individuals looking to make an impact on the youth in our community. Numerous studies show the positive effect that mentors have on adolescents. The BBBSSW board members know firsthand just how powerful a healthy mentorship can be for a youth.
Mark Boyer, certified financial planner with Kiley Juergens Wealth Management, got involved 12 years ago as a mentor, or "Big" as they are called in BBBSSW. Five years ago, he began volunteering on the board and is just completing his terms as is the president.
"I was fortunate enough to have mentors and non-parental role models care enough about me to give me additional guidance and direction," says Mark.  Mentors helped him stay focused on his priorities and were there to steer him in the right direction whenever he began to stray. "My hope is that every child has that same opportunity to know someone cares and will give them the guidance they need and deserve, "he adds.
Chris Woods is a newer member of the board, and is the assistant superintendent for the Tumwater School District. "I am passionate about doing whatever we can to help kids be successful in life," he says. One of those pathways to success is surrounding them with positive role models.
Chris's profession is directly linked to youth, but most of the board member's professions are not. Yet they still see the value in being involved with younger generations. "I really believe that BBBSSW is making an impact on our youth that will help shape our community in a positive way for years to come," says Benjamin Paylor, member at large for the BBBSSW Board.  Benjamin is District Manager for Olympia Federal Savings. "I also feel so lucky to serve with our other board members," he says. "They are all such positive role models and leaders in our community."
"Anyone can be involved in BBBSSW," Chris shares. "We have many different opportunities to be a mentor to a child who needs a positive role model in life."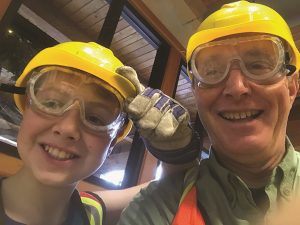 "There is no greater impact to an adolescent than that of a mentor," adds Mark. Whether it's in academics, social skills, or other measurements, mentorship will provide kids with the empowerment they need to write their own success story, and the Big Brothers Big Sisters Board of Directors wants to help them write it.
Can you dedicate some of your time to be a mentor? call Big Brothers Big Sisters of Southwest Washington at 360-943-0409.
Sponsored