T
he holidays are a magical time that bring out the inner child that we all have within us. A huge part of what makes the holiday season so special are the whimsical decorations that are hung with care throughout cities and homes across the world. For the past six years, Olympia's Parking and Business Improvement Area (PBIA) has been sparking the joy to visitors in downtown by organizing Twinklefest, a friendly storefront decorating competition. After voting concluded and the votes were tallied, the clear winner for 2018 was Hot Toddy Boutique located at 410 Capitol Way in Downtown Olympia and owned by Sydney Hann and Erika Lari.
2018 Winner Hot Toddy Embraced the Spirit of the Season
Located in the heart of Olympia's downtown on Capitol Way, Hot Toddy is a fun and fancy boutique that specializes in reproduction vintage clothing, accessories and shoes. Their items will easily become one of the most unique items in any closet. Hot Toddy also carries several items from independent designers and jewelry makers.
Perfectly mimicking the overall theme of their shop, Hot Toddy's Twinklefest display masterfully incorporated vintage style holiday figurines, colors and backgrounds into their window display. Sydney worked tirelessly for months prior to the competition to handcraft most of the items in their display. She poured love into each and every deer, tree, cloud and figurine made out of clever items such as chicken wire.
"This holiday display meant a lot to both by myself and Sydney who I know put so much effort into it," exclaims Erika. "While at work during December, we were beyond thrilled to see kids looking into the display gasping in wonder. It really was a gratifying experience after knowing how much time went into everything. Our vision was to capture the spirit of the holidays and the joy that it brings to the community"
As for next year's Twinklefest competition, Sydney already has a theme and plan of action in mind. "I wouldn't be surprised if Sydney starts crafting our display for 2019 this month!" says Erika.
"Our hearts are bursting with gratitude," adds Sydney. "Thank you for make us the champions of this year's Twinklefest!" For more information about this local business, visit the Hot Toddy Facebook page.
What is Twinklefest?
Throughout the holiday season, local shops and restaurants in the downtown corridor put together masterful decorations with the goal of enticing visitors to stop by, get to know their staff and, in turn, patronize their store. PBIA's mission is to assist in creating a vibrant, dynamic business environment and enhancing the reality and perception of downtown by visitors, residents and business owners. By encouraging the community and visitors to visit the numerous downtown shops and restaurants through twinkling decor, PBIA is fulfilling their mission statement and creating a cheerful place that everyone is welcome to enjoy.
As the weather begins to turn for the worse and the darkness of December sets in, participating business owners light up their storefronts with their own interpretation of whimsical holiday decor. Many displays can be seen as passengers drive through downtown, but the decorations are best appreciated with a walk along the historic streets where special in-store promotions and extra decorating details can be spotted.
Patrons Choose the Winner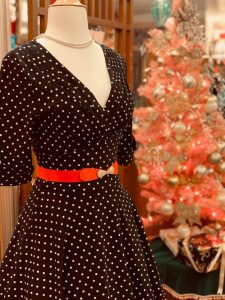 At the beginning of December, an online voting portal is opened that runs through New Year's Eve. Community members and visitors to the area can then select the most memorable business to win the top prize. Not only does the winning business receive well-deserved recognition, but the participants who vote online are entered to win prizes that have been graciously donated by the participating businesses. The prizes usually include an assortment of gift cards from the many unique businesses in Olympia.
"Twinklefest truly does bring life to downtown Olympia during this time of the year where the sun sets early and the cold temperatures make leaving the house difficult," expresses Mark Rentfrow, City of Olympia's downtown business liaison. "In 2018, nearly 90 businesses participated and decorated their storefronts, which was really exciting to see. Since I came on board a few years ago, it's been great to see the campaign take off and continue to grow year after year."
To learn more about the PBIA, visit the City of Olympia's website, Twitter or Facebook page.
Sponsored